6 September, 2016
7 Scenic Trails to Cycle This Fall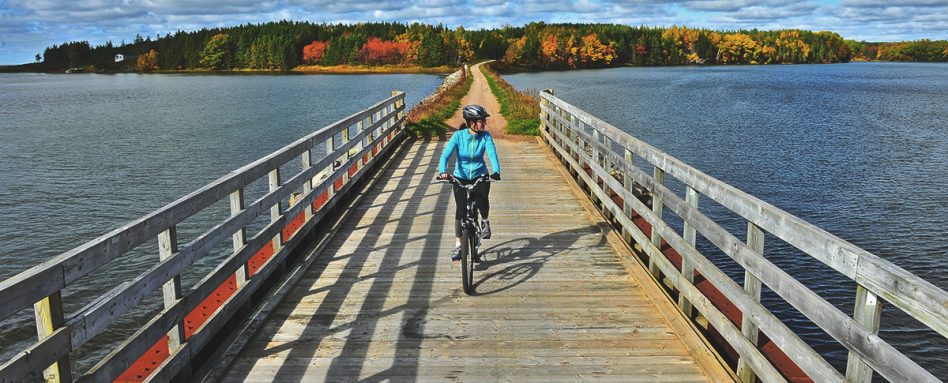 Fall is upon us and there's really no better way to take in the changing leaves than from the vantage point of a bike. Whether you're a novice or a pro, Canada is home to so many prime cycling opportunities, many of which can be found along The Great Trail. From coast to coast to coast, we've rounded up some of the country's most beautiful bike rides to help you welcome autumn, on two wheels.
1. Waterfront Trail, Ontario
Torontonians, if you're in need of some respite from the hectic pace of city cycling, this is the place for you. Over the past few years, the city's waterfront has seen an influx of infrastructure funds. The result? Ideal conditions for cycling. Starting at Burlington and stretching all the way to Toronto, this scenic trail guides you along the calming shores of Lake Ontario. Looking for a shorter ride? Martin Goodman Trail (named for the Toronto Star's former president and editor-in-chief) is a cyclist's dream, offering 56 km of smooth riding conditions and plenty of oak and elm trees for your fall foliage viewing pleasure.
Photo credit: flickr.com/photos/bramptoncyclist
2. Le P'tit Train du Nord, Quebec
A former railway, this trail is perfect for Montrealers looking for a bike trip not too far from home. This 200-km trail winds its way through the Laurentians, passing through charming towns, former train stations and lush forests. Avid cyclist Steven Greenberg biked 50 km of the trail near Mont-Tremblant and found it to be a relaxing ride. "It's a well-maintained trail that leads in and out of the woods," says Greenberg. "You can enjoy the scenic ride without having to worry too much about hazards on the road."
Photo credit: Jean-Pierre Lavoie
3. Confederation Trail, Prince Edward Island
Between stunning seascapes, rolling hills and quaint villages, there's a lot to love about this PEI trail. Another former train track, this 435-km trail runs from Tignish to Elmira and along branch lines, connecting several towns along the way. Make a trip of it and stay over in one of the many charming towns the trail winds through. Make sure to keep an eye on the skies, too. This bird-watching hotspot offers ample opportunities to spot herons, seagulls, geese and more.
Photo credit: Rick McCharles
4. Fundy Trail Parkway, New Brunswick
Seal-watching and a scenic bike ride to boot? Yes, please! Cyclists can make the most of 10 km of coastal trails, breathtaking lookouts, waterfalls, a suspension bridge and more at this birthplace of the Atlantic Ocean. But beware: Hilly terrain makes for a challenging ride, so get ready to sweat. Once your journey is through, we recommend resting your legs at one of four splendid beaches along the trail, where seals have been known to hang out.
Photo credit: Rick McCharles
5. Pinawa Trail, Manitoba
Starting your journey at Pinawa Dam Provincial Park – Manitoba's very first hydroelectric plant – and running all the way to the Seven Sisters Generating Station, this trail is a must for cycling enthusiasts living in (or visiting!) the area. Just over an hour's drive from Winnipeg, it's not uncommon to spot wildlife like bears, foxes and deer along this route. Not up for the whole 27 km? The Ironwood Trail portion is a favourite among cyclists, offering a spectacular ride along the historic Winnipeg River.
Photo credit: Vince Pahkala
6. Millennium Trail, Yukon
Looking for a short cycle without sacrificing scenic views? This urban trail is as good as it gets. Following the Yukon River and passing through Whitehorse's downtown core, the Millennium Trail offers cyclists 5 km of trails fit for all levels of experience. The trail weaves through the woods, where pine and aspen trees abound, so you'll have ample opportunities to peep the changing leaves and take in all the fall colours. There's loads to see along the way, too, including the pedestrian-only Rotary Centennial Bridge, plenty of lookouts and a fish ladder where visitors can come face to face with some of the region's underwater inhabitants.
Photo credit: Whitehorse.ca
7. Edmonton River Valley Trail, Alberta
A riverside cycle to welcome fall? Don't mind if we do! This trail runs through the Saskatchewan River Valley, passing through Edmonton and the surrounding wooded regions. Cycle the entire 29 kilometres or choose a segment of the trail based on one of the many sights to see: The Muttart Conservatory's botanical gardens, the University of Alberta and Whitemud Nature Reserve are just a few of the landmarks along this beautiful urban trail.
Photo credit: Walshcooks