8 March, 2017
A "Powder-Full" Snowshoeing Adventure on the Kananaskis Country Trail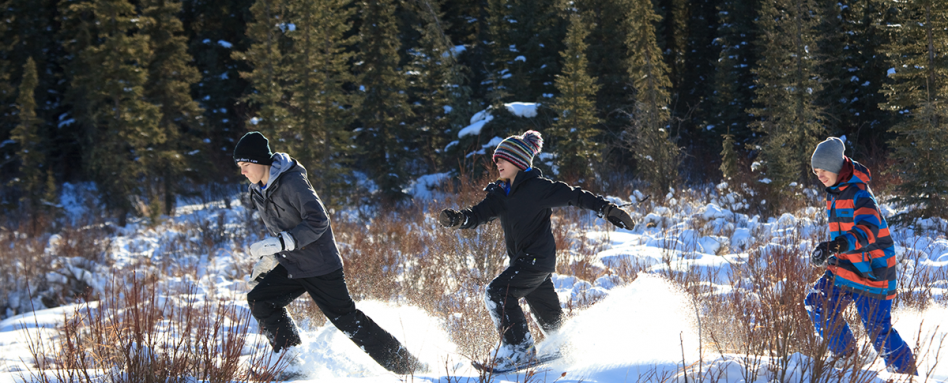 Located just ten minutes from Bragg Creek (an awesome little mountain town with a cool, outdoorsy vibe) the 48-km Kananaskis Country Trail is the perfect spot for Calgarians, at less than an hour's drive from downtown. And, for that matter, locals, visitors or – as I recently found out with my kids – anyone with a penchant for powder!
Text and photos by Andrew Penner
As part of The Great Trail, the Kananaskis Country Trail is easily accessed at the West Bragg Creek Provincial Recreation Area. From Calgary's western city limits, the trailhead is only half an hour away; so close you can zip out after work or cruise out for a half or full-day trip excursion on the weekend.
Located within Kananaskis Country, the Kananaskis Country Trail is a multi-use wilderness trail that, in the winter, is a little slice of heaven for cross-country skiers, hikers, fat-bikers, horseback riders, and, yes, snowshoeing enthusiasts. In fact, the entire West Bragg Creek trail system is unbeatable for its vast array of recreational opportunities.
For my family, the attraction to snowshoeing is simple: it's easy! In fact, it's been said many times before, "If you can walk, you can snowshoe." For us, that ease of entry (we rented snowshoes in Bragg Creek at the Moose Mountain General Store, $15 per day) was certainly appealing. With three young boys, the mountains of gear that are needed for other activities is a detractor. But, this just doesn't apply to snowshoeing!
After clomping along on the hard-pack snow for an hour or so, my boys – Nelson, 14, Aemon, 14, and Nicholas, 10 – were thrilled to be giving their new "wheels" a test drive on The Great Trail. No, we certainly didn't make it to the end of the 48-km Kananaskis Country Trail. Not even close. In fact, after a quick lunch, my boys were itching for the deep stuff that beckoned just off the Trail.
I have to admit, at first, the thought of leaping into the deep powder beside the Trail was intimidating! "We should stay on the path, boys," I quipped. "We might get snow in our ears!" And then it hit me. So what? After all, snowshoes are made for snow!
Nick was first to leap into the white stuff and get a face full. Nelson was next. Aemon, the most timid of the bunch, was last. And for the next two hours, the Kananaskis Country Trail turned into a powder-filled adventure we'll never forget!
The lessons for the day were many. One, time spent in the great outdoors with your family is gold. Two, getting a little snow up your nose won't kill you. Three, the Kananaskis Country Trail is an awesome adventure that you can make as short or as long as you like. And finally, sometimes taking the road less travelled can make all the difference!
Related: Iconic Musher Frank Turner's 8 tips for Staying Warm on the Trail This Winter.
Andrew Penner is a photograph and a writer. Discover his work here.
Follow him also on Instagram