30 October, 2017
7 Indigenous Attractions to Discover on The Great Trail in British Columbia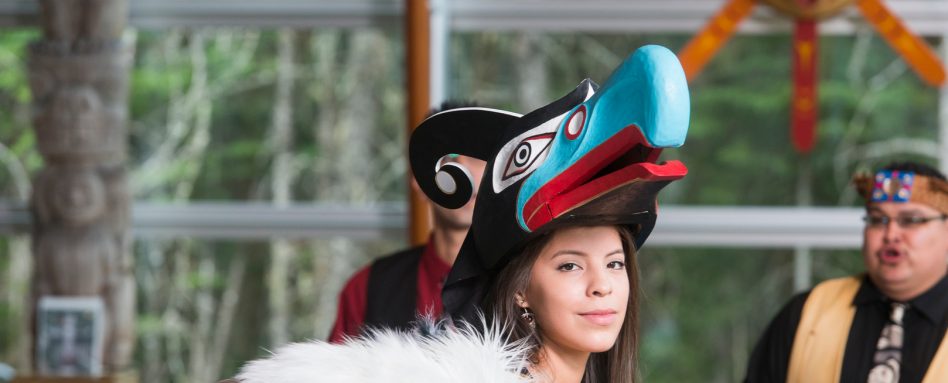 Did you know that there are over 200 different First Nations in British Columbia alone? Or that more than 30 Indigenous languages and almost 60 dialects are spoken throughout the province?
For over 10,000 years, British Columbia has been steeped in Indigenous history, culture and traditions, and that rich heritage is obvious when exploring The Great Trail. Read on for highlights of Indigenous-owned attractions along the Trail, courtesy of the Aboriginal Tourism Association of Canada (ATAC).
1. Squamish Lil'Wat Cultural Centre, Whistler
Photo by Squamish Lil'Wat Cultural Centre
The result of peaceful coexistence between the Squamish and Lil'Wat Nations for thousands of years, this centre in the town of Whistler celebrates the art and customs of these two distinct cultures.
Every aspect of these two Nations is explored through a myriad of events, including drumming and singing performances, craft workshops and Indigenous cuisine, as well as art collections and exhibits. The building – designed to reflect Squamish longhouses and traditional earthen pit houses of the Lil'Wat people – also borders a beautiful forested area.
Protection of the natural world is also of key importance to the centre. Junior Curator Alison Pascal explains that these two communities see themselves as an "extension of the land".
"The people and the land are one. The people are the land, even though they are physically different," she says.
Above all, the centre is symbolic of the positive power of diversity, demonstrating how two Nations can share territory, knowledge and cultural practices with each other and the wider world.
Nearby Trail: Sea to Sky Trail
2. Talaysay Tours, Vancouver
Sometimes, the best way to discover a culture is to walk in its footsteps.
In Vancouver's iconic Stanley Park, let Indigenous ambassadors from Talaysay Tours guide you along the seawall while sharing stories and legends of the city. The tours weave in the traditions of both the Squamish and Sechelt, two Nations that have played key roles in the history of British Columbia.
The new Spoken Treasures also takes in Stanley Park's famous Totem Poles – a collection of nine carved structures hailing from all over the province.
Nearby Trail: City of Vancouver Trail
3. Sidney Whale Watching, Victoria
Photo by Sidney Whale Watching
Deep respect for nature and the outdoors is a key precept of Indigenous people in North America, especially when it comes to wildlife and conservation. This belief is obvious when on an excursion with Sidney Whale Watching, a family-run Indigenous tour operator in Sidney, near Victoria.
Depicted as guardians of the sea in many First Nation legends, orcas are also symbols of luck, compassion and family. These unobtrusive tours get close enough to whales that you can hear their breath, while treating the animals with dignity and explaining their role in Indigenous culture.
Nearby Trail: Salish Sea Marine Trail
4. Take the Ferry and Discover Vancouver Island
Photo by BC Ferries
Indigenous heritage is particularly abundant on Vancouver Island. Explore its Trail section with our Travel Partner BC Ferries, which offers up to 17 departures from mainland Vancouver per day, depending on the season. Indeed, BC's ferry routes to Vancouver Island are part of The Great Trail.
On the Cowichan Valley Trail, stop off at Duncan, also known as the 'city of totems'. There, you'll find over 40 totem poles, as well as free tours about Aboriginal life in the valley. Other Trail sections across the island allow you to reconnect with the wild landscapes that inspired Indigenous tribes thousands of years ago, and continue to inspire us today.
Nearby Trails: Cowichan Valley Trail, Sooke Hills Wilderness Trail, City of Langford Trail, Galloping Goose Regional Trail
5. Bill Reid Gallery of Northwest Coast Art, Vancouver
Photo by Efford Photography
A hive of Indigenous creativity in the heart of downtown Vancouver, the Bill Reid Gallery of Northwest Coast Art boasts a rich collection of art from the acclaimed Haida artist, Bill Reid. A master goldsmith, carver, sculptor and writer of Haida descent, Reid's extraordinary creations helped to bring Aboriginal art and culture to an international audience.
This gallery continues that tradition not only by collecting Reid's finest works, but also by showcasing emerging artistic talent in Indigenous communities. Its current exhibition, Intangible, features everything from hand-weaving to hip-hop performance art, reflecting the diversity of contemporary Coast Salish art.
Beth Carter, curator at the gallery, says that the artists featured at Intangible have a wide range of influences, including their respective lineages, or sources within and outside their immediate community. This results in a wealth of new and exciting ideas about art and Indigenous culture, she adds.
Nearby Trail: City of Vancouver Trail
6. Kekuli Café in Westbank, Kelowna
Photo by Kekuli Café
Taking its name from the hidden winter dwellings where Indigenous people took shelter from harsh temperatures, Kekuli Café offers a warm and welcoming vibe to both locals and explorers on The Great Trail.
Like music, art and spirituality, homemade cuisine is a cornerstone of Aboriginal heritage. One key dish is a type of bannock – fried bread – that is a traditional staple for Indigenous people. Café owner Sharon Bond-Hogg has become famous for her Bannock Tacos, Bannock Bits and Bannock Blueberry Puddings, and her secret recipe reflects original, time-honoured recipes from B.C.
Nearby Trail: Kettle Valley Rail Trail
7. lelem' Arts and Culture Café
Photo: Peter Arkell
In the henqeminem language, the word lelem' means home or place to gather, and this idea sums up an experience at lelem' Arts and Cultural Café.
Perched on the waterfront in Fort Langley, this café and restaurant offers tasty local cuisine with a First Nation twist – its Eggs Benedict and Smoked Salmon Bannock are some of the highlights on the menu. It's also a popular spot for a pre-hike caffeine boost – the café roasts its own organic coffee beans!
Nearby Trail: Langley Township Trail
For more suggestions for your next adventure in B.C., visit AboriginalBC.com or AboriginalCanada.ca