24 July, 2019
Arriving in St. John's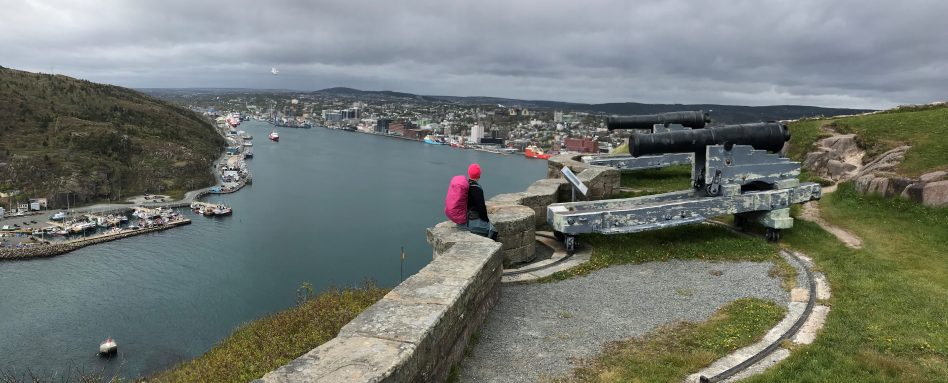 By Julie Chatelain and Simon Lacroix
When we arrived in St. John's, we walked downtown and found a grocery store where we purchased some supplies for our first few days on the Trail. Tired, we retired early for the night. We both tossed and turned during the night, excited about our imminent departure. We feel prepared but as always, we are anxious at the start of this big project.
Today we walked up to Signal Hill, the most easterly spot of the port city and the start of the Trans Canada Trail. The weather was blustery and cool and few locals were out walking the park.
There were many signs detailing the history of the site. Since the early 16th century, St. John's has been a fishing settlement for many nations, including France, Portugal, Spain and Britain. In the late 17th century, it also became a significant naval location. The importance of the port made it a prime target for any country wishing to gain control over the location's plentiful food supply. It was therefore a site of military defences up until the end of the Second World War.
Many of the buildings in St. John's date back to the 19th century and were built after the Great Fire of 1846. Today, St. John's remains the main financial and commercial centre for Newfoundland and Labrador, and is its provincial capital.
Our search for information about the Trans Canada Trail leads us to the Railway Coastal Museum on the west side of the harbour. The two ladies at the museum, Gwyneth and Laurel, were very friendly but had little information. It is a recurring theme; the Trans Canada Trail is so young that the supporting info is just not available yet. Kelly, at the tourist centre, helped us find where we could purchase a fishing licence. Although we didn't find all the information we wanted, we did hear that there is a French lady who started the Trail a week or so ago! How exciting – I hope we meet up!
Tomorrow, we start the Trail. We will head inland through St. John's various communities – Mount Pearl, Paradise and then back along the coast at Conception Bay. For the first few days, we'll be in populated areas and will pass by numerous markets and eateries along the way. The Trail seems well groomed in these communities, so we anticipate easy walking at first. Although camping will prove challenging, the locals are easygoing. And with our 'leave no trace' approach, we should not face any problems.

Find us walking
Website
Facebook