3 August, 2018
August 3, 2018 – Mel Vogel's Logbook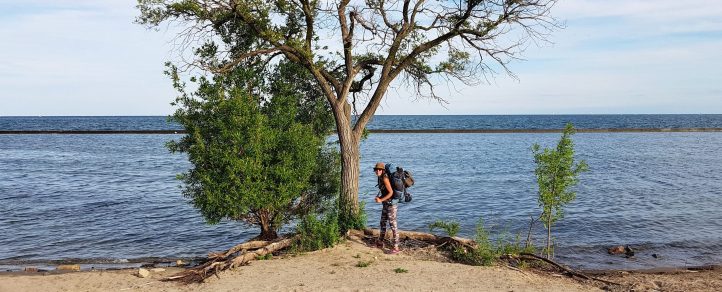 By Mel Vogel
Sue dropped me back off where I had stopped my walk – on Erb Street in Waterloo – from where I started the nine-kilometre Laurel Trail that led me through the university and along the Laurel Creek Conservation Area out of Waterloo and into Mennonite country. The Laurel Trail led to the Township of Woolwich section of the Trail that led along Highway 85 and the Conestogo River towards St. Jacobs. The summer heat and rising humidity after the thunderstorms of recent days added another challenge to my walk.
I saw the river flow longing for a swim to cool my body down. Just outside of St. Jacobs, I found the perfect spot to drop my backpack and play in the water. The water level was so low that I had no trouble walking far into the water. As I watched ducklings, the idea settled in to call it a day and enjoy this spot for the night. I had planned to use my time to read, but ended up chatting with people that stopped by. One of them was Tara. Our curiosity for each other's life story made long hours short. Indeed, we enjoyed our conversation so much that Tara went home to get a picnic together, which we enjoyed after sunset. The moon shone bright and its light was reflected in the water that was surrounded by the darkness of bush and trees. A sudden splash made our heads turn to the right where we witnessed an osprey rising with a fish in his claws. The osprey flew by twice, maybe to show off. I was enthralled. What a gift from Mother Nature. As if that wasn't not enough, then two blue herons flew by sending their calls into the night. It leaves me thinking that there is so much beauty that one can witness, sitting in one spot in nature for a prolonged time.
Tara left and I crawled into my tent. My night was mostly sleepless. The noise of the nearby highway kept me awake. I got up before the sun warmed my tent. I stepped to the river and washed the night off my face. After breakfast and packing, I made my way into the village and there into the local museum that was connected to a coffee shop. A thunderstorm kept me in the coffee shop longer than I had intended. I used the extra time to write my story.
I left the coffee shop in the early evening and continued the Township of Woolwich section of the Trail, in the direction of Hawkesville. Leaving the woods, I crossed the Conestogo River and continued my way on a gravel road where I met Will. He was leaving a nearby farm and stopped his car next to me. In the conversation of where I was going and what I was doing, I told him about my desire to learn more about the way of life of the Mennonite community. He offered to introduce me to his friends, Mennonites, whose farm he had just left.
I had a ton of questions for Rob and his wife. Both answered all of them patiently as they showed me their home. I learned that there are a lot of different groups of Mennonites – Old Order, Old Colony, Conservative Mennonites and Markham Mennonites, to just name a few. Some speak Pennsylvania Dutch; others speak Low German. Most wear modest traditional clothing, while a few live a very modern life. Horse-drawn buggies or cars, cell phone or landline, having internet connection or not having it, it all depends which group one belongs to.
I learned how little I knew. How much I had only assumed because I never asked questions or was never engaged with the topic enough to read into it.
I asked Rob why he preferred to use a horse-drawn buggy over a car, to which he answered: "To have a more relaxed lifestyle." However, he will organize a driver when he plans to visit his mom living over 40 miles away. It would take too much time and would be too hard on the horses, he said.
While there are big differences between Mennonite groups, it seems none of them have TV or radio as means of entertainment.
Before I left the farm, I got a tour through the house and its cellar full of canned food from the farm. Yummy!
After a warm goodbye, I returned to the gravel road, but not before stopping at the little veggie booth in front of the house to buy a cucumber for 25 cents, which I ate on my way.
The sun was setting and its light shone warmly over the corn and potato fields. I heard the clip-clop of the hooves of horses pulling a lady in a black wagon.
The gravel road changed to an asphalt road. I stopped at a cemetery with rows of white gravestones. I read the names: Kramer, Brubacher, Weber – all names of German origin and all facing the setting sun. There wasn't a parking lot next to the cemetery, but short poles with connecting chains for securing the horses. A few meters further away, I met John at a Mennonite school. It was getting dark now and he had just finished cutting the grass. He belongs to the Old Colony and speaks Low German, of which he gives me a little sample. John is originally from Mexico and moved to the area eight years ago. He drives a van and has a cellphone but no internet, he says.
It got darker as I walked along the Grand River to Hawkesville. I aimed for the community centre, where I hoped to find a spot for the night. There was a full moon and I didn't bother to put on my headlamp. Barely any cars drove by. The road lay still in front of me, with fields on either side. The last horse-drawn buggy of the night pulled three young men with straw hats sitting in the front of the cart. I couldn't help but turn my head around as they passed by. The full moon shone large and bright onto the river. It's the magic hour. Fog hung over the grass by the river. Tara's favourite word comes to mind: ethereal.
It was 10 p.m. as I arrived in Hawkesville. I saw two young men walking onto the lawn of the community centre. I had preferred not to be seen by passers-by, especially not by men, so I approach them to check what they were doing there at this late hour. The men – Keith and Wes – were having a conversation over a bottle of water. Both were super nice and ensured me there was no problem with pitching my tent for the night. "People are very friendly in this town," they added. We sat down and chatted some more while I had dinner. Before they left, they asked me if I would mind if they prayed for me. I was surprised by this offer, probably because I wouldn't have expected it from two young men. I agreed and, one after another, they said their prayer wishing me a safe journey and a restful night. I was touched. The night was quiet and safe, but I still didn't find much sleep.
The next morning, I made my way to a Mennonite bakery, getting a coffee and indulging in some delicious baked goods for breakfast. Before leaving the village for Elmira, I stopped at another veggie booth offering baskets of peaches, onions, garlic, beets and potatoes. An old lady steps out of the house. We chatted for a while and she sold me a dozen peaches for $1. I also bought two garlic bulbs, fresh and unsprayed from her garden. Back on the gravel road, I took out the garlic, peeled a clove and ate it with bread. It was crisp and crunchy like an apple. Its spiciness brings tears to my eyes. I don't remember the last time I ate such fresh garlic. Gravel road again changed to asphalt. I stopped for a huge ice cream cone at the Wallenstein General Store, which is run by Mennonite ladies. Another round of conversation started, where I was the one who asked more questions. I left the store with a note in their guest book.
Before hitting the Kissing Bridge Trailway I saw a little wagon on the roadside. The words "Fresh Buttertarts" are written on the cooler. I decided to forgo them, as I still had the baked goods from Hawkesville, but it left me smiling. Mennonite goodness. I love it.
I passed Elmira and pitched my tent at the family campground in West Montrose with views to the kissing bridge, the last existing covered bridge in Ontario. There I sat by the river having tea, reading and telling my story.
Find me walking
www.betweensunsets.com
Facebook: www.facebook.com/talesbetweensunsets
Instagram: www.instagram.com/betweensunsets
Twitter: www.twitter.com/betweensunsets