5 January, 2023
Bonnie's Trans Canada Trail: Why I'm Walking the Trans Canada Trail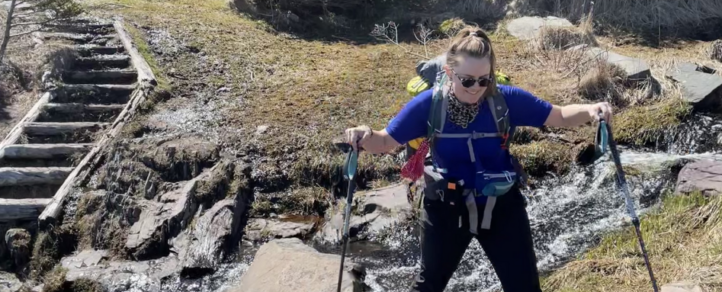 Written by Bonnie Thornbury 

For most, moving day is a frenzied orchestration of packing, loading, and unloading, relying on professional movers or a team of your strongest friends to get the job done as quickly as possible. In 2019, after five years of living and working in Vancouver, BC, I set out on the world's slowest move home to Ontario: on foot, on the Trans Canada Trail, with just a single backpack and a whole lot of hope and determination!  
"Moving" in this way raised more than a few eyebrows, but I had always wanted to walk a long trail and taking the scenic route home was a perfect excuse. But, more than a means of transportation, walking was a way of getting to know both myself and this country I call home. 
Like many, I've had a growing tension with this patchwork project we call "Canada." In university, I remember feeling distinct surprise as a Canadian Studies professor shared that the majority of residents in every province – with the exception of Ontario and Manitoba – identify with province before nation. As an Ontarian, it was my first inkling that there was a lot more to Canada than I thought, and it sparked a lingering curiosity about the places, people, and cultures that are bound together by our borders.  
In the interim years, a growing awareness of social inequities made me question the "multicultural Canada" and "nice Canadians" narratives that I grew up with. Idle No More, #MeToo, Black Lives Matter, a growing awareness of accessibility and disability rights, and moves toward "Truth and Reconciliation" and environmental sustainability gave me hope that we were turning a collective corner. Still, I wondered how individual "Canadians" related to these movements, the land, and to each other.  
Do cultural and regional differences outweigh any shared sense of a future or present "Canada?" Who are the people who make up this nation? What makes each province unique? How do we make space for new Canadians and new imaginings of Canada? How do we celebrate our incredible diversity while creating connections and community across thousands of kilometres? I wanted to tap into our greatest gift – this unimaginably vast and varied land – while acknowledging the hard truths of our nation's past and present. I couldn't think of a better way to fall back in love – and inspire others to fall in love with our country and each other – than setting out on foot on my slow move "home." 
And – the Trans Canada Trail provided! By Winnipeg, my trail confidence had grown and the Trail had grown on me: I shifted my sights from a "walk home" to a "coast-to-coast walk," with only the pandemic and "Atlantic Bubble" to stand in my way! 
This year, I finally made my way through Atlantic Canada on the second leg of my journey. Along the way, a trail angel – more on trail angels in a future post! – said, "everyone has to go out there and find out the truth for themselves…" and then, after a moment's reflection and with a proud smile, "I guess that's what you're doing!" Though I didn't exactly think about it as such when I set out, that is exactly what my cross-Canada walk has been about: having my own good look at Canada and assembling my own version of that "truth". 
The Trans Canada Trail, with its wild landscapes and mission of connecting Canadians to nature and to one another, has exposed me to all manner of learning and experience: joining Indigenous rice harvesters for a day on the lakes in Manitoba's Whiteshell region, encountering pronghorns in the Prairies, learning the history and deep roots of Black Loyalists in Nova Scotia pre-dating "Canada" by more than 80 years, and seeing the engine of Canadian industry up close, to name just a few. 
The Trail has offered an abundance of informational plaques, countless wildlife encounters, hundreds of unique community cultures, and a thousand heartfelt kindnesses from the locals whose paths I crossed. One step at a time, one community at a time, I'm finding out for myself just who we are, what we're all up to, and how land, culture, and borders weave us together and set us apart. 
Leaving Burnaby, BC, on the second day of my journey, which has now spanned some 270 days and nights over two hiking seasons, I came across a sign that read "St. John's Newfoundland – 11,328 km" 
11,328 km! Eleven thousand, three hundred and twenty-eight kilometres! "#lifegoals," I wrote at the time, though I didn't really believe it was something I could ever achieve. 
Even as I write this, with the East-West traverse now a soon-to-be-realized goal, I wonder if I'll ever gather the skills and fortitude to take on the even more challenging, even more remote northern stretch that begins in Fort Saskatchewan and climbs and climbs and climbs in latitude until reaching Tuktoyaktuk and the Arctic Ocean. But the determined and hearty few who have gone before me on foot offer wisdom and inspiration, as do those who have travelled the route on wheels.  
And, the more I hike the Trans Canada Trail, the more I want to hike the Trans Canada Trail. Whether a short walk to decompress from a day's work in the off-season or the two thru-hikes behind me, the Trans Canada Trail has a kind of magnetism that calls me back for more. While travelling in various parts of the country, I find myself never far from the Trail, picking out the distinct origami-architecture of the its pavilions on distant horizons, or catching the various iterations of trail markers from the corner of my eye. 
Three years after I first set out on my journey "home", I end my nights tucked under covers and clicking on map sections at random, reading trail descriptions, sizing up the distance and difficulty, and dreaming of future days spent outside, finding my "home" in Canada and in community with the people, places, and landscapes within.  
Want to learn more? Keep an eye on this page in the coming months as I share section highlights, safety tips, trail magic, and what it was like tackling the Trail on bicycle after breaking my foot! You can also follow my Instagram stories (@bonnbury) and my blog (bonnvoyages.ca) for photo journals from the Trail. See you outside!