18 July, 2023
Bonnie's Trans Canada Trail: the Topsails, Newfoundland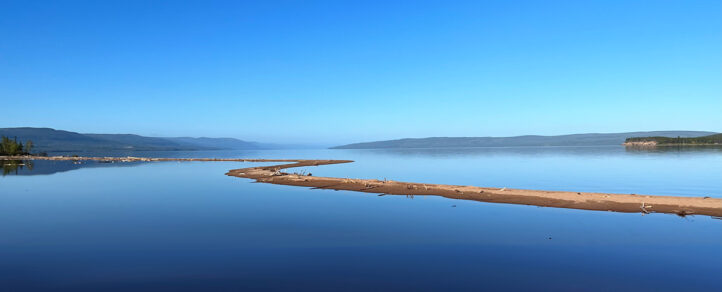 Written by Bonnie Thornbury
Much of Newfoundland's 888-kilometre T'Railway winds and weaves alongside the Trans Canada Highway, opened in 1965 and eventually replacing rail as the province's main means of transportation. But where the road veers sharply north in Badger, the former rail route cuts west to the trail-side town of Howley and the serene and aptly named Grand Lake, eventually meeting up with the highway again another 20 kilometres west in Deer Lake. Spanning a distance of 100 kilometres, the section between Badger and Howley is home to Newfoundland's most remote stretch of Trans Canada Trail, crowned by the geological wonder of the Topsails.
End-to-end magnificence
Getting to the Topsails is no easy feat by human-powered means, but the determined will be rewarded with some of the most surprisingly spectacular terrain that Newfoundland has to offer. Approaching from Badger in the east, the trail makes a gradual climb of 1600 feet over 60-some kilometres of wide-open scrubland to the summit, Gaff Topsail, before a comparatively sharp 1,600-foot drop over the remaining 35 kilometres to Howley.
Reaching the long-abandoned rail community of Quarry, with its enormous cuts of granite now serving as an open-air guestbook for those with a can of spraypaint on hand, the sharp relief of the Topsails comes into full view. Beyond the summit, the terrain changes drastically from wet, flat, moody and muted tones to lush and sunny as the Long Range Mountains come into view. The stark shift – and teeming life – at this ecological meeting zone leaves a lasting impression, surpassed only by arrival at Howley's shimmering Grand Lake.
End-to-end magnificence!
The geological wonder of monadnocks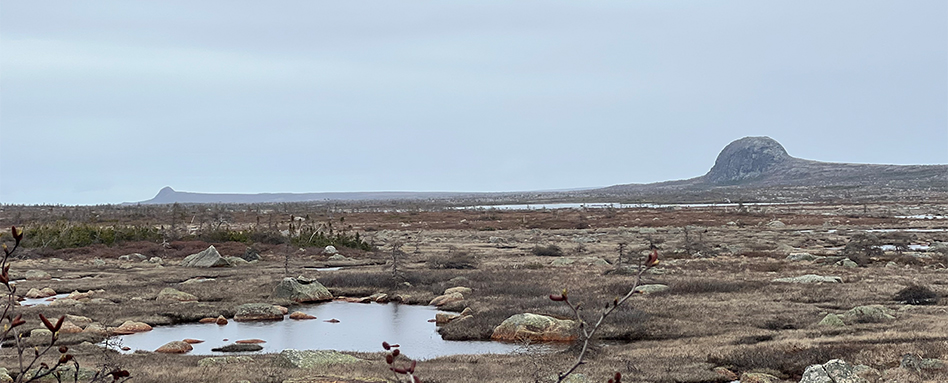 The Topsails are monadnocks – isolated mountains rising abruptly from a surrounding plain, formed when a hard body of rock is encompassed by softer rock and erodes over thousands or millions of years. In other words, to look at the peak of a monadnock is to see the heights of long-ago landscapes and take in the grandeur of otherwise imperceptible erosion. The Earth is just so cool!
Natural wonder aside, Newfoundlanders are known to turn a phrase, and this skill is on full display in the naming of the Topsails. The four monadnocks that make up the collective Topsails are Main, Mizzen, Gaff, and Fore, all seafaring terms that describe the sails – topsails – at the very top of a ship. The Topsails sit just west of centre of Newfoundland, which is itself a big floating rock in the middle of the Atlantic Ocean. Imagining the Topsails as the sails of the province, thinking of Newfoundland as a ship tilted sideways against a strong sea gale… the poetry is as titillating to the mind as the landscape is to the eye.
And, the landscape is nothing short of stunning: at first awe-inspiring for its wide expanses and the shifting, moody patterns of clouds carrying rain and mist to distant futures. But a long traverse is an invitation to look closer: pops of colour please the eye by way of vibrant red tips of tiny lipstick lichens, the bright yellow buds of the alder catkins that line much of the traverse, or the emerald green buds of hardy tamaracks that dance on the wind like tiny crowns. The open scrubland is known for high winds, heavy snow and quickly changing weather.
Wildlife viewing at its peak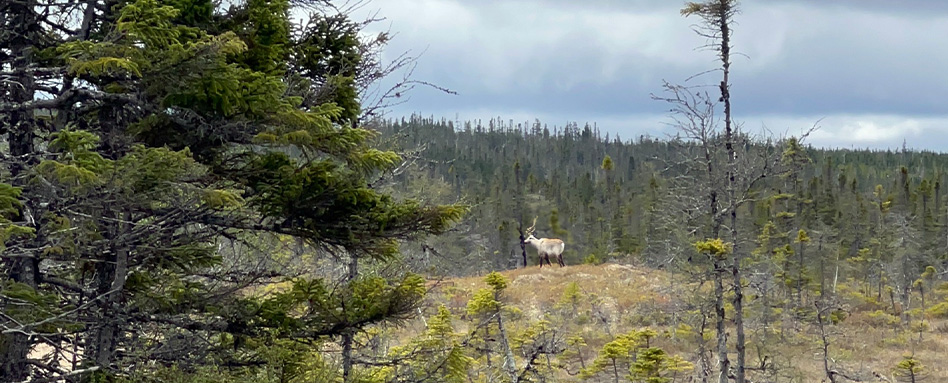 Remote and undisturbed by industry or traffic, wildlife viewing is at its peak in the Topsails region: a lone caribou male with a majestic rack perching atop a granite outcrop; a gaggle of caribou calves lying in the long grass as caribou cows graze nearby in groups of three or four; a casual caribou with cleft hooves clip-clopping along the trail in front of me for more than a kilometre before stepping leisurely into the woods; the white throated thrush whistling its "doooo-doooo-do-du-du-dooo" melody so often as to become a comforting companion; a curious beaver slapping its tail against the waters of an otherwise peaceful pond, perhaps in welcome or warning; moose in such abundance that I startled or was startled by their sudden appearance on more than a few occasions.
In one particularly endearing moose encounter, a cow came to the edge of the thick alder-lined track and looked both ways before crossing, seemingly savvy to the potential dangers of a collision with a side-by-side or ATV. Just as the cow's hind leg disappeared into the brambles on the opposite side of the trail, a calf likewise poked its head out, looked both ways as its parent had done, and safely crossed the trail!
A glimpse into the rail line's past
Traversing the long, wide-open stretches of rugged scrubland, it's easy to the imagine the sights and sounds of heavy steel locomotives lumbering and screeching along what was once the province's primary rail line. The Newfoundland passenger train was nicknamed "The Bullet," a tongue-in-cheek name given its slow speed. To walk this stretch is to be immersed in the history of the rail, conveyed through remnants of the rail era: rail cars repurposed as cabins, rail crossings repurposed as lawn ornaments, heavy steel trestles built to last. Many of the cabins, initially built by rail workers as a stopover between shifts, are still owned by their descendants. The last train crept across the province in 1989, but locals still trade tales of trains getting stuck in mighty snow drifts, revealing pride for both the feat of engineering of the plow trains dedicated to clearing the tracks and the wicked weather that sometimes stilled the trains anyways.
People can be so kind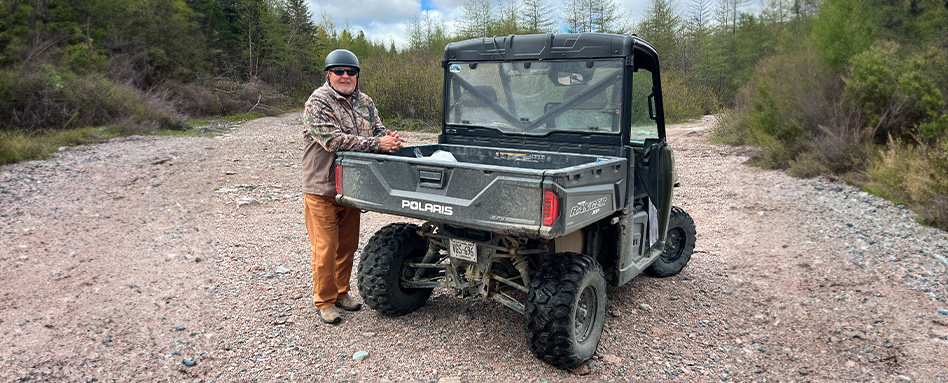 Because the weather can turn quickly in this area, many people passing by on ATVs or side-by-sides stopped to tell me which cabins I'd find unlocked if I needed a place to tuck in, "in case you run into some bad weather up there, like." Thinking about that – about people looking out for one another, people leaving their cabins open should anyone run into trouble – it moved me to tears. People can be so kind, so welcoming, so open.
Larry, for example, was on the way to fix a roof and asked if I would like anything – a cold drink or the like. "What do you have?" I asked.
"Anything you like!"
"Well, I love a Coke when I'm hiking!"
"Okay, you carry on and l'll find you again!"
Larry sped off and came back a while later with a cold Coke and a bag of Reese's peanut butter cups. Just so kind.
On my first night past Badger, I had the great pleasure of staying with Jim and Shirley in their off-grid cabin and taking in a kitchen party as neighbours arrived on side-by-sides and piled in. In the morning, they sent me off with a good feed of crab that would fetch more than a pretty penny at market … I had to stop them from sending me with more! Something I've come to notice about Newfoundlanders is that they've got pots and pots of gold and they'll give it all away. The quintessential East Coast hospitality is at its finest in this remote and rugged area, where no one is a stranger to needing or lending a hand.
By the time I popped out of the trail at the water reservoir in Deer Lake, the next trail town past Howley, I hadn't seen a soul in three days. The weekend traffic – just enough to be pleasant without being intrusive – had long dissipated, leaving me to revel and relish in the uninterrupted nature. But I never felt alone – the small handfuls of clustered cabins, built to be nothing more or less than just what you need, connected me with human presence. I imagined all of the quiet moments probably enjoyed here: the last cup of tea and a tune on the radio, nature at your fingertips and caribou at your door.
If you're lucky enough to traverse this section, expect to leave a piece of your heart and bring with you a longing to return.
Want to learn more? Keep an eye on this page in the coming months as I share section highlights, safety tips, trail magic, and what it was like tackling the Trail on bicycle after breaking my foot! You can also follow my Instagram stories (@bonnbury) and my blog (www.bonnvoyages.ca) for photo journals from the Trail. See you outside!