18 October, 2023
Bringing Stories Outside: The Storybook Trail in Woodstock, New Brunswick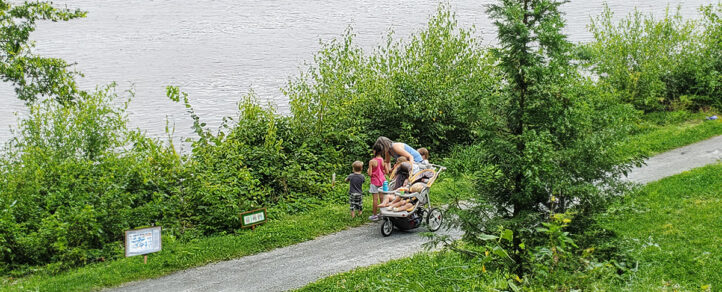 The Woodstock Trans Canada Trail Association, located in Woodstock, New Brunswick, was established in October 2022 with the goal of protecting, maintaining and improving the Trail section within the municipality. The Trail section is a former railbed located beside the Wolastoq (the good and bountiful river), on the traditional territory of the Wolastoqiyik.
Also referred to as the Saint John River, the Wolastoq was designated a National Historic Site in 2011. The river was a significant trading route, gathering place, and cultural and spiritual place of significance for Wolastoqiyik.
From concept to fruition, thanks to a partnership with a local library
We spoke with Jennifer Campbell, Woodstock Trans Canada Trail Association president, about how the Storybook Trail concept came to be. Jennifer Campbell approached L.P. Fisher Library manager and librarian, Jennifer Carson – an avid cyclist and frequent Trail user – to discuss the Trail in Woodstock. They wanted to promote the Trail and make stories – and literacy – accessible outside, and the Storybook Trail seemed like a great way to do so.
Drawing on funding from the National Trail Youth Employment Program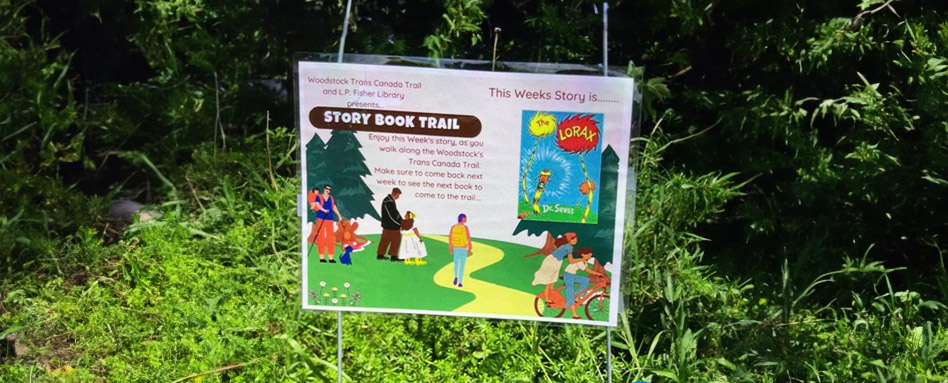 Through this new partnership, they hired a summer student to support them with developing the Storybook Trail project. Enter Jenna Rees, the first ever Woodstock Trail Program Coordinator.
Jenna Rees' position was funded through the Town of Woodstock, Trans Canada Trail's National Trail Youth Employment Program and the Woodstock Trans Canada Trail Association. The position provided valuable experience for Jenna. It supported her studies, providing mentorship and learning opportunities while delivering on the Woodstock Trans Canada Trail Association's goal of improving the Trail experience for users.
Jenna led the project, which aimed to encourage families to enjoy the Trail, get active and appreciate great stories. Books were selected in consultation with project partners at the L.P. Fisher Library, and these books were then transformed into laminated panels and displayed along the section of the Trail in downtown Woodstock. Stories included The Lorax by Dr. Seuss, followed by Leap! by Campbell Manning and A Camping Spree with Mr. McGee by Chris Van Dusen.
Literacy meets physical fitness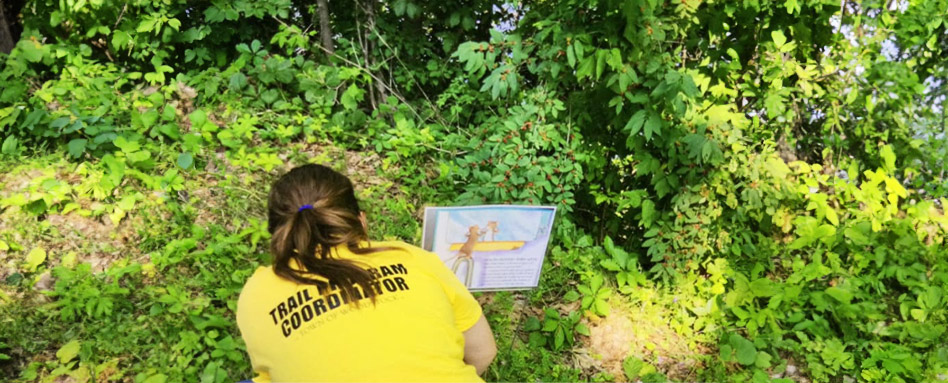 "The reception has been phenomenal," says Jennifer Campbell. "We were thrilled to see and hear how much children, adults, residents, visitors and newcomers all loved the idea of the storyboards along the Trail. Encouraging children to exercise, practice reading skills and discover new books and authors is a win-win-win."
The Storybook Trail was promoted on social media and Trail volunteers could see social media engagement increase over the summer months as word spread about the project.
Getting outside to experience nature fosters a thriving community culture
Another great outcome of increased use along the Trans Canada Trail? "We've noticed that using the Trail is a means of creating community," says Jennifer. "Residents, visitors, pets, seniors, newcomers and tourists are mingling and chatting – and the trail is busier than ever!"
What's next for Storybook Trail? Jennifer says, "We have a huge surprise for next year! New storyboards by a special, much-loved author! Stay tuned and check in with us next summer!"