29 June, 2018
Cathy Rand connects with the Trail – one province and territory at a time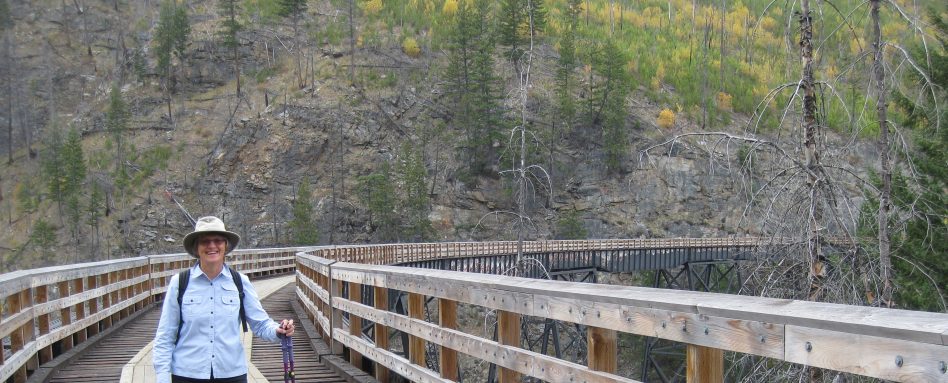 After more than 20 years of generous giving and 10 years of visiting sections of The Great Trail across Canada, TCT donor Cathy Rand can now say she has walked parts of the Trail in every province and territory.
Cathy has been supporting TCT since 1995, but it was a trip to Edmonton in 2008 that inspired her to explore the Trail across the country.
While waiting for her hotel room to be ready, she decided to walk along the Edmonton River Trail. In the distance, she noticed a familiar outline – a TCT pavilion.
"Then a little voice in my head said: 'Wouldn't it be amazing to walk some of the Trail in every province and territory?'" Cathy says.
This idea sparked Cathy's imagination and she soon began to explore sections of the Trail whenever she could.
Fast forward ten years, Cathy reached her goal with a hike along the East Coast Trail in Newfoundland in June 2018, taking in the Trail in coastal areas like Cape Spear and Petty Harbour-Maddox Cove as well as inland pathways west of St. John's.
"I just can hardly believe that I reached the goal I set 10 years ago," Cathy says.
Sometimes, Cathy explored these Trail sections with friends and family; occasionally, she hiked alone. But her positive memories remain a constant throughout all her trips. Over the years, she embarked on numerous adventures, including a hike of the Kettle Valley Rail Trail in B.C., an adventure in Cape Breton, Nova Scotia, and even a walk in Canada's Far North.
"I've been right to the top of the Trail in Tuktoyaktuk," Cathy says. "It was amazing to be there, and to see the Point Zero monument. I didn't even know there was a northern Point Zero."
She also fondly remembers how welcoming the locals were wherever she went, and in some instances, how proud they were of their nearest section of the Trail.
"I was staying at a B&B in Manitoba and the lady asked me where I was going. I told her that I was going on the Trail and she said: 'I'd like to take you to a special part of the Trail.'"
Reflecting on her experiences, Cathy believes that her journeys have brought her closer to the Trail and Canada.
"I remember a quote from Valerie Pringle that the Trail celebrated everything she loved – the outdoors, fitness and Canada," Cathy says. "That's also what I love about the Trail. I get to see Canada, I love nature and the outdoors and I can get fit, too!"
"The founders of the Trail made such an inspiring and important contribution to our majestic country, and to Canadians who want to get to know it better," she adds.
We are very grateful for donors like Cathy. To learn more about how you can support the development of the Trail for future generations, visit our Donate page.