29 March, 2021
Deb Allerton: Giving Back and Sharing her Passion for The Great Trail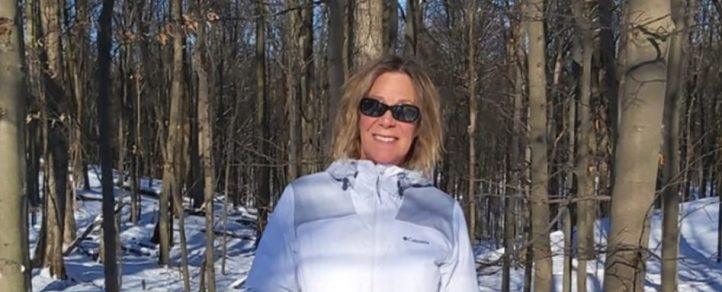 "I feel healthier outdoors."
Deb Allerton feels invigorated and energized when she spends time outside, breathing in fresh air and soaking up vitamin D from the sun.
Most days of the week, you can find her enjoying all that nature has to offer.
Since Deb likes doing these things with friends and family by her side, the past year has brought some unique challenges. During the winter months you can usually find her alpine skiing and hiking, staying active alongside friends and family members. This year, she has focused solely on hiking due to ski resort closures in her area.
She says she wants to be safe and stay healthy, respecting local public health guidelines while spending time outdoors. So where does she go? Straight to The Great Trail!
With lots of space available on the trails near her home, she says it's the perfect place to be during the pandemic. "I do a lot of hiking and feel 100% safe on the Trail. I often see my neighbours and people I recognize from my community; we can wave and have a quick visit from a safe distance."
"Trails connect people; that's just what they do. They're like threads, weaving together and connecting communities and people. They bring a sense of happiness and well-being."    – Deb Allerton
Deb is an active member of her community and she could see how the pandemic was causing changes in the routines of daily life that really affected people. Stress levels were increasing as people weren't able to take part in their usual activities. She wanted to help.
She shares, "hiking and spending time outdoors on The Great Trail is a passion of mine and I'm in the fortunate position of being able to donate to my passion so that other people can enjoy the Trail. If there was ever a time when I could help, it's now, during the pandemic."
Deb adds "the healthier people are, the better the immunity they have."
With so many things to see and enjoy, she hopes people of all ages will take the time to venture out on a local trail in their community. She suggests keeping your eyes open because you never know what you'll see. She was delighted to see three deer on a hike recently!
"The great thing about The Great Trail is that there's something for everyone" says Deb. "If you're younger, if you're older, whether you like to go fast or slow, whether you have full mobility or are experiencing physical challenges, you can find a trail that meets your needs." Each season offers new things to see so she recommends making trail visits a regular part of your routine.
In Deb's words, trails are "beautiful, quiet and always a delight."
If you feel the same way Deb does and want to support Trans Canada Trail so we can welcome more people to the wonderful world of trails, please donate today.