17 December, 2019
From Edmundston to Rivière-du-Loup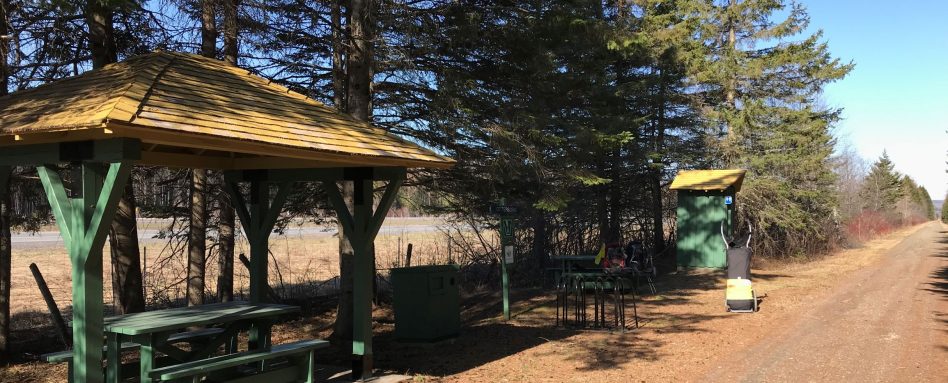 By Julie Chatelain and Simon Lacroix
Our first week was on the Le Petit Témis section. This old railway has been given new life as a walking, cycling, cross-country skiing and snowmobile trail. This trail was popular and in great condition. The grade was typical of old railbeds. It climbed gradually up to Saint-Honoré-de-Temiscouata (over 330 metres) and then descended slowly into Rivière-du-Loup. We found many picnic areas and rustic camping spots. There were several outhouses along the way. However, from Saint-Louis-du-Ha! Ha! (yes, that is the name of the community), they were all boarded up. I guess it was a bit early in the season.
Along the way, we met a few walkers and cyclists. One of them stopped for a chat. Jacques, who lives in Saint-Jacques, was an avid hiker and was full of questions regarding distance walking. He had a dream of walking the Camino de Santiago. We hoped that he would follow through and experience all that the Camino has to offer.
The second day, at a picnic area along the Madawaska River, Monique came by. She had sold all her belongings and was cat-sitting for free accommodation to save money for her trek to Mount Everest. A massage therapist, Monique had also experienced the Zen feeling that walking can generate. She wanted to spend more time trekking and admired our determination.
On day three, the weather turned. A cold and overcast day mirrored the aches and pains typical of the beginning of treks. At every rest stop, we stretched and adjusted our packs and the wheelie to minimize the load on our muscles. We had experienced this before and knew it would settle into a less acute sensation soon enough.
Our mood remained upbeat and we enjoyed our beautiful surroundings. For the next two days, the nights were well below freezing. We wore everything we had with us inside our sleeping bags and did our best to stay warm. In the morning, we looked forward to our hot coffee and breakfast. This went a long way to warming us up and getting us going.
On May 9, the day before we reached Rivière-du-Loup, the weather warmed up again. We felt stronger and our bodies began to adjust to the demands of the Trail. We increased our pace in anticipation of a rest day and soon, Andrew approached from a distance. A Scotsman and avid distance cyclist, Andrew had cycled across the U.S., Canada and many other parts of the world. We shared thoughts about distance travelling, keeping a slow pace in life and our shared love of food. We could have talked much longer, but the day was still young and we all had some distance to travel.
We arrived early at our campsite and checked the forecast for the next few days. Rain and more cold temperatures were coming. We decided to head directly to Rivière-du-Loup, since we had just completed a 32-kilometre walking day and we were tired. A nice hot shower and a warm bed were all we had in mind for the night.


Rest days are the best! We washed our clothes, had a hearty breakfast and checked our emails. Andrew reached out to us and provided a contact with a home stay opportunity from the 'Hot Showers' group.
He had stayed in Victoriaville with a lovely young woman, who was also a beekeeper. We looked forward to meeting her and learning a bit about her interesting profession. Martine, Simon's sister, would have been jealous!
We looked forward to a day of resting, our sockless feet propped up against the breeze. We reflected on the plan: take the ferry back to the north shore and walk the Charlevoix region. Simon looked forward to the hills and Julie agreed to let him pull the wheelie during the longer climbs. What a saint!

Find us walking
Website
Facebook