9 October, 2019
Enriching The Great Trail experience with Indigenous connections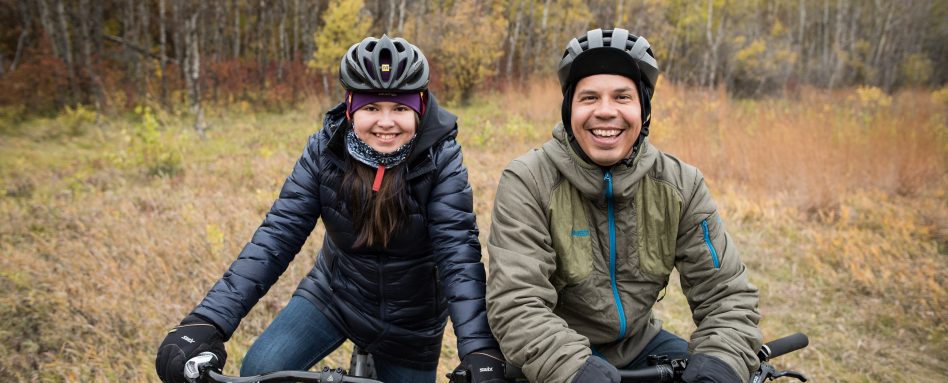 By Adrian Alphonso
My bond with The Great Trail in Winnipeg is a strong one. I'm an avid cyclist who loves both urban and wilderness cycling. Travelling by bike along the city's Trail sections gives me a special appreciation of the beauty in my community.
The connection has deepened for me as I've learned more about the stories the Trail tells about Winnipeg's Indigenous history and culture, including my Anishinaabe heritage.
Last summer, my friend Justin Larrivee and I led Traditional Trails – offering Indigenous cycling tours in Winnipeg's centre. One of our goals was to provide people with an opportunity to engage in outdoor physical activity and to develop an appreciation of the joys of cycling. What better way to get exercise than through an activity that also connects you with the land around you?
Our tours began at Forks National Historic Site in downtown Winnipeg, at the confluence of the Red and the Assiniboine Rivers. The Forks is known as the "meeting place" – a place that brought together Indigenous peoples dating back 6,000 years. Later, it also became a significant site for traders and settlers from faraway lands.
The South Point pathway was recently given the official name of Niizhoziibean, which is "two rivers" in the Ojibway language. At a ceremony, Niigaan Sinclair, associate professor in the Department of Native Studies at the University of Manitoba, described the significance of the renaming: "Niizhoziibean not only embodies the spirit of the traditional past of the Forks, but also enhances our understanding of what this place means – a collaborative space where people have been coming together to trade, grow and make life for millennia."
Since then, I created a cycling group named Clear Paths, which aims to inspire a path towards reconciliation and to connect Indigenous people with their cultural traditions and history. A key element is to involve local Indigenous knowledge keepers to share authentic content of their connections to our natural environment.
This cultural sharing enriches everyone's experience of The Great Trail, which tells such an incredible story of all our histories.
Trans Canada Trail is a not-for-profit organization. If you value our work, please consider supporting us by visiting our Give page.  
---