4 December, 2017
Experiencing Hospitality, Healing and the Kindness of Strangers on The Great Trail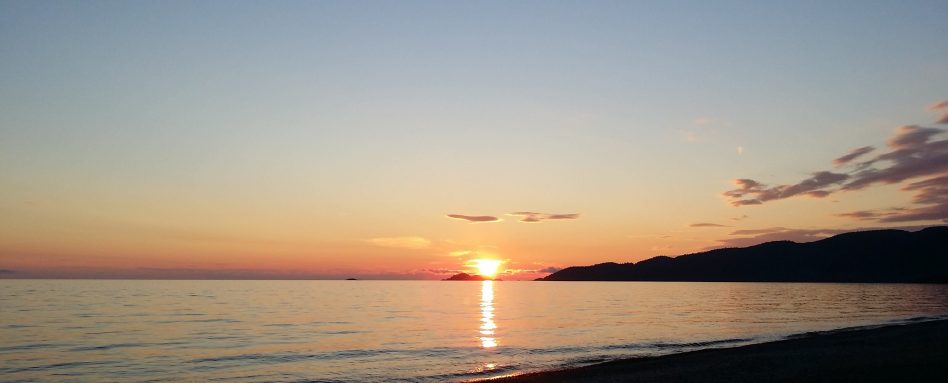 In 2016, we heard one of the most inspiring tales from the Trail to date. Trevor Hodgson, a keen cyclist from Kelowna, B.C. told us how cycling along sections of the Trail helps him cope with bipolar disorder.
"I can't say that riding the Trail saved my life, but I will say it gave me a reason to live," Trevor told us that year. "Now, riding the Trail is a way for me to stay physically fit, manage my weight and combat depression."
After over a decade and tens of thousands of kilometres of "backcountry mountain bike adventures", Trevor's mission to explore every corner of Canada on the Trail continued, and in 2018, he achieved this ambitious goal.
In May 2017, Trevor began his cross-Canada journey on the Trail at Mile Zero, Newfoundland, with a goal of cycling west towards Victoria, British Columbia.
Starting with the "challenging and rewarding" Newfoundland T'Railway, he later cycled the entire Confederation Trail in Prince Edward Island, an experience he calls "love at first ride". His first round of adventures that year led him through Trail sections in Nova Scotia, New Brunswick, Quebec and Ontario.
"Woodstock, New Brunswick, greeted me with a double rainbow, and treated me to a sunrise and sunset over the Saint John River," he recalls. "Quebec's beauty and love of bicycles captured my heart."
However, disaster struck when Trevor took a rest stop in Winnipeg. While buying supplies at a supermarket, someone stole his bike and supplies, which were locked outside.
"The emotional crash I experienced when my bicycle was taken had me ready to quit," he admits.
However, when his trailer and equipment were found abandoned in an alleyway, Trevor regained his determination to keep going.
Encouraged by his friends and family, he reached out to media and started a GoFundMe Campaign to raise money for a new bike. Within 48 hours, generous strangers from Winnipeg and further afield helped Trevor raise $3,000.
"I was absolutely stunned and more than a little surprised by the positive response I got from the good people in Winnipeg and all across Canada," says Trevor. "Inside a week, I had the new bike set up and was ready to continue my trans-Canada journey."
"Despite some residual anger, fear and resentment at losing my bike, the people of Winnipeg restored my faith in humanity," he added. "The new bike performed well and is an excellent mountain bike capable of riding The Great Trail."
With a new bike and a new perspective, Trevor set off on his journey once again, taking in Trail sections in Saskatchewan, Alberta and, eventually, his home province of British Columbia.
In 2017 alone, Trevor cycled a total of 10,031 kilometres. However, his cross-Canada journey is far from over. However, his cross-Canada journey was far from over. In 2018, he got back on his bike and tackled the Trail in the Northwest Territories.
"I didn't see darkness for a month on the Dempster Highway," says Trevor. "I rode into the Arctic Circle at 2:30 a.m. on the morning of the summer solstice."
He spent Canada Day 2018 in Tuktoyaktuk, where the locals celebrated with a BBQ lunch inspired by traditional cuisine.
When his cross-Canada journey came to an end, Trevor initially struggled to find new focus.
"I had spent so much time dreaming about riding the Trail. I was unsure of what was next," he says. "Finishing my goal made me depressed – I didn't want it to end. As always, I combat the depression with thoughts of returning to The Great Trail."
In 2019, Trevor took a break from long-distance cycling to raise his new puppy, Daphne. But it won't be long before he and Daphne will hit the Trail again.
"The Trail is always in my heart and I look forward to the challenges it still holds for me," he says.
"Canada is rightly famous for its beautiful scenery and friendly people," he says. "I am truly blessed to visit so many spectacular places."
"The people I met are friendly, kind and helpful. Canada is an amazing country and riding across it has left me with an abundance of memories and stories."
Want to keep up with Trevor on the Trail? Check out his page, Trev's Travels.