29 July, 2019
From Robinsons to Port aux Basques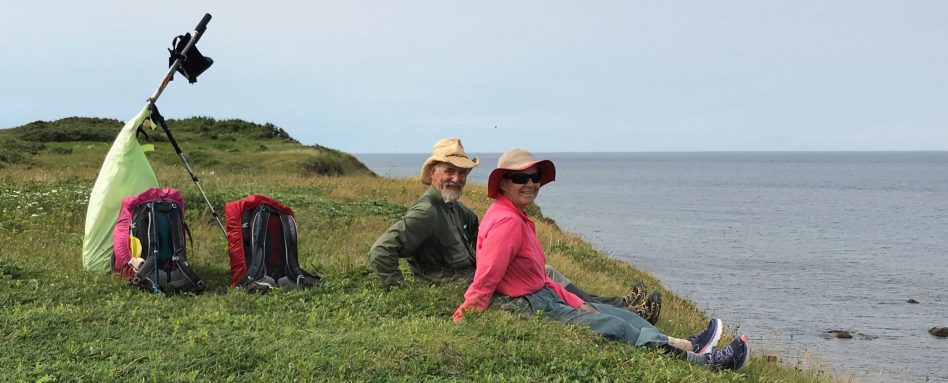 By Julie Chatelain and Simon Lacroix
The day off in Robinsons was worthwhile. We walked the beautiful coastline and chatted with a local artist who was picking rocks for her crafts. The garnets went crazy on a ball of herring; they dove from great heights into the water creating quite a show.
There were 105 kilometers left to reach Port aux Basques. The trail condition was some of the worst we encountered to date in Newfoundland. We projected an arbitrary agenda for these last few days. But the trail gods reminded us that we could only stay in the present moment. Planning only led to frustrations as we were not in control of our environment. Struggling along, we managed to walk forty kilometers the first day. In some sections, our average of four to five kilometers per hour slowed to a two and a half kilometer per hour pace. But we were well served that night with a great camping spot along the North Branch of the Codroy River where we refreshed our sore, overheated bodies in the cool waters of the river.
After trudging thirty-two kilometers on a very hot second day (from Robinsons), we saw a convenience store at a road crossing. In seconds we downed two Gatorades each. We were so spent that we sat in the dirt near the store for close to an hour eating and drinking. On our return to the trail near Doyles, we came across the Sunny Brook Inn (B&B). We quickly turned into the Inn's driveway and stayed with Ruby and her husband. With four rooms available, we were their only guests. Ruby didn't usually cook for her guests, but she offered us a home cooked meal. That evening we had a local favorite, a bologna stew. Before heading off the next morning, we shared a great breakfast of ham, eggs, potatoes, and fruit.
Leaving Doyles, we knew a storm was approaching. Given the trail's condition, we didn't expect to reach Port aux Basques that day. But by two pm, we arrived at Cheeseman Provincial Park. It was then that we realised there were only two and a half hours of walking left to reach our destination. We pushed on, knowing that the ferry for Sydney was scheduled to leave at 11:45pm.
Even with the difficult trail conditions, these last three days in Newfoundland were a great recap of the month-long journey across this beautiful province. The stunning scenery was again dotted with frustrating sections of 'tree tunnels' where we could not see anything. On the last day, we followed the southwest coastline. We enjoyed the stiff breeze and the smell of salt air. It was wonderful. We continued to be stopped by many trail users who were puzzled to meet us walking the T'Railway.
We entered Port aux Basques, took a picture by the start of the old train line and went to spend two hours at Tim Hortons feasting on sandwiches and sweet tea. The last two kilometers to the ferry terminal were done in a downpour. We had completed the first leg of our journey. Now we would wait in the terminal, dry off, and play cards until departure time.
It was difficult to finish a long segment like this without reflection. We saw a lot of wildlife, struggled through difficult sections of the trail, both recovered from colds, experienced four seasons in 48 hours (including a snow storm on June 24th), witnessed the exceptional landscapes (such as the Topsail Plateau), and above all met delightful people all the way through from St John's to Port aux Basques.
We loved experiencing topogeny. The Newfoundlanders were deeply linked to their island, its history, geography and weather. They described their past with the use of events on the landscape.
We were greeted coming off the ferry in North Sydney by June and Sara (thanks to Chuck and Carly for suggesting and organizing). So generous of them to taxi two smelly travellers across the inlet to Sydney early on a Sunday morning. We now found ourselves in Sydney resting for two days. We both needed new shoes, a few supplies before embarking on the Nova Scotia phase of our journey. We also had to review the route because the Trans Canada Trail in Cape Breton Island started as a 'water way'. This section was meant to be done by watercraft. We wouldn't be doing that and instead of skipping this part, we found an alternative route. We planned a path using smaller roadways south of the Bras D'Or Lake and local trails such as the St Peter's Coastal Trail in order to rejoin the Trans Canada Trail in Aulds Cove. We anticipated more pavement and good trail systems in Nova Scotia but best not set expectations too high, as the trails gods would likely have their own thoughts on this…
Until the next blog; don't forget: 'Take A Walk'. It's good for the body and soul! ?

Find us walking
Website
Facebook