2 August, 2019
From Sackville to Alma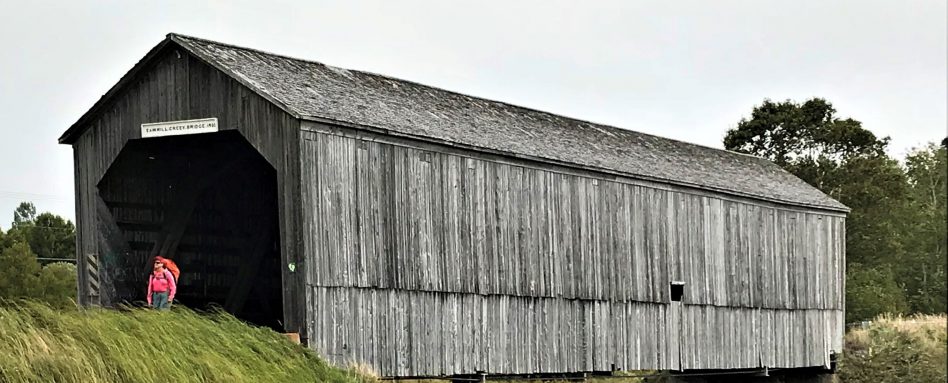 By Julie Chatelain and Simon Lacroix
We had a wonderful rest period: a family birthday celebration, a visit at our good friends' farm and a wedding. But we felt we had unfinished business as we had not completed our goal for this season: the Maritimes.
A flight to Moncton got us back on track. While waiting for the bus to Sackville, we met a nice couple at the airport. They noticed our heavy laden packs and asked if we were on a journey. Donna and Abraham had cycled across Canada a few years back. Their story resonated with us. They too had sold their homes and embraced a nomadic life. They had since moved to Moncton but longed for another adventure. We hoped they got to travel again soon to satisfy their wanderlust.
We stayed overnight in Sackville at a hotel. At breakfast, Elizabeth and David, a couple from Fredericton, offered us their hospitality when we crossed their city in a few weeks. This was an example of how friendly people were in the Maritimes. We encountered countless folks who stopped and offered us food, water, rides or home stays.
Our feet were happy to be walking again but our bodies complained a bit about the heavy backpacks. Our Wheelie had been shipped to Saint John (NB) as we anticipated some rough trail in the Bay of Fundy area. We had opted to carry our gear in our backpacks. We were mindful of keeping a four kilometer per hour pace for the first few days to minimize aches and pains.
As in Nova Scotia, the trail used roadways, rail beds and trails. The rolling terrain was bucolic. The road sections were quiet and allowed us to daydream as we walked along. Our first night out, we slept in a gazebo over a pond in Memramcook. A young mother with her two boys stopped by to chat and offered their hospitality but we were already tucked in our tent, so we thanked them and they were on their way.
The heat remained a challenge during these first few days. Temperatures rose daily to high 30's Celsius with high humidity. We took a rest day in Moncton. Simon's feet were acting up again. Whether it was the heat, the roadway, his shoes, we were not sure. We added some cushioning in his shoes, some Kinesio tape on his feet and hoped that the trail bed would provide him with variety and reduce the irritation that was causing him difficulties.
The Trans Canada Trail crossed the Petitcodiac River and passed through Riverview, a suburb of Moncton, it then entered the hills following the Dobson Trail down toward Alma and the Bay of Fundy. Had we followed this, we would have had to carry over six days of food in our backpacks. We chose to follow the old trail (of 2008) recommendation and walked along the coastal roads down to Alma. In this way, we ate in restaurants along the way and only carried three days of dried food. Grocery stores were few and far between in this area.
Walking along the roadway allowed us views of the river and the surrounding farmlands. The reddish river was bordered by steep banks of red clay. We couldn't imagine having to get water from this soupy mess! Luckily there were plenty of houses along the way. We managed to find hidden spots along the road to camp. Being discreet was key, we looked for lots that appeared vacant and offered good tree coverage. Voila, our home for the night!
As the weather cooled, we entered Alma, a pretty coastal town. It had many shops, a bakery (best sticky buns!), and a brew pub! Being close to the Bay of Fundy National Park, it benefited from its tourist traffic. After enjoying a coffee, we pushed on and walked another ten kilometers reaching Wolfe Creek Campground. What a treat, a hot shower!
Our first few steps into the Fundy Path were breathtaking. The trail was rooty and rugged. It meandered along the Bay and offered great vistas where the park staff had placed Adirondack chairs (how thoughtful).
We include some information on the Fundy Trail for those who may wish to come and explore its wonders. We registered with the National Park service and got a backcountry permit. The Fundy Trail travels 80 kilometers through three parks and was managed in conjunction with the Fundy Trail Parkway organization. There were fixed, first-come-first-serve, wilderness campsites and the trail was a coastal gem that was very challenging.
We'll leave you here and come back shortly with another chapter of our walk. But for now, we will sleep under the pine trees feeling clean and smelling fresh!

Find us walking
Website
Facebook