30 October, 2017
Haunted British Columbia: 6 Spooky Places on the Trans Canada Trail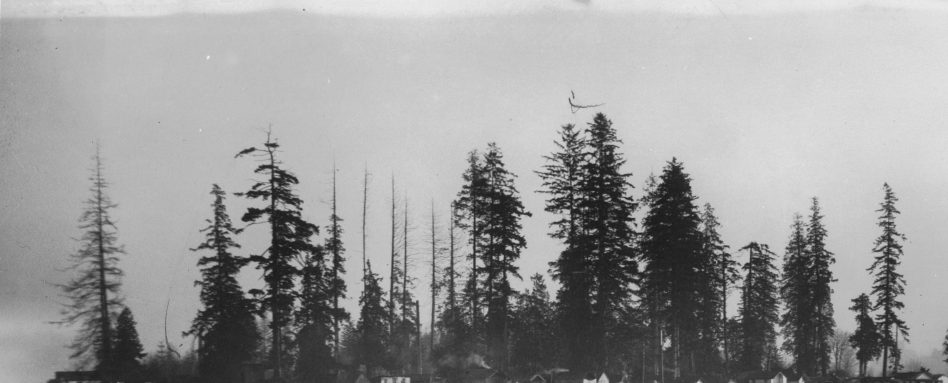 With a strong tradition for ghost stories dating back centuries, many see British Columbia as Canada's most haunted province. Indeed, the Trans Canada Trail in BC doesn't just offer spectacular scenery. Chilling tales, historical mysteries and tales of the unexplained are also woven into the fabric of the region's Trail sections!
Whatever your feelings on phantoms may be, the following locations on the Trail are worth a visit this Halloween. Just remember to bring your bravest friends and a reliable flashlight!
1. The Fairmont Empress Hotel, Victoria
Photo: Peter Hogan (via Flickr)
A glamorous and historical Victoria landmark, the Fairmont Empress Hotel is also said to be one of the city's most haunted hotspots.
Spooky stories from the hotel include sightings of an old lady who repeatedly knocks at the doors of visitors. According to local legends, she leads guests out of their room and to the elevator, before disappearing into thin air. The ghostly apparition of a maid is also said to make regular appearances.
Another ghost apparently seen in the hotel is the building's architect, Francis Rattenbury. If you spot a thin, mustachioed man with a cane strolling through the corridors, it's likely you've met this restless spirit.
Find it on David Foster Way, Victoria.
2. Deadman's Island, Vancouver
Stanley Park is one of the most beautiful parts of Vancouver's Trail network, but it's also close to one of Canada's most chilling sites. Gaze across the water towards Deadman's Island, an old graveyard where ghosts are said to still roam.
Deadman's Island has a particularly bloody history. It was the site of a deadly battle among Coast Salish tribes in the 1700s, and was used as an Indigenous burial ground. In later centuries, settlers of European descent were also laid to rest on the island.
Today, it's the site of a navy base, where some reservists say they've heard footsteps and chains being dragged around in the dead of night, when no one else was around. Scary.
Find it on the City of Vancouver Trail.
3. Waterfront Station, Vancouver
With over 72,000 people passing through its doors in 2016, Vancouver's train station has been one of the city's busiest spots since opening over 100 years ago. So, it's no surprise that it has its own spectral passengers, too.
The spirits of three old women are reportedly seen on a regular basis, waiting for a train that will never arrive. At night, the ghost of a Jazz Age flapper reputedly dances along the corridors. A more gruesome sighting is that of a decapitated man, believed to have been killed while working on the rail tracks.
Find it on the City of Vancouver Trail.
4. Gastown, Vancouver
Photo: Djordje Cicovic
Home to a restaurant that boasts at least four spectres, Gastown claims to be the most paranormal neighbourhood in Canada.
In the Old Spaghetti Factory, staff and clientele say they've had several experiences with departed souls. The restaurant's squad of spirits includes a streetcar driver, a talkative little girl with a balloon, a young boy named Edward and a short, red-haired man.
But that fearsome four aren't the only ghouls in Gastown. At the end of the 19th century, a gold miner named John Bray was robbed and shot three times in the head after a night of cards and whiskey. Some locals say he wanders around Water Street to this day.
Find it on the City of Vancouver Trail.
5. Port Moody Station, Port Moody
Photo: waferboard (via Flickr)
Port Moody Station Museum is jam-packed with local history and heritage, but it's also shrouded in rumours of supernatural activity.
Last year, the museum's management opened its doors to paranormal investigators, after reports of unexplained noises coming from various parts of the building. After spending a number of nights onsite, the investigation team reported having flashlights and cameras switched off by an unknown presence. Sound recorders used by the team reputedly detected a number of voices, including a spectre who claimed to be called Peter.
Find it on the TriCity Trail in Port Moody.
6. Parkhurst Ghost Town
Photo:  pirhan (via Flickr)
Isolated and deserted, this ghost town close to the Sea to Sky Trail is a must-visit stop for anyone who wants to get a little spooked. Although Parkhurst Ghost Town has no history of supernatural events, this vacant village can be a little disconcerting.
Parkhurst was originally a small logging town that was founded in 1926, after the Barr Brothers Logging Company bought the land from the Parkhurst family. Soon, 70 loggers were living in the town. However, when The Great Depression hit Canada, the logging company went into receivership and the town was eventually abandoned.
Today, intrepid trail users will discover a town that is frozen in time. Strange sights include half-collapsed houses, a decaying truck from the 1950s and a car slowly being consumed by a growing forest.
Find it on the Sea to Sky Trail, close to Whistler.
Do you know any more terrifying Trail locations in B.C. or around Canada? Share your ghost stories with us on Facebook, Twitter and Instagram!