4 June, 2021
Hiking Season Has Arrived: 15 Essential Tips to Get You Started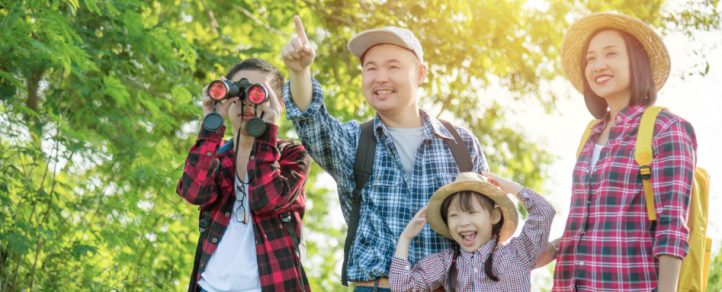 As Canadians, we are extremely fortunate to count 347 million hectares of forest, 243,042 kilometres of ocean shoreline, 43 national parks, over 32,000 lakes, and the longest multi-use recreational trail in the world: the Trans Canada Trail. To put it simply, Canada is a world-class playground with infinite possibilities.
Coast to coast to coast
Spanning over 27,000 kilometres, the Trans Canada Trail not only traverses our great country, it also provides access to breathtaking scenery and provides plenty of opportunities to explore new places close to home.
Most Canadians live within 30 minutes of a Trail section. Whether you're heading out for a jog along the Waterfront Trail in Toronto, or seeking adventure on the High Rockies Trail in Alberta, it's always important to be prepared before heading outside. Here are 15 essentials to help keep you safe and having fun.
---

---
Essential Tip #1 – Happy feet make for happy hikers
Consider traction, support and protection when selecting well-fitting shoes or boots. Leave space for your toes, check the fit and look for an ample cushion. Plus, get some hiking socks!
---

Essential Tip #2 – Make sure your backpack fits
Look for a comfortable, properly fitted backpack to carry your gear and to keep your hands free while hiking. For a day hike, you'll want a pack with a capacity of 10 to 25 litres. For longer adventures, look for a 20 to 35 litre capacity.
---
Essential Tip #3 – Think about the weather
Check the forecast while planning, and again before you head out, on The Weather Network website or app.
---
Essential Tip #4 – Get rain gear and dry-fast layers
Dress for the weather and bring insulation and extra clothing. Keep in mind that weather can be unpredictable, so wearing layers gives you plenty of options.
---

---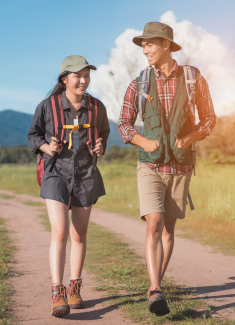 Essential Tip #5 – Stay hydrated
Plan for half a litre of water per hour in moderate temperatures and terrain. Carry enough water for your trip and have a plan for how to replenish your water supply when you're on the Trail, which may mean bringing a filtration system.
---
Essential Tip #6 – Bring snacks
Pack calorie-dense foods to help fuel your hike and carry an extra portion just in case. Trail mix, nut-based bars, fresh or dried fruit and veggies, or energy bars, chews and gels are all great options.
---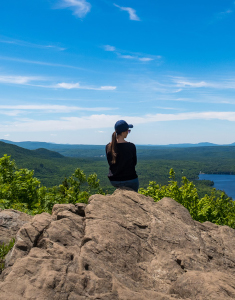 Essential Tip #7 – Use sun protection
Sunscreen, SPF lip balm, sunglasses and sun-protective clothing should be used in every season, regardless of temperature or cloud cover.
---
Essential Tip #8 – Protect yourself from bugs
Hiking is more fun when bugs aren't… bugging you. OFF!® Deep Woods® repellents provide long-lasting protection against all sorts of biting critters, including mosquitoes and ticks.
TIP – when applying sunscreen and bug repellant be sure to apply sunscreen first.
---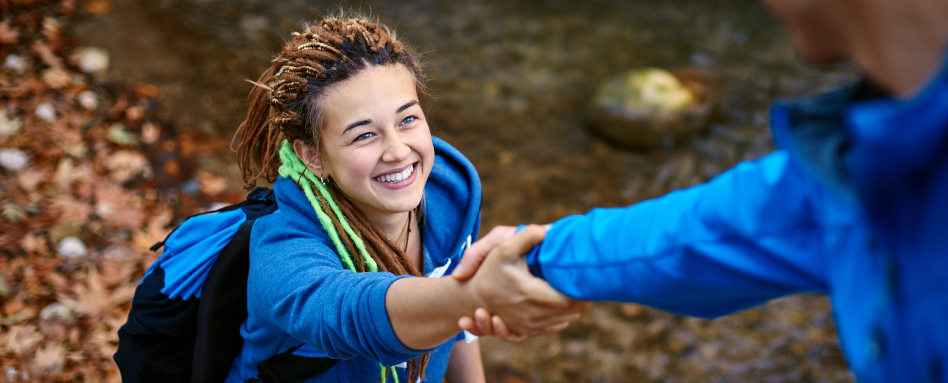 Essential Tip #9 – Have the right safety gear
Make sure to bring light, emergency fire sources and a whistle, particularly if you're planning longer or more remote adventures.
---
Essential Tip #10 – Bring extra batteries
Make sure you can recharge your devices—like your flashlight and phone—with the help of extra batteries or a power bank.
---
Essential Tip #11 – Plan your route and share your plan
For longer hikes, and particularly for those in more remote areas, consider carrying a paper map and compass as a backup and know how to use them.
---

Essential Tip #12 – Pack a knife or multi-tool
A multi-tool is a versatile option to repair gear or administer first aid.
---
Essential Tip #13 – Have a reliable way to communicate
Make sure your cell, satellite phone or GPS unit is reliable on your journey. To save your battery, put your device on airplane mode while you're not using it.  For hikes in the backcountry or remote areas beyond the reach of cellular, or to ensure a reliable emergency backup to cellular, pack a satellite-enabled device such as the SPOT X 2-Way Satellite Messenger.
---
Essential Tip #14 – Always have your first aid kit
Carry—and know how to use—a well-stocked first aid kit, but do not let the fact that you have one give you a false sense of security. Always take the steps necessary to avoid injury or sickness in the first place.
---
Essential Tip #15 – Think about emergency shelter
If you become injured or stranded, you'll need protection from the elements. A lightweight, inexpensive space blanket is a great option.
---
BONUS: Pack a trash bag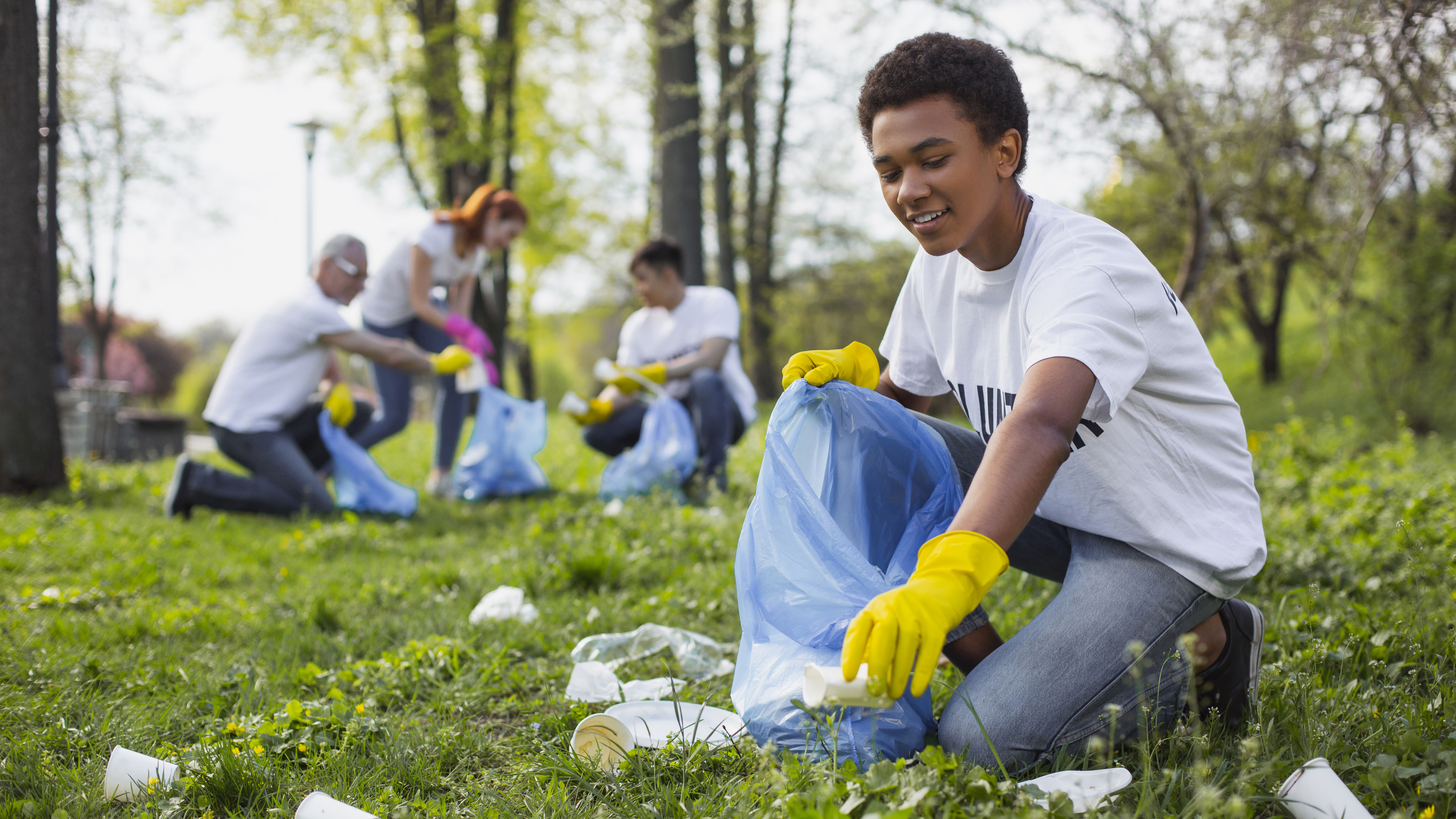 We all want to make sure that the trails we love stay beautiful for generations to come. Bring a Ziploc® bag and disposable gloves to pick up trash along your journey.
Connecting with our environment, and with family and friends safely and responsibly, gives us a much-needed boost and a break from the hustle and bustle of our daily lives. Keep moving at your own pace, eat when you're hungry, stay hydrated and watch your step. Enjoy!
---