1 March, 2018
Hiking Hacks: 7 Tips for Beginner Hikers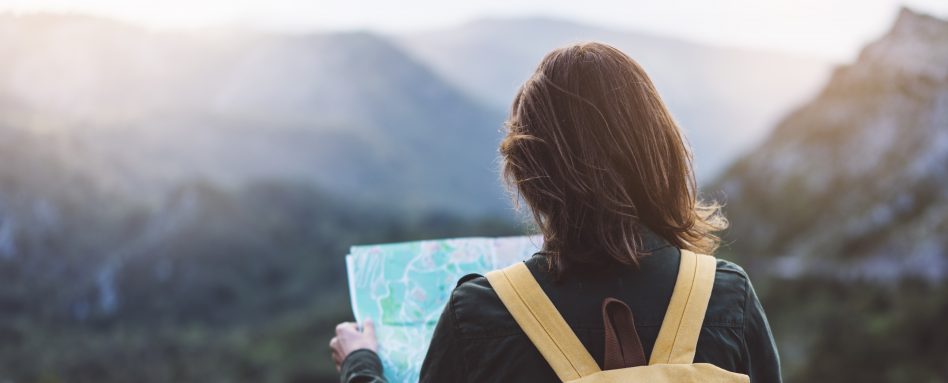 With sections weaving their way through mountain ranges, along river beds and the shores of vast lakes and wild oceans, The Great Trail is truly a paradise for hikers of all levels.
Getting ready for your first hike is an exciting prospect, but it does require a certain level of advance preparation. Here are our tips for ensuring your first hike on the Trail is as mind-blowing as it should be!
1. Take small walks every day to adjust
Beginner hikers should never underestimate the importance of starting small. A successful hike doesn't necessarily involve reaching the top of a mountain straight away – rather, it is rooted in healthy lifestyle changes before you even hit the Trail. Taryn Eyton, hiking expert and founder of the blog Happiest Outdoors, recommends increasing your step count and getting outdoors every day before tackling your first hike.
"I think getting used to walking and being on your feet is really important," she says. "The longer you spend on your feet, the more prepared you will be for your hike."
"Just taking the stairs or choosing to walk on more uneven paths will help you," she adds.
2. Know the Trail section before you go
Another must on any beginner hiker's to-do list is to research your Trail section before you go. Most information on Trail sections can be found using our interactive map, or on our partners' websites. Taryn suggests checking out trail ratings online, which may provide specific information on the length, altitude and difficulty of each Trail section. Trail ratings help you make informed decisions about your hike, and also provide an insight into what sort of Trail section you can expect.
"Maybe you want to see a mountaintop, or maybe you want to be somewhere more mellow, like a lake you can swim in after your hike," Taryn says.
On the day of your hike, always make sure to check the weather forecast before and during your adventure.
3. Make sure someone knows your itinerary
Even if you're not hiking alone, letting someone know where you're going is paramount. Take time to talk to a trusted friend or family member who will not be on the hike with you. Ensure they know the details of your itinerary, as well as what time to start worrying and call for help.
Carrying an emergency device, such as a SPOT tracker or GPS phone, is another way to stay safe. However, these devices should only be treated as a backup. They should not be used as an excuse to cut corners on your own personal safety.
4. Bring some snacks to keep you fuelled
Let's face it – nothing beats some mid-hike munching! Some high-energy snacks, like Clif bars, are essential to ensure your energy levels remain steady during your hike. This is a crucial part of your hiking prep – whether you're going for a day-long stroll or a longer excursion.
"A hike is always better when you have some snacks and water with you," says Taryn. "If you get lost or are hiking for longer than you expected, you have something to keep you going. Or, as a bonus, you'll have something to eat when you're driving home."
5. Prepare the perfect hiking backpack
On your hike, being prepared for any eventuality is a necessity. While travelling light is important, rookie hikers should also make sure they have everything they need for a successful outing.
"Always bring a flashlight, just in case you're out later than you think and it's dark when you're trying to make your way home," says Taryn. "I always bring warm, waterproof clothes, too."
Good-quality hiking boots are also a must-have on your adventure. KEEN Footwear have a wide range of boots suited to all tastes and terrains.
Some other backpack essentials you'll need include a map and compass, sun protection, first aid supplies, extra water, emergency shelter and bear spray.
6. Go at your own pace
One of the most attractive things about hiking? It's not a race! Hiking allows you to take time in nature, admire Canada's beautiful scenery and breathe. Embrace this aspect of hiking and walk at your own speed. Not only will this guarantee a far more enjoyable hiking experience, it will also prevent you from becoming over-exhausted.
Walking at a slow, steady pace may feel a little unnatural, but you will be grateful for conserving your energy when you reach uphill stretches on the Trail!
7. Leave no trace behind
Canada is famously blessed with many areas of natural beauty, and it's a hiker's duty to make sure they stay naturally beautiful!
Hikers of all levels should always follow the Leave No Trace Seven Principles:
Plan early and prepare
Travel and camp on durable surfaces
Dispose of waste properly
Leave what you find
Minimize campfire impacts
Respect wildlife
Be considerate of others
"We can't pretend that we can leave the wilderness completely untouched, but we can certainly minimize the impact we have," says Taryn.
Have you any other suggestions for avid, amateur hikers? Share your thoughts on Facebook, Twitter and Instagram!