13 October, 2016
How to Walk across Canada: The Great Trail App Has Arrived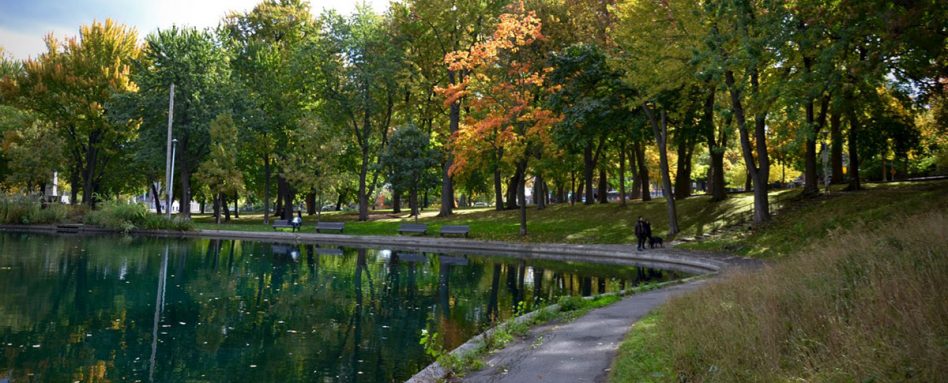 Picture this: it's a sunny autumnal afternoon in Montréal's handsome Plateau neighbourhood. The sidewalks are speckled with golden leaves and the air smells of freshly baked croissants. Along the sidewalks and down the bicycle lanes, locals contentedly engaged in wholesome outdoor activities: walking, jogging, rollerblading and pedalling. If this description sounds like the love child of a tourism ad and a Body Break commercial, then I've sufficiently succeeded. That's exactly what the scene feels like.
Text and photos by Daniel Baylis
Like many folks enjoying the outdoors, I have come to the neighbourhood to breathe fresh air and put my legs to work. But I also have a secondary (and geekier) objective: to "test walk" a mobile application, one that unlocks the world's longest network of recreational trails. With enough gumption, this app could help me reach the Yukon. For today, however, I'll settle for something more bite-sized.
Aptly called "The Great Trail"
One of the most important things to understand about The Great Trail is that it is big. That is, of course, an understatement. At over 24,000 kilometres, The Great Trail is ginormous. It's downright magisterial. Given this magnitude, the act of navigating such a beast becomes rather daunting. Physical maps would be cumbersome and heavy, and the task of putting up markers (and maintaining them) becomes virtually impossible. As such, a mobile app — something digital yet transportable — provides a smart solution to both trail guardians and trail users.
DOWNLOAD FOR iOS
DOWNLOAD FOR ANDROID
Designed in partnership with a tech company called Esri Canada, The Great Trail has recently launched a mobile app, aptly called The Great Trail – Explore Canada. The app offers three main features. The Map component enables users to zoom in and out of The Great Trail, and to self-locate using GPS. The Measure functionality helps hikers (or cyclists or canoers) plan their routes by dropping pins, which calculates a distance between point A and point B, and thus helps users plan achievable adventures. Finally, the Activity Tracker uses GPS to monitor a journey, reporting the time, the elevation and the distance travelled.
The utility and irony of such an app
The reason why people utilize The Great Trail (or any trail, really) is to get outside — which typically means a break from technology. Therein is the irony of a mobile application. The point of The Great Trail app, however, is not to bury your face in it. The app was not designed to be flashy; it does not frantically fight for the user's attention with endless scrolling or clickbait advertising. In fact, many users might open the app and find it — dare I say — a bit simple.
That's a good thing.
Think of it this way: the point of the app, first and foremost, is to support an outdoor adventure, just as a compass or a sturdy pair of boots help the hiker. The app enables you — the brave adventurer — to understand distances, to locate yourself along the trail, and then, when it's all over, to share your journey with friends. No frills.
DOWNLOAD FOR iOS
DOWNLOAD FOR ANDROID
  It gets (even) better
At this point in the game, the app is good. In the coming months it's going to become even better: more users are going to download it and they will provide feedback on how it could be optimized. They'll also add photos and share updates on social media.
So, if you are near The Great Trail — which is likely because 80% of Canadians live within 30 minutes of the Trail — here's your homework: download the app and then go use it. Plan a short walk. Upload a photo. Share the journey with your friends. Heck, if you've got the gumption, start strategizing your overland trip to the Yukon.
Off we go!
DOWNLOAD FOR iOS
DOWNLOAD FOR ANDROID
Daniel Baylis is a writer and adventurer. Discover his work at danielbaylis.ca.
Designed for iPhone, iPad, and iPod Touch, The Great Trail app is now available for download in Apple iTune's App Store. Android version coming soon.