17 August, 2019
Humans of the Trails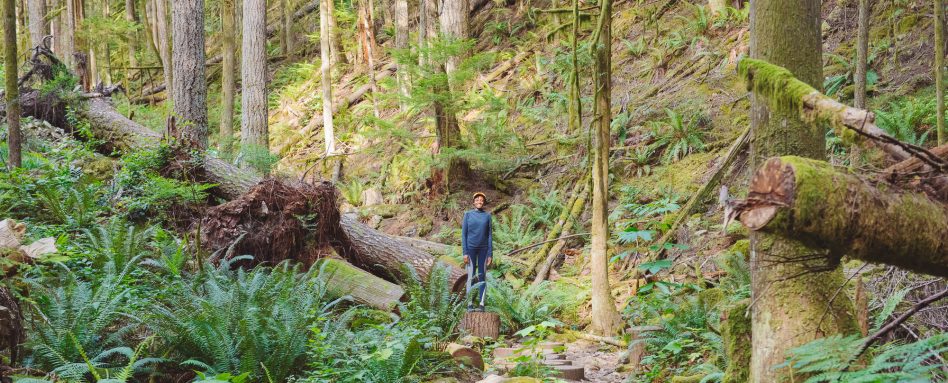 These stories were gathered on the unceded, ancestral, and occupied, traditional lands of the Musqueam, Tsleil-Watuth, Sechelt and Squamish Nations of the Coast Salish peoples.
photos and words by Judith Kasiama
Travelling for the last 15 years
My name is Yuriko, my friend and I are currently traveling from Mexico City, and I have been travelling for the past 15 years. I always wanted to visit Vancouver after I saw it in a magazine. I fell in love with its natural beauty. In our city, there aren't a lot of trees, rivers or natural landscapes in general. Sadly, they built the city over a lake that used to be in that area. So, we didn't have a lot of access to nature there, and it was pretty sad. We arrived today, and our host is showing us around. We love it here. The people are nice. I've travelled to China, Europe, Argentina, and other places. The most beautiful people I've met are here in Canada.
Welcome travellers
My name is Tim, and I'm originally from Russia. However, I've lived in Vancouver for about seven years now. My friend and I have a house where we host travellers and we brought our guests outside for some sightseeing. We decided to bring them to the beautiful Capilano River Regional Park to show them the giant birch trees, as it is away from busy touristy places.
We are hoping to spot some steelhead salmon and coho salmon swimming under the bridge. For many people visiting Vancouver, it's challenging to find the right places to visit that aren't traditional tourist attractions.
For many people, nature seems to be a considerable reason for visiting Canada. The Trans Canada Trail is an excellent starting point for exploring Canadian life. By bringing our guests to a place like this, it will enable them to explore further in the future.
Today, we are just showing them one birch tree, but there's plenty more to see if you start hiking around the North Shore. So basically, it's us wanting others to enjoy this place we call home, and also show what is accessible to us, in our very own backyard.
Getting outside as much as possible
My name is Etienne. We live here in North Vancouver four blocks away from the Trail. We don't come here as frequently as I'd like to, but when we do, we use the Trail.
We're not the most outdoorsy family, but we do take time to enjoy what's around us by biking, running and hiking with the kids. In this day and age, mobile phones, iPads and video games are constant presences in our lives. We're doing everything we can to make sure our kids get outside as much as possible. Sport is how we try to get them out of the house, so to speak, and we try not to let them use all the electronics they have access to every day.
For us, the Trail represents our family getting active and being in nature.
Living in Vancouver, you learn very quickly that you have to face the rain sometimes! But even in winter, I come here and run on trails. And it's fantastic when it's raining. It's not crowded. Actually, I prefer it to a sunny day like today.


Love studying plants
We live in Burnaby, and this is our first time on this trail. It is within driving distance from where we live, but we have never been here before. My husband found it online. And it was supposed to be a quiet hike. So, we decided to try this out today. This trail was absolutely wonderful. Our son is very interested in nature – rocks, trees, running water and things like that. The weather was perfect.
My husband and son love studying plants. We came to see wild plants. Nowadays, so many plants have escaped from our gardens and into our natural landscapes. Some of them outcompete native species. There's nothing wrong with these plants – they are just not indigenous to this area. Insects may not want to lay their eggs on their leaves, or birds may not want to eat their berries. This trail is fascinating because there are fewer invasive plant species. We saw so many interesting plants along the way.
I teach math at the local university. We have just completed our program called "Diversity in Mathematics", which encourages women and underrepresented minorities to join the field.