5 December, 2019
Humans of the Trail (2)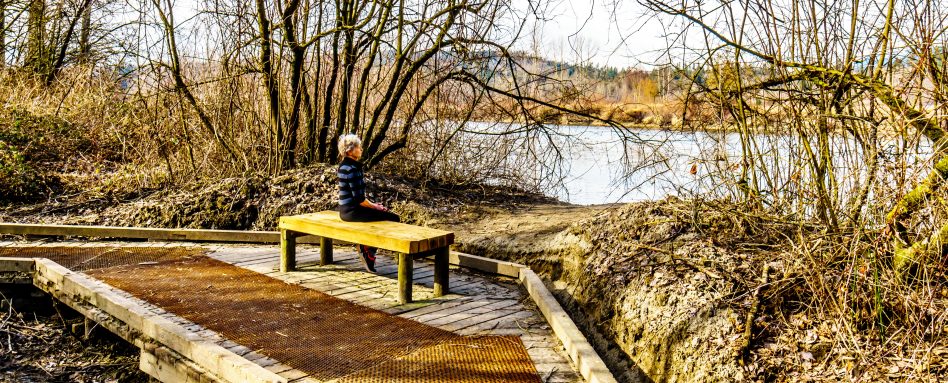 These stories were gathered on the unceded and ancestral land and territories of the S'ólh Téméxw (Stó:l?), W?SÁNE?, Kwantlen and the Stz'uminus Nation.
photos and words by Judith Kasiama
Fisheries and Oceans Canada
I work for Fisheries and Oceans Canada. I'm a part of a team that's doing recreational fishing surveys on the Lower Fraser. And this is one of our sites, I guess the Trans Canada Trail runs through it. The area that we monitor has a campground on it. Oftentimes there are recreational fishers that bar fish on this part of the Fraser River. So I'm here, counting them, talking to them, asking how their fishing is going and collecting their data.
Fisheries and Oceans Canada uses this data for two reasons. The first is that this area is an opening for coho from a hatchery. If the fish is from the hatchery, they've got either a coated wire tag or an odorless marking on them and through dissections of the head we can find out which hatchery they came from. So, I am here to collect heads, if people are ok with that, and get them to the labs to review the data. The second is that, with the data that I collect, we find out how long each fisherperson is on the river and how many fish they catch, what species that fish is and if they are from the hatchery or not. We then get a catch per unit effort number and then they do a helicopter flyover of the whole stretch and they'll multiply that out for an overall number of fish caught to calculate what recreational fishing is taking out of the river.


Welcome travelers
This is the first time that I decided to rent a bike and ride around the seawall, False Creek and Vancouver. I just saw the beautiful day ahead and felt like I had to seize it. I love backpacking. I love hiking. I've explored a lot of Australia, and I'm starting to explore Canada. I've been to Banff and the Trans Canada Trail sounds amazing. And I'd love to walk, bike, kayak a section of it one day. It is great to know that the Trail connects so much throughout Canada.