23 July, 2019
Introduction – Julie and Simon's Logbook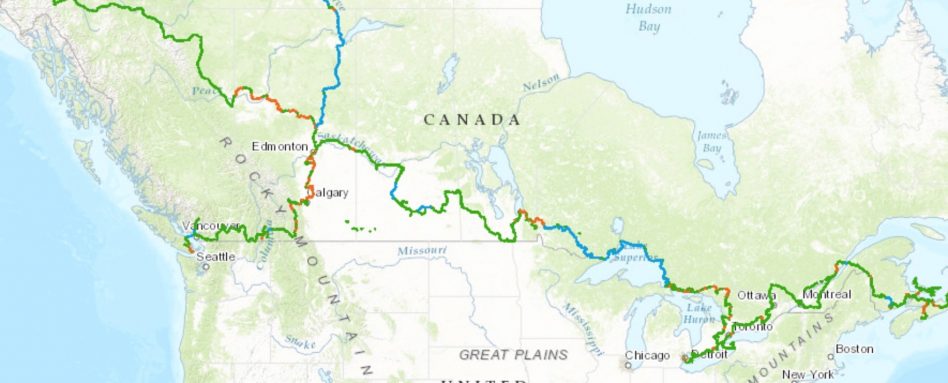 By Julie Chatelain and Simon Lacroix
We are gearing up for the start of our next great walk. For the last few months, we have worked on simplifying our home life and extricating ourselves from our responsibilities.
Our research of the Trans Canada Trail is coming to an end. We have scoured whatever information we could find on the Trail, its condition and the communities along the way. Our gear has been sorted. It lies in piles on the floor of our apartment, waiting.
We have purchased our one-way tickets to St. John's, Newfoundland for mid-June, where the Trail begins. We long for the Trail. I, Julie, have a lingering ache in my left ankle from our last walk in Europe. However, it doesn't seem to be too bothered by our training, so we are hopeful we can accomplish this crazy dream of ours.
How did we get into this scheme and why? Since taking a sabbatical year in 2010, we have been hooked on long-distance walking. As we looked for our next challenge, we came upon the Trans Canada Trail and thought it presented a wonderful adventure. And it's in our own backyard!
The process of walking has offered us some amazing opportunities. On the Trail, we face various obstacles and difficulties every day. We face them together and, using our individual strengths, we overcome them. It is not easy, but it is rewarding.
As Linda Cronin says in her book Midlife Runaway: 'When you hit the road… you leave the skin of the past identity and become a traveller. This is not so much a case of assuming a new identity as it is the cleansing of the old. The person you take on your trip is the essential you.' This is an intense and addictive experience and we both want to relive it.
We also have experienced on the trail the concept of topogeny. Topogeny is a type of storytelling that links geography, people and events. Indigenous communities in Southeast Asia, East Africa and Oceania have historically used the ordered recitations of place names to, in the words of Robert Moor, 'walk an imaginary journey through many paths of the land and its history'. We feel this phenomenon when we recall our walks. Names of places bring back strong memories of our encounters and our visceral states. Geography and history merge and become one. We are part of the environment, more so than on trips where we travelled by vehicles. The slower pace of walking allows us to integrate into our surroundings.
We invite you to tag along on our walk across Canada. We hope to meet people and learn a bit about our history along the way. Some of our friends and family may join us for some sections. We will endeavour to share our thoughts and experiences with our readers.
So, let's tie our shoelaces and get going!

Find us walking
Website
Facebook