10 August, 2018
Jennifer Mahon's stroll along Toronto's Waterfront Trail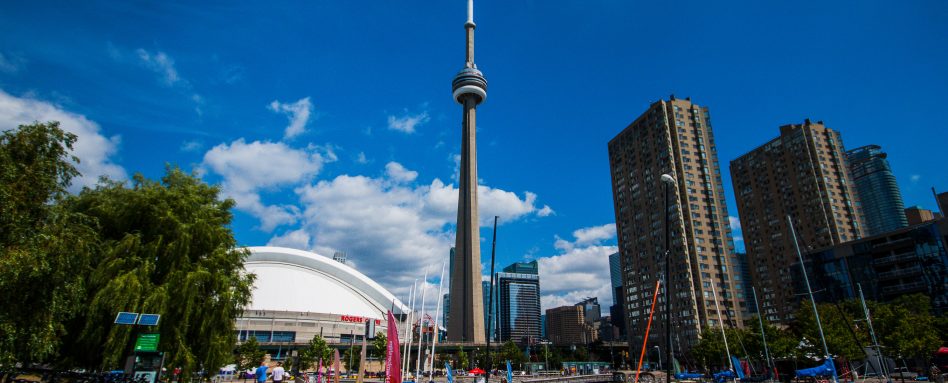 Words and photos by Jennifer Mahon
So I need to make my way downtown Toronto to meet up with some friends. And I immediately start having a mild panic attack. Asking a suburbanite to drive downtown Toronto is kind of like asking a vegetarian to eat meat.
Thank goodness for The Great Trail! The Martin Goodman Trail along the shores of Lake Ontario is part of the 88-kilometre Waterfront Trail, which, as you've probably guessed, is part of The Great Trail, and it has saved me from driving into the city.
Today, I park just by the Humber Bay Arch Bridge (parking, by the way, is FREE during weekdays from 9:00 am to 5:00 pm. Outside of those hours, it's another story). I can't even believe that this is Toronto – and I grew up here. Making the 8.5-kilometre trek to the Harbourfront, the Waterfront Trail is dotted with parks, playgrounds, beach areas and some pretty spectacular views of the lake and the city.
Sheldon Lookout
This little-known gem is just far enough away from the hustle and bustle to make you feel like you're on another planet. Massive rock formations mark the spot, and as you walk past them onto a peninsula jutting out from the west side of the Humber River, you're treated to probably one of the best views of the Toronto skyline. Sit by the rocks, or on the many adirondack chairs scattered about, and enjoy the sight of the city and the sounds of the water.
Humber Bay Arch Bridge
Continuing east of the lookout, you'll come across this stunning pedestrian bridge that crosses over where the Humber River meets Lake Ontario. The design and structure might seem a bit much for a foot bridge, but it somehow works – not to mention it makes for some truly excellent photos!
Sunnyside Beach
I'm kind of shocked that the soft, white sand leads out onto Lake Ontario here. I mean, you're basically in the city, but it sure doesn't feel like it. With joggers and bikers zipping along the Trail, families having impromptu picnics in well-shaded areas and brave swimmers, kayakers and paddle-boarders venturing out into the clean roped-off waters – it kind of has the vibe of a quaint beach town that's frozen in time.
Harbourfront
Whether you want to run along the boardwalk (be wary of the Simcoe and Spadina WaveDecks), stroll along it with family, chill out on a sandy beach, take in an outdoor concert, watch planes landing at the island airport, or just be lazy and people watch, then this is the spot. There's pretty much always something going on here. You can even hop on a ferry out to the Toronto Islands, but maybe that's a trip for another day!
Find the Waterfront Trail on our interactive map