30 January, 2020
Judith Kasiama on Diversity and Healing in Nature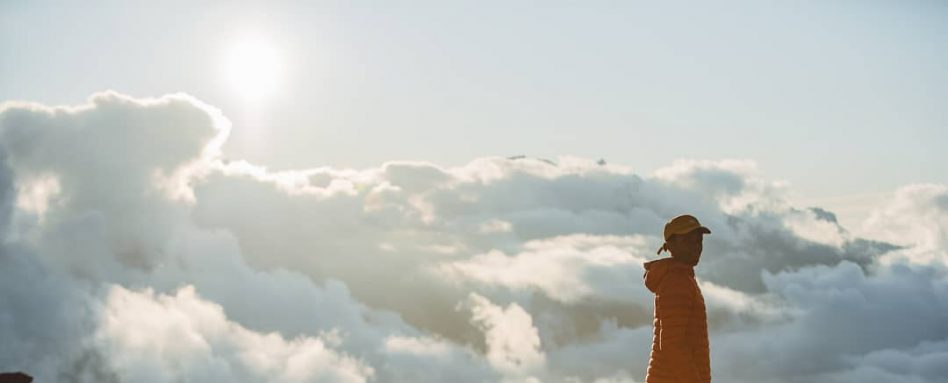 My first hike in Canada was in Joffre Lakes Provincial Park. It's an easy hike compared to many of the trails in British Columbia, but it was still breathtaking. All around me, there were huge mountains, reflected in the beautiful turquoise lakes below. It was like something out of National Geographic. But as I took all of this in, a sombre thought struck me. This place was so close to where I lived, but many people I knew wouldn't have a car to get here. Some would even feel uncomfortable there.
I moved to B.C. for my studies, but I stayed for the mountains. I've always had a deep connection with nature, which my family had encouraged since I was a child in the Democratic Republic of the Congo. I left the D.R.C. at an early age, and had lived in urban settings ever since. Now that I was living and studying in Vancouver (and finally had my own vehicle!) I could get back in touch with nature far more easily.
Sharing the outdoors with everyone
After that first hike in B.C., I was eager to share Canada's great outdoors with everyone – especially new arrivals to Canada. But, as I spoke to them, I realized that many of them couldn't afford to drive. Others felt intimidated by the idea of exploring the outdoors, which has been advertised as a predominantly white activity for years.
So, in 2016, I posted in one of the Facebook groups for the Black community in Vancouver, inviting people to come on a hike with me. That post generated a lot of interest and, gradually, more and more people started coming out with us. As our numbers grew, more and more people with cars came on board and helped to bring more people outdoors. It was amazing to see this new community growing and growing.
View this post on Instagram
Changing perceptions of outdoor enthusiasts
Although our community of diverse hikers was taking off, I still didn't see any changes in how outdoor activities were being advertised. Whenever my friends and I would go into a MEC store, the ads would always be the same – white families hiking, white families camping. It suggested that only a certain kind of person could ever enjoy the outdoors.
There was never any diversity that showcased people of different races, ethnicities or body shapes. Our absence sent a message: one that implied we were not wanted, or expected to be, in nature. Sadly, it's not unusual for someone to believe they have to hit the gym and have the so-called "perfect body" to hike, or for LGBTQ2SIA+ individuals to feel that the outdoors does not belong to them.
All the while, the more I experienced the outdoors in Canada, the more I realized how diverse people who enjoy the outdoors are. There are people of colour who hike, camp and ski, but for some reason, nobody was telling their story. When I was training for races last year, I would go running and see lots of old Chinese grandmas going out at 6 a.m. for their morning walk. But we don't talk about those people.
That's why I decided to challenge MEC and other companies about their ads. Since then, I've worked closely with MEC as an Outdoor Ambassador to help ensure better representation in their marketing.
By working with MEC, I saw that many other organizations are also hungry for diversity. It's encouraging to see that they want to highlight all kinds of people, but sometimes they don't know how to go about it without seeming tokenistic. Obviously, they don't want to just message someone and say "Hey, we want you because you're Black!"
I've thought a lot about it and decided to set up MESIS, an agency that highlights athletes of colour and connects them with outdoor retailers, filmmakers and other organizations. We want to show the next generation that their contributions are not limited to stereotypical sports that some associate with people of colour, but others like skiing, figure skating and swimming.
Healing in nature
As someone who has worked nine-to-five, Monday to Friday, I know how much healing there is in nature. Spending a day or a night outdoors leaves you refreshed by the time you're back at your desk on Monday. You feel like all the stress of the past week has been taken away.
Social media, smartphones and other technologies have made our society a very isolating one. But, by going outdoors, you can create your own communities and truly connect with others.
That's what I admire about the Trans Canada Trail of Canada. In many ways, the accessibility of the Trail within communities is allowing people to go use the Trail without having to go somewhere far, extreme or uncomfortable.
You can use it to cross vast sections of Canada (as I'll be doing with Jacqueline L. Scott on our Black Canada Hike), but you can also traverse it on your way to work.
We are all part of this earth, and we should be able to enjoy it. I hope that, by using the Trans Canada Trail, I can inspire others to do the same.
View this post on Instagram