16 July, 2018
July 16, 2018 – Mel Vogel's Logbook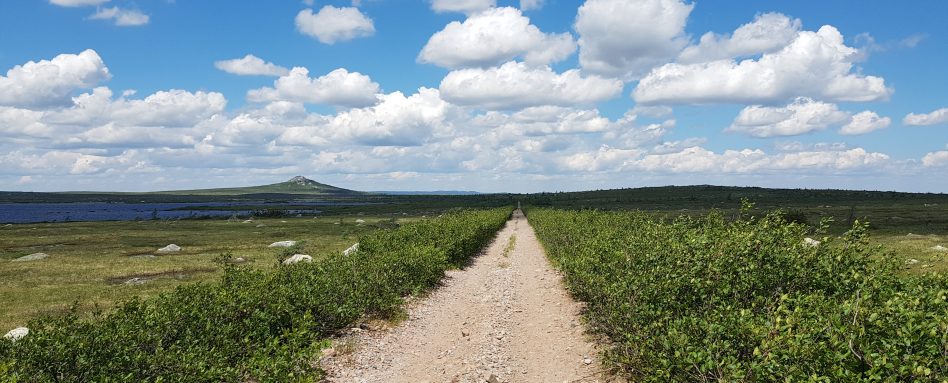 By Mel Vogel
It was Monday as I followed the Durham Region Trans Canada Trail to the Rotary Park in Ajax. I started into a wet morning, and my only way to escape was by going into a McDonald's at Taunton Road, right next to the Trail. It took about three hours until the heavy rain passed, and I used this time to dry my belongings and write my story while sipping hot coffee. As soon as the sky cleared, I went back to the Trail. Only 5 minutes later, I felt an awful pain in my right side. Maybe it was my hip abductors, a surrounding muscle that I pulled or a nerve I pinched. Whatever it was, it made walking to Toronto a painful challenge and became – figuratively and literally – a pain in the butt.
After leaving the Greenwood Conservation Area, I had walked 16 kilometres to reach the sandy beach on Lake Ontario, which laid still in front of me. I took off my backpack and stood at the water's edge. I couldn't see it yet, but sensed the presence of the mega city of Toronto to my right. To the left, I watched two swans gracing the lake with their elegance and beauty.
From the Rotary Park, I followed the Waterfront Trail to Pickering. I passed the Pickering Nuclear Generating Station, one of the world's oldest and largest nuclear power stations.
Having nearly walked 26 kilometres, it was time to look for a spot to pitch my tent. Safety-wise, I am not fond of camping within community boundaries and will always try to find a place tugged away enough to be out of the public eye. Contemplating what to do and where to go, I suddenly received a text from my friend Amanda. She and her mom had just seen my photo and post about my arrival in Ajax. "Do you have a place to stay for the night?" her message read. She continued: "We could come and get you if not. My mom had been following your trip and wants to meet you! We are getting ready to leave." I was relieved that I didn't need to pitch my tent in a community park and smiled about the fact that those two ladies didn't take no for an answer. As I walked into nightfall, I met Charles, who guided me around the construction site at the Frenchman's Bay West Park to the agreed pick up spot. From the back of the car, I waved goodbye to Charles and drove off with Amanda and her mom, Shirley, to their home in Oshawa. We chose the fastest route, the highway. Not being used to such speed anymore, I felt tense and nervous watching trucks and cars passing us. I was glad when Shirley used the local road the next morning to drop me off in Pickering again.
My night in Oshawa was restless. I woke to incredible pain at 3 am and couldn't go back to sleep for the rest of the night. I got up to shake my leg. I was neither able to lift nor move it in any direction. I stretched and did all kinds of exercises in my desperation to get rid of the pain with no success. I walked, limping and with much effort, into the kitchen the next morning and looked into two sorry faces. I know Amanda and her mom wanted me to have a pleasant night. Although I barely slept, we all agreed the comfort of a bed and all amenities in a home had eased my suffering.
I continued the next day with a good dose of ibuprofen. As soon as the medication kicked in, I was able to walk slowly. Despite the pain and the lack of sleep, I had quite a cheerful day, meeting people and making good mileage while enjoying the scenery along the waterfront. Among the too-frequently asked questions I received from passers-by, I also got the occasional question what adventure I am training for. My amused response was: I am already in the adventure, followed by a smile and a short rundown of what my journey is about, which was often followed by amazed facial expressions and praising words.
The Waterfront Trail leads into the Pan Am Path and into the Lower Highland Creek Park where I walked along the river to the Old Kingston Road. At some point, I missed a turn and ended up at a construction site under the bridge, sneaking to the nearest stairs and up to the road. On the southeast side the Pan Am Path is a paved path used mainly by cyclists, and runs through neighbourhood parks, sports fields and along local roads through the Scarborough corridor.
With the day coming to an end, the strengths of my painkillers vanished. I reached Ashtonbee Reservoir Park from where I dragged my backpack and my body to Victoria Park Ave and the closest bench at a bus shelter. Both body and mind told me: no more. My plan to reach downtown Toronto was postponed to the next day. I called my friend David on Facebook Messenger, hoping dearly that he would pick up the phone and would let me stay with him and his family. I soon heard his cheerful voice on the other end, happily inviting me to his place. "Do you want a lift?", he asked. I responded, "Yes, I can't walk anymore." Just minutes later, his car pulled up and he found me sitting between apartment blocks like a picture of misery. His humour and good energy lifted me up instantly. Arriving at his place, his wife Trinity stepped into the house and welcomed me warmly. We all know each other from volunteering together at the Friends for Life Bike Rally. After dinner, I went for a late-night swim in the swimming pool and after breakfast, Trinity gave me a massage to soothe my pain. David brought me back to Victoria Park Ave from where I started into my now final stretch to Toronto on another round of painkillers.
That day, the Pan Am Path led me through the Lower Don Valley, alongside the heavily-trafficked Don Valley Parkway and back to the Waterfront Trail at Toronto's Harbourfront. I passed the Distillery District, the Harbourfront Centre, Fort York and the Exhibition Place. While enjoying the views over the water to my left, the needle of the CN Tower was always visible to my right. Twice that day it happened that familiar faces would call my name and would stop with their bikes to welcome me to the city. Close to Etobicoke, I met my friend Dirk and his dog Deckard, who joined me for the last stretch over the Humber Bay Arch Bridge to Humber Bay Park where I jumped into their car and took my feet off the Trail for the next two weeks.
One of the reasons I continued walking in spite of my pain was an invitation by the Niagara Public School, I met a gymnasium full of kids who were eager and curious as I talked about my journey. Leaving the school, I hoped that I had lit a little spark and had given these kids a thirst for adventure as they began their summer break.
Two weeks later, after celebrating friendship and giving my body time to heal, I went back to the Trail. It was a Monday again. It was sunny. It was a good day. It really is always a good day going back to the Trail. To make it easy, I walked to Port Credit and then Oakville returning each time by GO train back to my friend to have a place for the night. Leaving Oakville, I was on my own again. I walked along the Lakeshore Road to Burlington for most of the day. Big properties lined the road and only a few dead-end roads allowed a glimpse of the lake. It was late when I reached Burlington, and I went to the stairs at the lake at Spencer Smith Park. People around me were hanging out and enjoying the cooler evening hours after a hot day. I put my backpack down to eat dinner. Sandwiches and veggies were on the menu. I was just about to take the first bite when Lukas and Julia, a couple sitting close by, approached me. Our conversation ended with an invitation to their home for the night.
This story ends where the Waterfront Trail ends – in Hamilton. Well, not quite. Not before telling you about the lesson on hiking etiquette and who has the right of way which I received by a family of Canada geese. In order to not to provoke a fight, I backed away slowly to allow the family to pass before me. These geese can be somewhat demanding.
I ended my day in the community of Westdale North in Hamilton trying to find a camp spot at Churchill Park. On my way to the park, I crossed paths with Jennifer and Edward. They started the conversation with the words: "You must be on a long journey", and ended it with: "You can pitch your tent in our backyard if you like". Moments later, we all stood in their backyard – a cute, quiet haven. I didn't end up pitching my tent on the lawn, but fell asleep on the pullout couch in Jen's and Ed's home after an interesting evening of learning about Canada's history around Lake Ontario. It was a nice end to my walk on the Waterfront Trail.
From Hamilton, the Trans Canada Trail offers a choice three different directions. I will skip the two that lead to Niagara Falls and Windsor. Instead, I will continue my way westwards to Lake Superior.

Find me walking
www.betweensunsets.com
Facebook: www.facebook.com/talesbetweensunsets
Instagram: www.instagram.com/betweensunsets
Twitter: www.twitter.com/betweensunsets