18 November, 2022
Supporting a Permanent Trail through Legacy Giving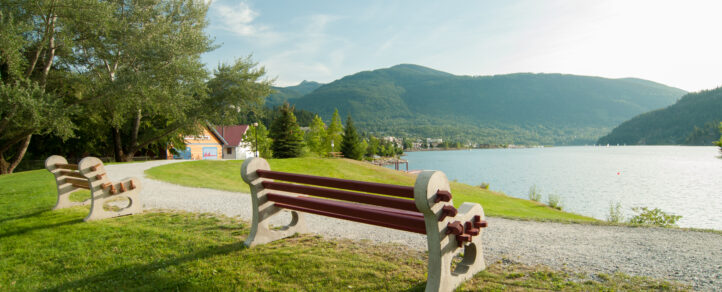 Heather Wagstaff's days include a theme: getting outside and staying active, often on the Trans Canada Trail. Heather lives in Toronto, Ontario, near the Martin Goodman Trail – also called the Great Lakes Waterfront Trail – part of the Trans Canada Trail network. Part of her car-free lifestyle involves travelling along the Trail – commuting and heading outside for recreation – getting a daily dose of nature right in the middle of the city and staying active at the same time. 
Thousands of kilometres away in Winnipeg, Manitoba, Ann Loewen lives next to the Winnipeg Trail, a section of the Trans Canada Trail network. Ann considers herself lucky to be able to walk her dog, cycle, canoe and kayak on sections of the Trail right in her own neighbourhood. 
Making a meaningful contribution to the Trans Canada Trail now and in the future 
Heather is a longtime supporter of Trans Canada Trail. She's been supporting Trans Canada Trail since before the Trail achieved connection, when you could dedicate a metre of the Trail to family members or loved ones. All of Heather's nieces and nephews are lucky enough to have a small section of the Trans Canada Trail dedicated to them.    
When it came time to think about her will, leaving a portion of her estate to Trans Canada Trail was an obvious choice. "I wanted to support the legacy of the Trail; it's a national treasure and such a huge undertaking," Heather says. "I decided to leave a percentage of my remaining estate to Trans Canada Trail. I wanted to give to something outside the family that will remain in place for generations to come."  
For Ann, another long-time supporter of Trans Canada Trail, leaving a legacy gift in her will is part of supporting local communities and the surrounding environment.
Ann says, "I consider the land and the communities where I have lived to be among the beneficiaries of my life's work. It is a comfort to know that worthy organizations and projects will continue after I am no longer here, and that I have a small part in ensuring that happens."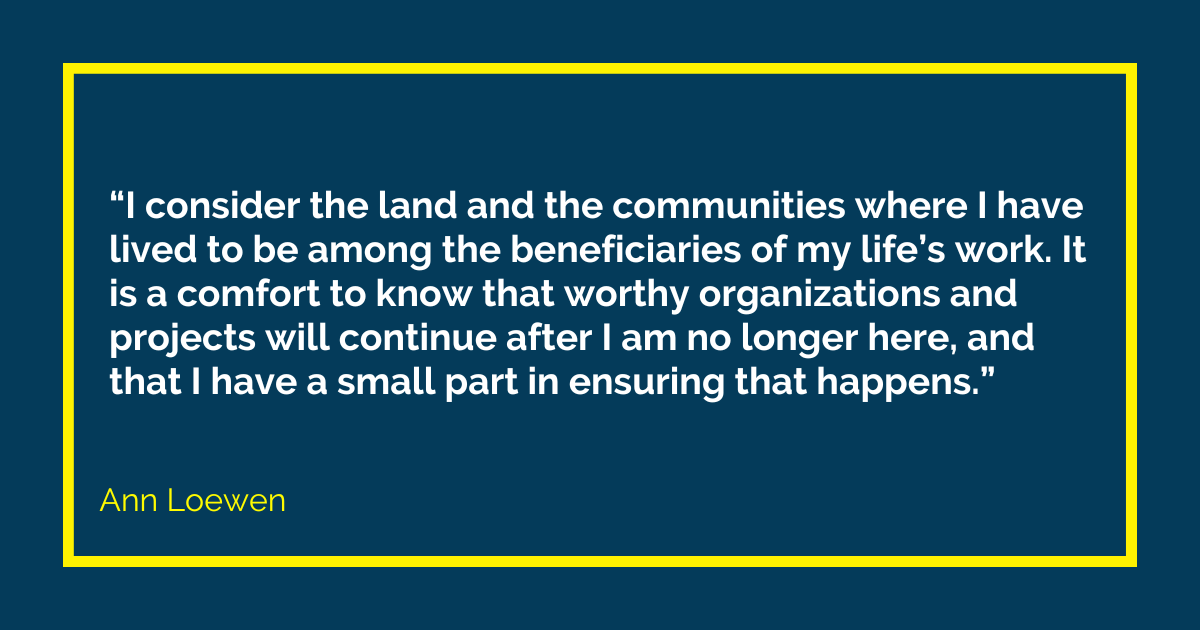 She continues, "The Trans Canada Trail has been an enormous undertaking and it has been very encouraging to witness the progress year by year. Now that it has so beautifully joined the country's many regions, it will need to be maintained and sustained over the years to come. I see this legacy gift as a means to pay forward all that has been given for my enjoyment during my lifetime." 
Like the land it runs through, the Trans Canada Trail is constantly evolving. It will grow and change. It will need care and special attention to ensure it will be here for future generations. Legacy giving helps ensure that the Trans Canada Trail endures, long into the future. 
Ensuring longevity and continued growth 
For Heather, the key to the Trans Canada Trail's long-term success is continued repair, development and improvement. She says, "Trail development and improvement is certainly the key to the longevity of the Trail and enhanced accessibility opens the Trail to more people."  
As the Trans Canada Trail expands, so too does its commitments: to existing Trail sections that must be repaired and cared for after the winter season or in the face of the effects of climate change; and to people across the country – including those who may face barriers to accessing the Trail without accessibility improvements – who have been flocking to the Trail in greater numbers in recent years.  
Encouraging connections to people and nature – and preserving a legacy 
Ann sees the Trans Canada Trail as "more than a project or goal; yes, it is a physical entity, but it is also a connection to history, a community of walkers, cyclists and canoeists, with a collective future for everyone. I hope that it can also be a habitat for the insects, animals and flora that have lost so much to development. Humans can regain understanding, awareness and compassion for other species through sharing their environment." 
The Trans Canada Trail runs from coast to coast to coast, spanning over 28,000 kilometres.
Heather says, "The Trail benefits the whole country, which is a truly unique situation. I was motivated to support the Trail in the early days in recognition of the tremendous undertaking it must have been to move this project from vision to reality. Now I am motivated to ensure its longevity for the next generations!"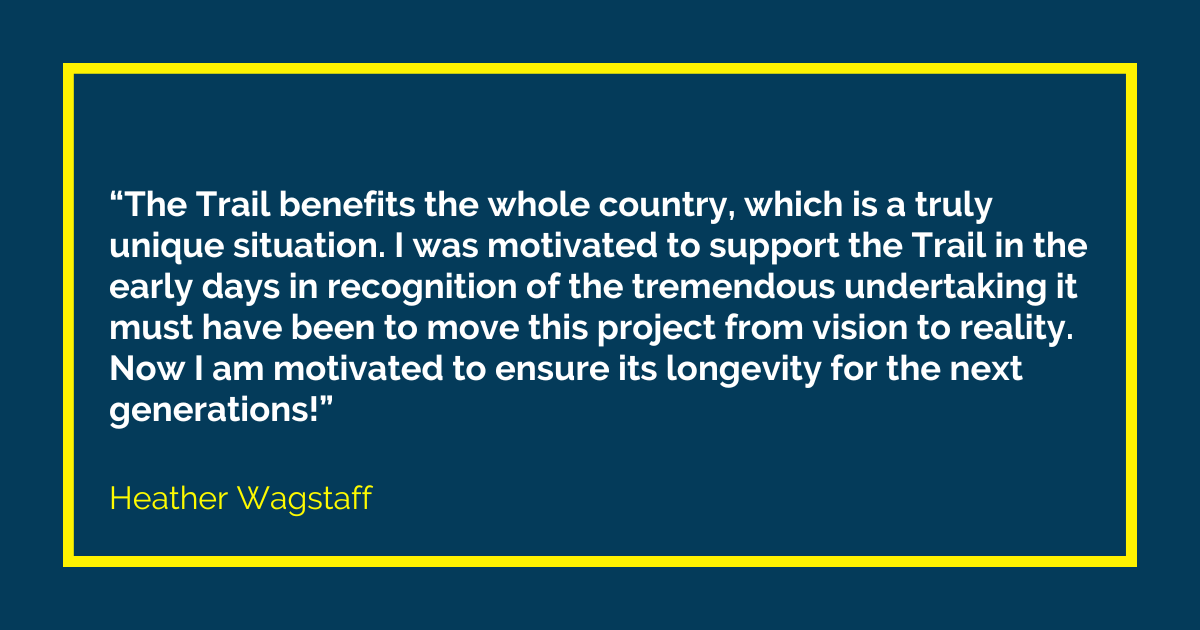 Trans Canada Trail is so grateful for donors like Ann and Heather, who are helping ensure the Trans Canada Trail continues to exist – and improve – for generations to come. If you, like Heather and Ann, would like to leave a gift in your will to Trans Canada Trail, Willfora can help. Willfora is a free and confidential service where you can create a secure legal will, by clicking here today. (Not available for residents of Quebec.) 
Find out more about leaving Trans Canada Trail a gift in your will here. 
Donate today 
Donate today to enhance and protect the Trans Canada Trail for future generations! 
Trans Canada Trail is a registered charity, and you will receive a tax receipt for your donation (minimum of $10).