9 October, 2019
Let the journey be your destination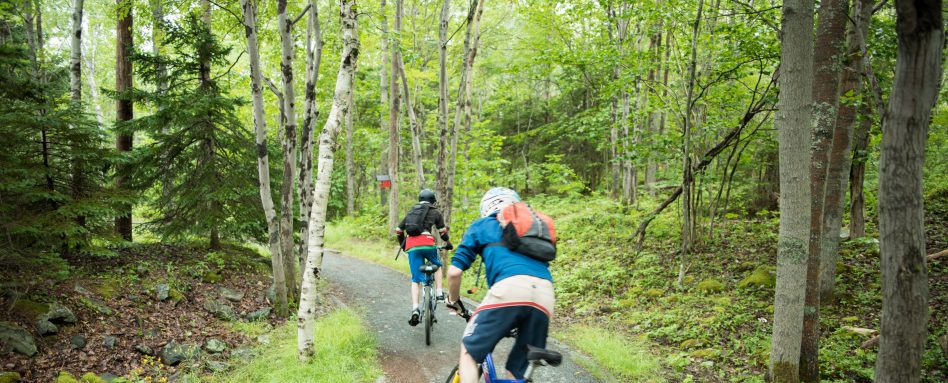 Four memorable adventures on The Trail
1. TIP-TO-TIP: A FOUR-DAY CYCLING ITINERARY ALONG THE CONFEDERATION TRAIL
While there are countless ways to explore the Confederation Trail, the classic method is "tip-to-tip." This 273-kilometre route takes you to regions of Prince Edward Island (P.E.I.) that most travellers don't experience, with scenic countryside, hidden culinary gems and long stretches of leaf-covered corridors. And, the flat terrain is ideal for a relaxed cycling pace.
Here are some destination highlights from this four-day itinerary.
DAY ONE: Tignish to Wellington (89 kilometres)
Tignish, which derives its name from the Mi'kmaq word "Mtagunich" – meaning "paddle" – is considered "kilometre zero" of the Confederation Trail. Make sure to snap a selfie at the trailhead!
In O'Leary, enjoy an emblematic P.E.I. experience at the Canadian Potato Museum and sample baked potatoes, poutine, potato skins and more from its country-style kitchen. Lunch is also available at the charming Maple House Bakery.
The Acadian community of Wellington was originally a mill town and an important stop on the former P.E.I. railway. Fifty-five per cent of the population here speak French as a first language. Consider staying the night at Chez Yvette Bed & Breakfast.
DAY TWO: Wellington to Hunter River (64 kilometres)
Summerside is a quiet seaside community and the Island's second-largest city, and is notable for its green energy initiatives. History buffs will enjoy visiting the Summer Street Post Office – a National Historic Site of Canada.
Kensington is home to another National Historic Site, the former Kensington Railway Station – the train station in the 1985 screen adaptation of Anne of Green Gables.
Hunter River offers evening entertainment at the Harmony House Theatre – one of P.E.I.'s top venues for music and comedy. Accommodation is available at the Heritage Classic Inn. 
DAY THREE:Hunter River to Mount Stewart (51 kilometres) 
Royalty Junction, adjacent to the Charlottetown airport, was an important location of the former P.E.I. railway.
Mount Stewart is home to the popular Trailside Café & Inn, which offers a renowned brunch and intimate evening concerts. You can stay overnight at Bishop's Rest, a renovated former parochial house.
DAY FOUR: Mount Stewart to Elmira (67 kilometres)
In Morell, you will find an information centre, art gallery, and outfitter for cycling and fishing. Golfers have access to the Rodd Crowbush Golf & Beach Resort just a few kilometres away. 
The trail between Morell and St. Peters is one of the most scenic stretches of the Confederation Trail, with views over St. Peters Bay and plenty of bridges. The turnoff to the popular seaside town of Souris is in St. Peters, and the leafy green canopies along the route are stunning.
Your Confederation Trail "Tip-to-Tip" adventure ends at Elmira. To see the easternmost point of the Island, keep cycling about 10 kilometres farther to the East Point Lighthouse.
---
2. A LONG-WEEKEND CYCLING TRIP IN THE LAURENTIANS: LE P'TIT TRAIN DU NORD
Le P'tit Train du Nord in Quebec is a 232-kilometre linear park that follows a former railway line from Bois-des-Filion outside Montreal to the town of Mont-Laurier. Summer along Le P'tit Train du Nord is a feast for the senses: lush greenspaces, striking mountains and lazy rivers. The trail surface is either asphalt or crushed stone, making it accessible for cycling.
Here are some destination highlights for your trip.
DAY ONE: Mont-Laurier to Nominingue (58 kilometres)
Mont-Laurier is the northern trailhead of Le P'tit Train du Nord. The town offers a good selection of hotels, and the Gare de Mont-Laurier also features a bike repair station for any last tune-ups before you set out.
Lac-des-Écorces (translation: Bark Lake) is a great place to stock up on supplies for your journey, with a pharmacy and grocery store. If you arrive at the end of July, you can enjoy the Festival de Musique Country de Lac-des-Écorces.
Nominingue features a train station built in 1904. Each summer, the station is turned into an exhibition centre with antique photographs and other displays about regional history, local handmade crafts and, on occasion, live musicians. Accommodation is offered at Auberge Chez Ignace, a culinary-centred country inn on the edge of Nominingue Lake. 
DAY TWO: Nominingue to Mont-Tremblant (63 kilometres)
Rivière-Rouge is named for the Rouge River – a tributary of the Ottawa River that runs through the area. Along the trail you'll find a tourist welcome office, an exhibition centre and a mini water park.
Labelle is an attractive hamlet where you can stop to eat and learn about the area's former rail line. La Gare de Labelle offers a selection of hearty meals, and cyclists can also use the nearby bike repair station.
The European-style village of Mont-Tremblant and surrounding region offer several days' worth of exploration. In the summer, make a trip to the top of Tremblant – the highest peak in the Laurentians – to enjoy beautiful views. The Panoramic Gondola will zip you to the summit in minutes, while more ambitious adventurers can hike all the way up. Boutiques and gourmet bistros are plentiful.
Close to the main village, the homey Auberge Le Voyageur B&B is a popular accommodation choice for cyclists. 
DAY THREE: Mont-Tremblant to Saint-Jérôme (91 kilometres)   
Val-David is the cradle of rock climbing in Quebec and is also famous for its artistic character, making it a wonderful place to stop for a meal or an overnight stay. Among the popular restaurants is bistro Le Mouton Noir. Meanwhile, craft aficionados will enjoy Boutique Galerie Kinya Ishikawa.
Sainte-Adèle is home to the official headquarters of Le P'tit Train du Nord, where visitors are always warmly welcomed. For a relaxing break, pause to stretch your legs along the edge of Rivière du Nord, or have a cappuccino at Café de la Gare.
Saint-Jérôme is located at "kilometre zero" of this Trail section and features heritage panels throughout town. Visit the Place de la Gare, which offers picnic tables, water fountains and tourist information.
---
3. JOURNEY: ACCESSIBLE ADVENTURES ON VANCOUVER ISLAND
The Great Trail on Vancouver Island offers you vistas of spawning salmon creeks and places to explore the historic sites of the region. The island's sections of the Trail are focal points for outdoor enthusiasts, and a user-friendly cornerstone on a trip to Canada's most temperate climate. Many of these sections are also designed to be enjoyed by people of varying abilities.
Discover these sections for yourself on an inclusive three-day itinerary, with everything from untamed nature to craft beverages and live theatre.
DAY ONE: Victoria to Cowichan Bay
Just 20 kilometres north of Victoria, Goldstream Provincial Park's natural beauty attracts visitors year-round and is a popular starting point for exploring The Great Trail. The wheelchair-accessible trails cut through the dense vegetation that is emblematic of Vancouver Island, carving a path around tall sword ferns and near rushing rivers.
Next, leave the Trail and take a break at Merridale Cidery & Distillery. Here, paved paths take you on a self-guided tour of the distillery and the orchard, and back to the bistro for local fare and samples at the tasting bar. Stock up on some cider for later!
After lunch, take a detour to Cowichan Bay, a quaint village with an incredible community of local artisans, delectable eats and ocean vistas. 
Explore the village before settling in for the evening at the Oceanfront Inn & Suites. Now might be the perfect time to celebrate with the cider you conveniently picked up earlier!
DAY TWO: Cowichan Valley Trail 
A one-kilometre trail of hard-packed gravel leads you from the parking lot to the Kinsol Trestle – a former rail line that was restored into a spectacular crossing over the Koksilah River. Check out the different viewpoints along the 187-metre trestle before making your way back to the car.
For lunch, try wood-fired Neapolitan pizza crafted with the best ingredients. Just 25 minutes from the trestle and conveniently located en route north, Pizzeria Prima Strada is right off the main highway, making it a logical stop – not to mention home to a sunny patio, views of the valley and some of the best pizza on the island.
Switch gears and enjoy a culture-filled afternoon with your first stop at The Ou Gallery in Duncan, where resident contemporary artists take inspiration from the landscapes and people of Vancouver Island. Then wrap up the day in Chemainus, a charming town on the Cowichan Valley Trail that's world-renowned for its murals and live theatre.
If you have some down time before heading to a show at the Chemainus Theatre Festival, check into your room at the Best Western Chemainus and visit Riot Brewing for a craft beer.
DAY THREE: Nanaimo's Waterfront 
After a packed two days, it's time to slow things down in Nanaimo. Just a 30-minute drive north of Chemainus, this coastal city is the hub of central Vancouver Island. The Great Trail extends along the city's waterfront walkway, a conveniently paved route for an adaptive handcycle.
This waterfront path winds along the marina and past shops and art installations. When you're ready for a bite to eat, grab a table at the Lighthouse Bistro and watch float planes come and go in the harbour.
For this night on Vancouver Island, cozy up at the Inn on Long Lake, enjoy the sheltered waterfront hot tub and relax underneath the night sky.
---
4. THREE DAYS, THREE ADVENTURES: A MANITOBA ITINERARY
The Winnipeg region features an incredible diversity of trails, both in the city and within about an hour's drive. This itinerary is all about options. Choose to drive to all the attractions, or select the most appealing highlights and devote an entire day to their exploration.   
DAY ONE: Winnipeg
The name "Winnipeg" comes from Cree for "muddy waters." The region was a trading centre for Indigenous peoples long before the arrival of Europeans – and these days, Winnipeg has a rich mixture of cultures including a significant Indigenous population.
Located at the confluence of the Red and Assiniboine rivers, The Forks  is steeped in history. Dating back 6,000 years, this intersection was the meeting place of Indigenous peoples and eventually became a headquarters for trappers and traders from Europe. Today, it is the cultural and culinary hub of Winnipeg.
Visit The Great Trail pavilion to learn about the hundreds of people who have donated time and money to help create sections of the Trail in Manitoba. One of Winnipeg's most popular attractions is The Forks Market, a historic shopping and dining complex.
St-Boniface, the centre of Manitoba's French community, is known for picturesque bistros with classic French cuisine and spirited live music. Le Musée de St-Boniface is a National Historic Site, the oldest structure in the city of Winnipeg and the largest oak log building in North America. The museum features artifacts of French-speaking and Métis societies.
The Louis Riel Commemorative Site tells the story of the man who led the Red River Rebellion of 1869 and played a critical role in the founding of the province of Manitoba. Riel was recognized for his efforts to protect the land rights of Métis peoples and the language rights of French-speaking citizens.
The Canadian Museum for Human Rights is one of Canada's finest museums and offers a journey from darkness to light.
DAY TWO: Pinawa Trail
The Pinawa Trail is a well-maintained path that runs through grasslands, granite shield and boreal forest, and offers Trail users the opportunity to see deer, rare birds and other wildlife, as well as views of rivers and dams.
The Pinawa Dam was a technological triumph in its day, but now, Manitoba's first hydro-electric station is a blend of park space and crumbling archeology. 
The 54-metre Pinawa Heritage Suspension Bridge was constructed by local volunteers and formally opened in 1999. It is part of a loop for interpretive walks and activities from casual fishing in warmer months to cross-country skiing in winter.
DAY THREE: Crow Wing Trail 
The 191-kilometre Crow Wing Trail is the longest section of The Great Trail in Manitoba. It connects Winnipeg to Emerson (at the Canada-U.S. Border), closely following the Red River ox-cart routes used in the mid-1800s to transport goods and people between Winnipeg and St. Paul, Minnesota.
Learn more about this storied trail at the Crow Wing Trail Monument, on the grounds of the St-Pierre-Jolys Museum. 
Shorter trail loops include the loop that goes around St. Malo Lake and another loop along the Roseau River and across the Senkiw Swinging Bridge.
Trans Canada Trail is a not-for-profit organization. If you value our work, please consider supporting us by visiting our Give page.
---