11 January, 2023
Melissa's Trans Canada Trail: How to Motivate Yourself to Hike During the Winter
Written by Melissa Waterman
The winter season is now upon us. In the coming months, we may face cold, brisk, snowy, slushy and icy weather conditions. Just the thought makes you want to curl up with a fluffy blanket and go into immediate hibernation mode. Finding the time and motivation to enjoy the outdoors can be challenging. While staying indoors might be tempting, it could cause more harm than good. Being surrounded by nature during winter is actually one of my favourite things – it's a wonderful time to get outside and enjoy the great outdoors.
Here are some tips that will inspire you to lace up those hiking boots during the winter season.
Hike with a Friend
I recently heard a phrase that I love and now swear by: It's not how many miles you walk, but how many smiles you share. Asking a friend to come along on a wintry stroll is sure to keep your momentum and motivation going. Hiking with a friend is an opportunity to share experiences together through bonding and laughter. Do something challenging but fun, like setting a goal for how many steps you can get in on your hiking adventure. You and a friend can make it a habit to schedule more hiking adventures on a weekly or monthly basis.
Make it a Daily Routine
Whether you walk for an hour, 30 minutes or 10 minutes, getting outdoors is good for the body, soul and mind. Breathing in some fresh air daily will help get your blood pumping and make you feel refreshed. For anyone working from home, scheduling some time to walk in nature will break up the monotony of your day with a change of scenery. This daily routine can boost happiness and combat depression. Your body will thank you for it!
Capture Your Hikes Creatively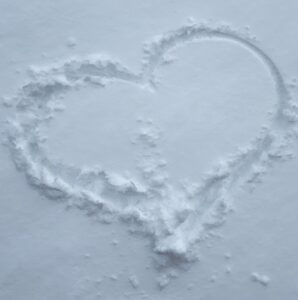 Winter hiking offers a lot of pluses. The scenery is picturesque, with the snow-covered treetops, frozen lakes and rivers. Being surrounded by snow, hiking along the trails, makes you feel like you are walking in a winter wonderland. It is a magical experience! This is where you can let your creative juices run wild. Before heading outdoors, make sure to bring your camera or phone and put your photography skills to the test. Put together a photo collage, create a digital photo album, or share a carousel or a single photo with an inspirational caption on social media. Why not share it for the world to see and be an inspiration for others to get out and see the beauty of winter? If you like to journal, documenting your hiking experiences is very therapeutic. The best part is reading all your entries and reminiscing about the amazing places you hiked and how you felt during each experience.
Join a Hiking Group
This is huge! Joining a group with other like-minded hikers can boost your motivation to get outdoors. Hiking groups help you to explore new and different trails in and around where you live, with varying levels of difficulty. The beauty of joining a group is that you can push yourself out of your comfort zone while expanding your social circle.
Reward Yourself!
Here is an all-time favourite and a sure way to motivate yourself to get outdoors: when you plan for a hike or walk, reward yourself with a healthy treat, a book or a trip to your favourite restaurant. You can even make it into a daily, weekly or monthly challenge, where you set a goal and create a reward system for every hiking challenge. The bigger the challenge, the greater the reward.
I hope you will get the most out of the winter months by using these helpful tips to get outside and keep moving!

Watch for more stories from Melissa where she shares her Trail experiences! You can also follow her adventures on Instagram @singlemomonthemove.