30 April, 2018
Paddling 101: 7 Tips for Beginners on The Great Trail's Waterways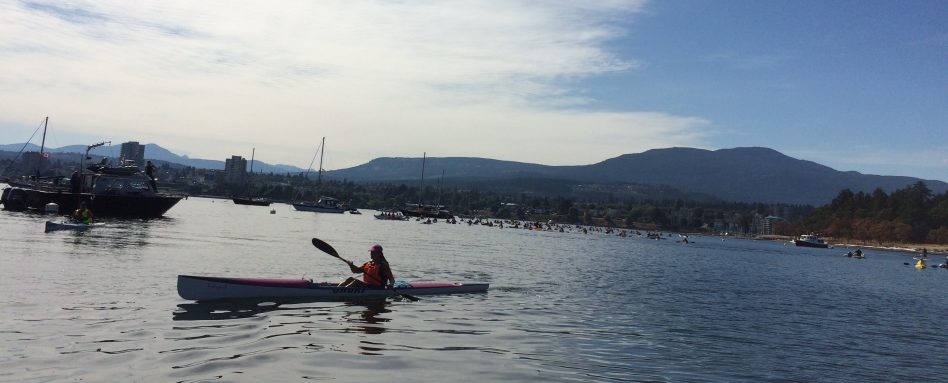 Pick up any guidebook of Canada, and you'll probably find a dazzling lake, river or coastline on its cover. Our waterways have been part of our national identity for centuries, and have been traversed by Indigenous peoples, voyageurs and modern-day adventurers. These waterways are ideal for discovering more about our heritage – and having a little fun along the way!
Here are some beginner's tips for experiencing the Trail with a paddle.
1. Choose the right water route for you
The Great Trail is home to vast landlocked lakes, gushing rivers and even some ocean sections. While some paddling newbies may be tempted to seek out rapids or waves, it's recommended to start small.
"Paddling on lakes, that have flat or still water, are the obvious choice for beginners," says Adrian Camara of Paddle Canada, the organization that sets national standards for instruction and certification for recreational paddling. Paddlers should also be aware of the possibility of strong winds on the water trail they choose, Adrian adds.
Sections such as the Bras d'Or Lake Water Route in Nova Scotia or the Lake Superior Water Trail in Ontario may be the best places to start. You can find out more about various Trail sections on lakes using our online map.
2. Go paddling with a certified instructor
Once you've picked your paddling destination, call in a local expert to show you the Trail as it was meant to be seen. Numerous paddling instructors offer day trips for beginners, many of which include equipment rental, a guided tour, safety tips and snacks.
"Professional guides are trained to make your experience more enjoyable. Not only will you learn the basic strokes, boat control skills and rescues, you'll also paddle with someone who is intimately familiar with your surroundings," says Conor Mihell, a guide with Naturally Superior Adventures, one of TCT's Travel Partners. "That's a big deal for safety and a great opportunity to learn more about the area's natural and cultural history."
To ensure that you get the experience you're hoping for, research instructors before booking one.
The Paddle Canada website can help you find certified instructors near your chosen Trail section.
3. Always wear a lifejacket!
Lifejackets are a non-negotiable essential among any paddler's equipment. Even if you consider yourself to be a strong swimmer, lifejackets should be worn anytime you are on or near water.
"People sometimes think that if they can swim, they don't need a lifejacket," says Adrian. "However, one of the major purposes of lifejackets is to keep your head above water if you lose consciousness."
Before you book your first excursion on a water trail, ensure that your guide or instructor will supply you with a lifejacket, or bring your own.
4. Dress in waterproof clothing
Even if the temperatures are rising, be aware that the water you paddle on could be incredibly cold.
Dress in comfortable, waterproof clothes whenever you go on the water, and always have some spare clothes ready for after your trip. If you do capsize, you may be grateful for a change of clothes once you hit dry land again!
"On Lake Superior, it's often appropriate to wear a wet suit or dry suit for the entire paddling season," says Conor. "Wet suits are reasonably priced and combined with a waterproof/breathable paddling jacket – which can also serve as a rain jacket in camp – you're covered June through September in a place like Lake Superior."
5. Prepare in advance
A few days before your paddling trip take some time to make sure you're ready. While much of your equipment will be supplied by your instructor, make sure to check with them about what you need to bring.
Essentials to have in your paddling arsenal include bottled water, good-quality SPF, a hat, a pair of sunglasses, and shoes that you don't mind getting wet. Checking the weather forecast before hitting the water is also important, and your instructor will be able to advise you on paddling conditions.
6. Paddle a short distance
Canoeing or kayaking on a serene lake may seem easy, but don't underestimate the workout that paddling can afford.
Staying within swimming distance of your starting point is recommended for beginners, especially those who are learning a new paddling technique.
"It will be different for everyone, but I would recommend something less than 10 km for your first day trip," says Conor. "That gives you plenty of time to cover the distance, enjoy the scenery and practice your technique – without the stress of having to rush."
7. Keep the water trail as clean as you found it
The golden rule of hiking – 'Leave No Trace' – applies to water trails too. Canada's diverse waterways are renowned for their astonishing beauty, and paddlers have a responsibility to keep them that way.
Make sure to stow any waste in your dry bag, and then dispose of it when back on dry land.
"We believe that 'Leave No Trace' should be taught in elementary school," says Conor. "We all want to maintain the trail for future generations; make it your goal to make it better."
Do you have any tips for amateur paddlers? Share them with us on Facebook, Twitter and Instagram.