17 October, 2019
Preserving the legacy through improvement projects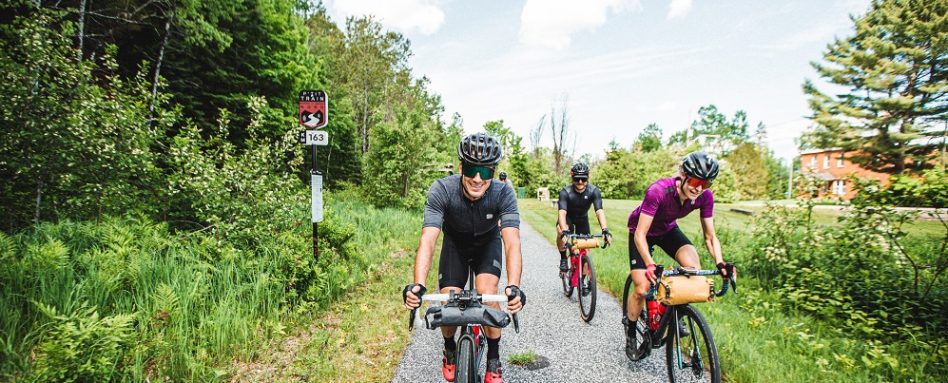 Generous donors and committed partners continue to support our shared mission of protecting and enhancing The Great Trail of Canada. This year, TCT funded 71 new improvement projects to help preserve the Trail's legacy for Canadians and visitors alike.
Among the achievements: TCT completed 81 signage projects, which included wayfinding signs and interpretive signage that highlighted the flora, fauna and heritage of the areas in which they were installed.  The installations covered 2,535 kilometres of The Great Trail.
Notable Trail improvement projects across the country included:
Alberta
Development of a new greenway across Colinton Bridge, along the Athabasca Landing Trail.
British Columbia
Development of a new 4.7-kilometre Trail section within the E&N Railway corridor. The new Saltair section of the Cowichan Valley Trail includes a major creek crossing and now provides a safe, off-road infrastructure for pedestrians, cyclists and equestrians travelling in the area.
Manitoba
Creation of four new kilometres of greenway that were added to the Trail north of the Town of Bélair.
New Brunswick
Critical repairs to a section of the Wolastoq Trail, which was threatened with closure after a severe washout.
Newfoundland and Labrador
The construction of a new bridge over the Freshwater River on the East Coast Trail.
Northwest Territories
Widening of the Oxbow Trail greenway in the town of Hay River, allowing for a better Trail user experience.
Nova Scotia
Construction of three bridges in Chezzetcook, allowing the nearby roadway to be converted to greenway.
Nunavut
Installation of new donor recognition signage at the Kimmirut Visitor Centre along the Itijjagiaq Trail.
Ontario
Construction of a new accessible greenway between the communities of Mississauga First Nation and Blind River.
Prince Edward Island
Creation of a wheelchair accessible loop between Lake Verde and Fort Augustus, plus installation of new signage with The Great Trail logo, across the province.
Quebec
Major improvements and surface repairs along Le Petit Témis Trail, which connects The Great Trail from Quebec to New Brunswick.
Yukon
Development of a new Trail section in Gunnar Nilsson Mickey Lammers Research Forest, allowing users to pass through forested landscapes instead of on a busy roadway.
Trans Canada Trail is a not-for-profit organization. If you value our work, please consider supporting us by visiting our Give page.  
---