16 October, 2019
Routes on The Great Trail for People with Disabilities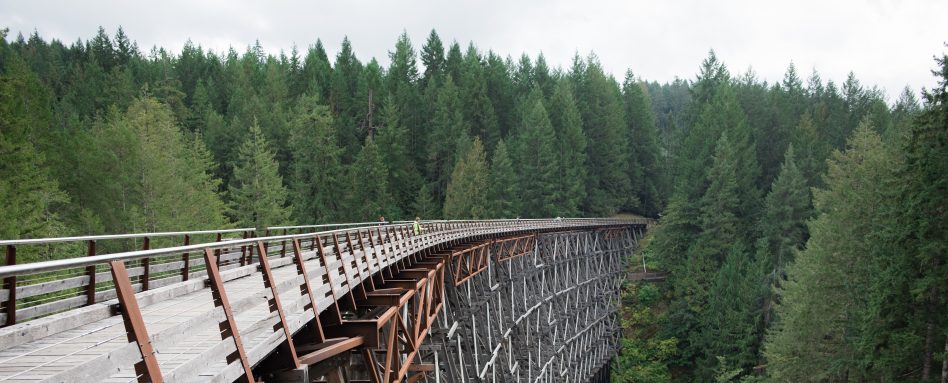 Individuals with disabilities should be able to enjoy all of the beauty that Canada has to offer. The Great Trail has a number of beautiful sections everyone can enjoy, and we feature seven of them here:
What makes a Trail section accessible?
Accessibility can mean very different things depending on the individual. People with low vision may want guide wires, and people with physical disabilities will have different levels of mobility. It is better to describe the Trail features so that people with disabilities have information available to them in order to make decisions before their trip.
We spoke with Trisha Kaplan, Trail Development Manager, Western and Northern Canada, about features to look for. For accessible trails, Kaplan has a couple of recommendations. "The most logical place to start is a hard-packed trail surface with clear width and minimal grade changes." She also points out the need to have designated parking and accessible washrooms.
Check before you go
There are several online resources and apps you can use to see if a Trail section will work for you, including the BlindSquare app for those with low vision and the AllTrails app and website for those looking for accessible trails. Once you've narrowed down the spot you want to visit, Trisha recommends contacting the authority in charge of the Trail section to ensure it is open, and that areas described as accessible work for your specific situation.
1. Dobson Trail, New Brunswick
The Dobson Trail in New Brunswick takes in soft and hardwood stands, a beaver dam, a lake and other natural wonders, and is popular among outdoor enthusiasts of all ages and abilities. Parts of this section are also equipped with guide wires for users who are blind or partially sighted.
2. Inverness Beach along Celtic Shores Coastal Trail, Nova Scotia
Inverness Beach is nestled at the north end of the Celtic Shores Coastal Trail on Cape Breton Island in Nova Scotia, near the village of Inverness. In 2018, the Inverness Development Association and the Inverness County Accessibility Committee implemented measures to reach their goal of making Inverness Beach the most inclusive beach in Canada. These include specialized rubber mats to allow easier access to the water across the beach, two floating chairs that allow people with mobility challenges to go into the water, and two beach-friendly wheelchairs. The accessible beach also features bathrooms, parking spaces and ramps.
3. Lake Superior Water Trail, just outside Sault Ste. Marie at the Gros Cap Access, Ontario
The Lake Superior Water Trail connects Sault Ste. Marie and Thunder Bay on the shoreline of Lake Superior. The Gros Cap access point, near the Sault, features wheelchair accessible dock access so you can go straight from the dock to your kayak.
4. Wascana Centre, Regina, Saskatchewan
Covering almost 1,000 hectares, the Wascana Centre is one of the largest urban parks in North America, and takes in Saskatchewan's Legislative building, the University of Regina, the Mackenzie Art Gallery and the beautiful Wascana Lake, among other landmarks. In addition, the park is also wheelchair accessible!
The 10-kilometre section of the Trail that runs through the Wascana Centre boasts a relatively flat surface of gravel and crushed stone, which makes it easier for wheeled users to take in this haven in natural beauty.  
5. Pigeon Lake Provincial Park and Fish Creek Provincial Park, Alberta
The day use areas of Pigeon Lake Provincial Park and Fish Creek Provincial Park are part of The Great Trail and two of the seven accessible trails that were opened throughout the Alberta Parks system in 2018.  The accessible trails honour the memory of Cecile Buhl, who volunteered for over 10 years as a push-to-open nature ambassador, and helped to create accessible trails across the province. As with all the accessible trails that Cecile helped to bring to life, Pigeon lake features accessible viewpoints, bridge railings and tactile warning surfaces for those with low vision.
6. Cave and Basin National Historic Site, Alberta
This Parks Canada property is part of the country's first national park, and has been known and revered by Indigenous communities for thousands of years. Today, this unique site can also be found along The Great Trail in Banff and has facilities for people with hearing and sight challenges, an all-terrain wheelchair surface, a wheelchair accessible bathroom and guides, upon request.
7. Kinsol Trestle on the Cowichan Valley Trail, British Columbia
The Kinsol Trestle span of the Cowichan Valley Trail near Victoria on Vancouver Island is one of the tallest free-standing rail-trestle structures in the world. It spans the Koksilah River and is wheelchair accessible.
Trans Canada Trail is a not-for-profit organization. If you value our work, please consider supporting us by visiting our Give page.  
---