3 December, 2018
How a senior's home in British Columbia gives back to the Trans Canada Trail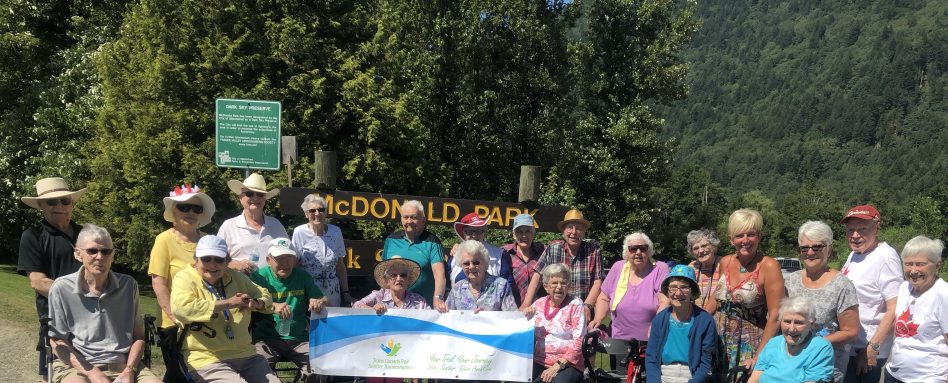 An annual fundraiser for the Trans Canada Trail has become a highlight of the year for a close-knit senior's home in British Columbia.
The residents of Chartwell Hampton House in Chilliwack raise hundreds of dollars each year with a summertime walk along their local section of the Trail. This year, the heartwarming yearly event took place on July 5, 2019.
Tracey McDonald, Lifestyle & Programs Manager at Chartwell Hampton House, says the event was the brainchild of two temporary residents of the home who were also avid TCT supporters.
"We have a program called 'Moments that Matter', where we encourage residents to write down their wishes and we try to make them happen," Tracey explains.
Through this program, the two residents expressed their wish to continue raising funds for the Trail during their stay at the residence.
"I think we knew about the Trail on a minimal level," recalls Tracey. "However, we didn't know about the history of connection, and we didn't know that the Trail would continue to be maintained."
'Toonies for the Trail'
Although not all residents and staff were familiar with the Trans Canada Trail, they embraced the idea and created an event that became known as 'Toonies for the Trail', held the week of Canada Day.
In its first year, 16 people took part in the walk. Now, even more residents and their families join in, enjoy the outdoors together and give what they can to support the further development of the Trail.
"We normally have a passenger bus for 16 people for events. But, for this event, we have a convoy," says Tracey.
"One of the daughters of our residents makes cupcakes. We sing 'Oh Canada', and we organize Trans Canada Trail and Canadian trivia. It's quite patriotic."
Staff and residents also made their dollars go the extra mile by donating as part of various TCT matching programs, which double the impact of any gift donated during a specific timeframe.
Contributing to the community
Aside from being a way to enjoy Chilliwack's beautiful section of the Trail, Tracey says the residents also see the event as a way of engaging with the community – and with Canada.
"Seniors really want to give back to their community, and we do all kinds of fundraising here so that they can contribute," says Tracey. "They just need a platform."
We are so thankful for the ongoing support of donors like the residents and staff at Chartwell Hampton House. To find out how you can support the further development of the Trans Canada Trail, click here.