29 September, 2017
Sounds of The Great Trail: 25 Essential Tracks for Fall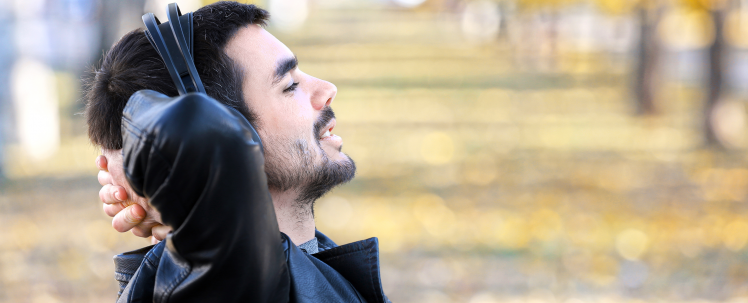 Fall is a feast for all senses – including hearing! Some musicians have a knack for capturing this beautiful changing of the seasons in song. Indeed, Canada has a rich musical history, ranging from Indigenous rhythms to classic folk, as well as rock and indie anthems in French and English.
Here are some highlights of our 25-track playlist – a soundtrack for your next autumn adventure on The Great Trail.
1. Neil Young – Harvest Moon
This classic track from Neil Young kicks off our fall playlist. 'Harvest Moon' encapsulates the warm feeling of autumn with its ethereal sound and romantic lyrics.
Written as a tribute to Young's then wife Pegi, this beautiful song is a timeless Canadian classic.
2. Hey Rosetta – Seventeen
This offering from this Newfoundland group was inspired by their journey from northern Ontario to Manitoba, and is a great tribute to Canada's natural beauty.
This climactic song is ideal for any trip on The Great Trail this autumn.
3. Aaron Collis and Emilia Bartellas – Red Rock Brook/Shanawdithit
These two virtuosos from Newfoundland are making a name for themselves, and their album of traditional music is a must-listen for anyone exploring the province.
With atmospheric accordions and plaintiff fiddles, the historic musical culture of their home province is safe in their capable hands.
4. Feist – 1234
One of Canada's most famous alternative artists, Feist is a perfect addition to this Great Trail playlist.
'1234', one of her earliest and most famous songs, is a simple melody that epitomizes burgeoning romance, or even a fun day out with the family. We love the boisterous horn crescendo at the end!
5. Coeur de Pirate – Comme des Enfants
A native of Quebec, Coeur de Pirate now claims numerous fans throughout the anglophone and francophone world.
This piano-led melody captures the wonderful feeling of youthful exuberance and discovery – perfect for exploring Quebec's Mont- Tremblant or the P'Tit Train du Nord!
6. Arcade Fire – Keep The Car Running
Another soaring track for our playlist from Montreal's indie superstars, 'Keep The Car Running'.
Starting simply, this great track from Arcade Fire ends with a spectacular finale – like the perfect ending to an autumn road trip!
7. Cody Coyote (feat. Vision Quest) – Northern Lights
Ottawa's Cody Purcell (or Cody Coyote) is a fierce Indigenous talent on the rise. As a descendant of the Matachewan First Nation, his work reflects on issues surrounding Indigenous communities.
Cody started writing poetry at the age of 13, and also engages in public speaking, facilitating workshops and campaigning on First Nations issues. His first album, including the stunning 'Northern Lights' is set to be released this fall.
8. Kashtin – Akua Tuta
The title track of the Juno-nominated final album from Kashtin, this ethereal folk track begins with birdsong and other natural sounds – evoking the importance of taking care of the world around us.
It was one of the last songs from Kashtin, a renowned Indigenous band comprised of Florent Vollant and Claude McKenzie. However, both artists continued to have significant success during their solo careers.
9. Florent Vollant – Tshekuannu
Florent Vollant, one of Canada's great Indigenous folk musicians, is an Innu from Maliotenam, Quebec. After being a member of Kashtin, one of the most important Aboriginal music acts in history, he went on to release four acclaimed solo albums.
This track from 2015's Puamuna is perfect on this playlist for fall.
10. Daniel Bélanger – Le Parapluie
This track from Daniel Bélanger is a perfect addition for this playlist of changing seasons. The seasoned Quebec singer-songrwriter is famous for his fusions of folk and lounge, as well as his humorous and wistful lyrics.
Practice your français with 'Le Parapluie' from the album Quatre saisons dans le désordre.
11. À La Mode – Ce Sentiment
This Franco-Manitoban act is one of the most exciting indie-pop acts in Canada in recent years. Their summery, almost "cute" sound hides a deeper complexity, especially on this track.
This is the third song on their album, Perfection Salad, demonstrates the power of singer Dominique Lemoine's vocals, and is a wonderful piece that reflects living in the moment.
12. Joni Mitchell – A Case of You
This beautifully written, lush track from one of our greatest songwriters is a highlight of our playlist. As Joni Mitchell sings: "I drew a map of Canada", we can picture the immense scale and striking landscapes throughout our country.
'A Case of You' is a standout track from Mitchell's amazing album, Blue – essential listening when exploring The Great Trail.
We're also featuring honorary non-Canadians in our autumnal playlist:
13. Nick Drake – Time of No Reply
Nick Drake is a folk music icon whose writings have inspired generations.
This song is typical of his work – deceptively simple, but containing numerous ideas. One thing that stands out about Time of No Reply is the silence of nature.
In the quiet of an autumnal wilderness, sometimes we, too, can be left speechless.
14. Nat King Cole – Autumn Leaves
This playlist wouldn't be complete without this classic from Nat King Cole. The crooner made this song his own, describing the "autumn leaves of red and gold".
With its spiraling string opening and beautiful orchestration, 'Autumn Leaves' captures the romance and colours of this stunning season.
15. Jack Angaiak – I'll Rock You to the Rhythm of the Ocean
When Jack Angaiak, a Yup'ik musician from Alaska, released his 1971 album I'm Lost in the City, it was acclaimed by Billboard magazine. However, many Indigenous musicians have been forgotten throughout the years.
Thanks to Native North America Vol. 1, a Grammy-nominated compilation of Indigenous music, artists like Angaiak have been introduced to a wider audience. This acoustic track is perfect for autumn evenings by the coast.
Want to suggest your favourite songs for fall? Share your top tracks with The Great Trail on Facebook, Twitter and Instagram!