17 November, 2019
Spring 2019 Prep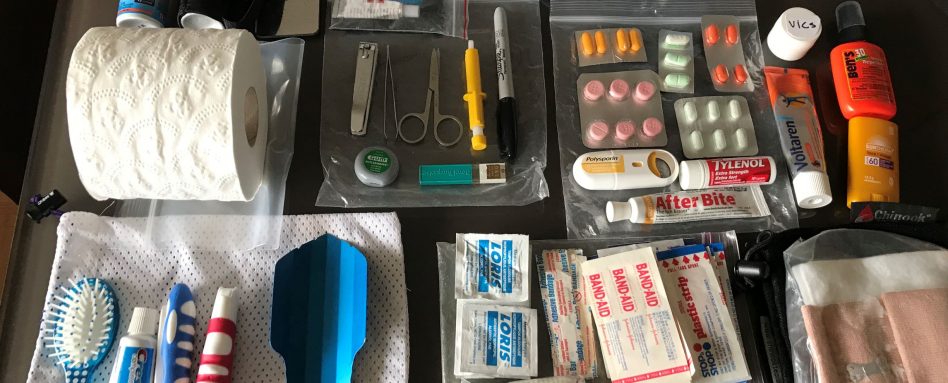 By Julie Chatelain and Simon Lacroix
During the cold winter months, we had the opportunity to talk about our 2018 walk across the Maritimes twice in Ottawa (in our local community room and at Bushtukah) and in Victoria (at Robinsons Outdoor Store). Public speaking about our favorite topic always got us motivated for our next adventure. For the 2019 season, we would be crossing Quebec and Ontario on the Trans Canada Trail of Canada.
We planned to start in early May, walk until mid July, break for a few weeks, then resume in August until late October. By doing so, we hoped to avoid the high heat of July. Those that know us well know that this break wouldn't comprise sitting on our laurels. Simon had planned a motorcycle trip to the west coast and up to Yukon during that 'break'. Julie was happy with this plan, as she could sit on the back of the bike (named Val) and watch the scenery roll by. Plus, we would be travelling with our good 'motorcycle' friends Debbie, Kate and Steve.
Simon took on the job of combing through the Trans Canada Trail map and Google Maps for Quebec and Ontario. Our previous research of the Maritimes had been invaluable when organising our stops to replenish our provisions and planning where we could take rest days. While we were crossing the Maritimes, we had been updating our 'data-logbooks', adding some wilderness camping spots and amending information when we found discrepancies. The data-logbooks are available on our website for those who may be interested in tackling parts of the Trans Canada Trail.


Our approach for this next leg would be similar. Distance travellers require specific services. Our data-logbooks cover what we felt was useful and generally within two kilometres from the Trail. After a long day of walking, the last thing we needed was to walk further to resupply.
What would we do differently in 2019? The previous year, we chose to walk as much of the Trans Canada Trail as possible through the Maritime Provinces. When we encountered a waterway, we found an alternative (usually a roadway) and walked it to rejoin the Trail. We walked a lot of roadways. Some of these roads were unsafe, busy, very hot and hard on our legs and feet. For our next season, we would change this up a bit.
The Trans Canada Trail was designed as a mixed-use trail. Along the way, we passed wilderness trails (our favorites), urban trails, roadways and waterways. Looking ahead to Quebec and Ontario, we were mindful of minimizing walking on busy roads and highways. We planned to avoid some urban sections in larger cities, as camping and other regular necessities were too impractical.
The Trail in northern Quebec, in the Charlevoix region, would be a wilderness trail like the Fundy Footpath in New Brunswick. We were looking forward to this section and we planned to store our Wheelie at Simon's sister's home in Quebec City. This meant that we would carry our gear in our packs for the first few weeks.
Our gear last year served us well. Our long-sleeved shirts provided protection against bugs and the hot sun. Our tent and sleeping equipment were also still in good condition. Our Ohuhu (wood) stove was amazing! Even on wet days, we were able to find some dry twigs and kindling to start the stove and cook our evening meal. We had purchased some lighter sleeping mats and changed our rain tarp for an ultra-light tarp in the hopes of reducing the weight we'd need to carry.
The most common gear question was this: what footwear to wear? Hiking boots versus trail runners, that was the question. We spent a lot of time researching and discussing this topic. We had worn both and each had advantages and disadvantages. Boots were typically heavier and hotter. Choosing this option, we needed to air out our feet during breaks throughout the day. This minimized blisters, and even trench foot, caused by sweating. Boots provided excellent support and good traction on the trails. They also tended to last longer before needing to be changed.


Trail runners were light and had softer cushioning. They allowed our feet to breath in hotter weather and usually had good traction. But runners, even high-quality trail runners, didn't offer the best foot support when carrying a heavier load in our packs or pulling the wheelie. Last year, we found that our runners lasted about 800 kilometres. After that, we could feel every rock underfoot and Simon experienced some foot pain due to lack of support. When the runners needed to be changed, we were in smaller communities that didn't offer the same high-quality footwear options. This season we investigated the light hiking boot option. This required a lot of boot-fitting sessions!
During the last weeks prior before our departure, there were numerous elements to plan and prepare. We gathered our equipment, checked it for wear and planned some food caches for the Charlevoix area. We wound down our winter fitness routine.
This season, we were to be joined by some friends and family. We were very excited about this. The dates and sections had been chosen for each of our guests and we looked forward to spending time together. Maybe we'll see you along the Trail!

Find us walking
Website
Facebook