6 May, 2019
A teenager's run for the families of missing and murdered Indigenous women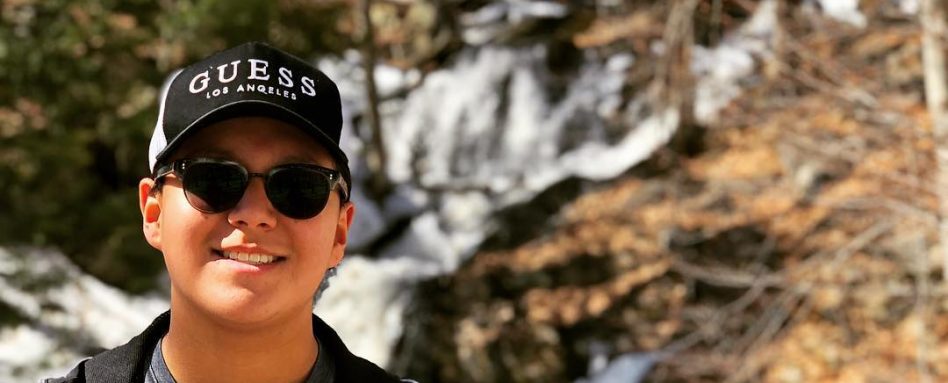 Deciding to run the equivalent of three marathons over the space of a few days is ambitious at any age.
For Theland Kicknosway, a member of the Wolf Clan and a Potawatami and Cree youth advocate, the 130-kilometre dash from Ottawa to Kitigan Zibi is an essential way to raise awareness for the families of missing and murdered Indigenous women.
Theland's idea was born when he was just nine years old, after he asked his mother Elaine a difficult question: "What happens to the children of missing and murdered Indigenous women?" Elaine was unable to answer, so she asked Bridget Tolley to meet Theland. Bridget is the founder of Families of Sisters in Spirit, a volunteer-led organization that supports loved ones of missing and murdered Indigenous women, girls and Two-Spirit people.
The number of missing Indigenous women is reported to be approximately 1,200 since 1980, but advocates say the number could be much higher. When she explained that many of the children left behind have to stay with their grandparents and had little support, Theland felt compelled to take action.
"I started to ask myself how I could be a role model for kids and young adults," he recalls. "I was reading a lot about Terry Fox at the time, and I thought I could run for missing and murdered Indigenous women and girls."
With the support of his family and his community, Theland decided to organize a run from his home in Ottawa all the way to Kitigan Zibi in Quebec to draw attention to the work of Families of Sisters in Spirit. He completed his first run when he was just 11 years old, and is set to start his fifth run in Ottawa on May 11. His routes for the past four years have followed the Véloroute des Draveurs, a section of The Great Trail.
Completing his first 130-kilometre run at such a young age was no easy task for Theland. Looking back, he feels he was unprepared for the physical and emotional toll it would take.
Although increased training has made the journey easier over the years, Theland credits the people who join in and support him with keeping him going.
"We're seeing a lot of people coming out, especially people who are survivors and relatives of missing and murdered women and girls," he says. "This whole run is based around love, and I'm grateful to everyone who comes out and joins us."
"Why I'm doing this run and who I'm doing this run for is what keeps me going," he adds.
Now aged 15, Theland is a renowned activist, drummer, hoop dancer and youth educator. In 2018, he became the youngest Indspire Awards laureate when he was recognized for his contributions to Indigenous culture, heritage and spirituality.
Since 2015, the annual run has raised $5,000 for the children of missing and murdered Indigenous women. Theland says he wants to continue organizing the run for years to come.
"We set out for a four-year project, and we finished our fourth year last year. But I don't think we're going to stop," he said.
To find out more about Theland's run, check out his Facebook and Instagram pages.
Trans Canada Trail is a not-for-profit organization. If you value our work, please consider supporting us on thegreattrail.ca/help