30 September, 2019
The Deh Cho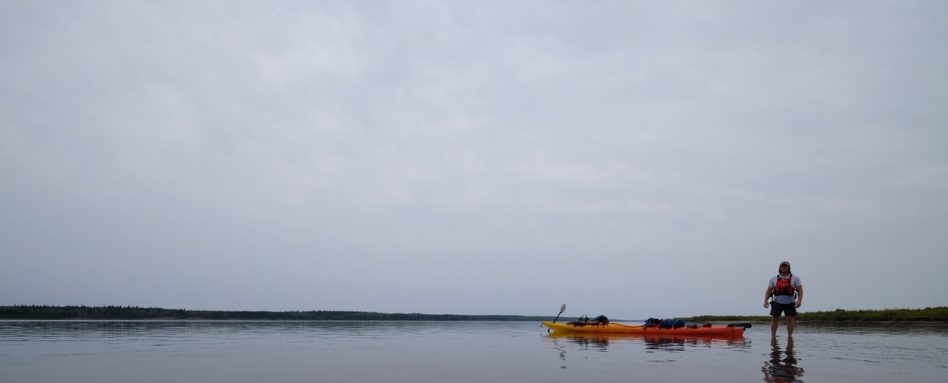 Text by Alex McEwen
The water was alive. It seemed to have a mind of its own as it churned, rolled, and boiled beneath me. Navigating moving water like this in an unfamiliar setting commanded my full attention. This was the kind of action and level of engagement that I had been craving while working behind a desk in downtown Calgary.
I was on a solo, self-appointed quest through Canada's North that was destined to provide adventure in spades. Little did I know at the onset, just how real, raw, and at times, challenging this experience would be.
On August 10, I found myself in the hamlet of Fort Providence in the South Slave Region of the Northwest Territories. This is where I began a journey that would take me through an incredibly vast, sparsely populated and relatively untouched region of Canada's North. The Deh Cho, which in the Athabaskan language of Slavey spoken among the Slavey and Sahtu people, means the "Big River", was an ideal expressway to explore over 1,500 kilometres of the territory. More broadly known as the Mackenzie River – the Deh Cho is the longest river in Canada and the second-longest in North America after the Mississippi. In a 17-foot sea kayak, this mighty waterway would take me from the west side of Great Slave Lake to Canada's Arctic.
For years, I had been fascinated with the Northwest Territories. It is such an enormous, undeveloped expanse of woodlands, mountains, lakes and tundra that has an astonishing amount of history. For centuries, the North has drawn explorers from around the world who seek adventure and, in some cases, great fortunes. It is one of the final frontiers and I wanted to experience a broad cross-section of it.
Alexander Mackenzie's 1789 expedition to find the Northwest Passage to the Pacific Ocean on behalf of the North West Company at the age of 25 was my inspiration to paddle through this remote region.
Preparing for a self-supported trip of this magnitude involved reviewing trip reports, purchasing camping gear suitable for travel on water, procuring freeze-dried meals, and sourcing a sea kayak. The scale of this journey required that I carry the majority of my supplies for the entirety of the paddle as there were few centres to resupply.
The paddle took me through boreal forest, which is home to millions of migrating birds and provides habitat for moose, elk, caribou, muskox, bears, wolves, foxes and wolverines, along with many other animals that I was fortunate enough to encounter.
I passed through a handful of small communities, many of which were set up as outposts for the fur trade in the 1800s by the North West Company and the Hudson's Bay Company. There was the Camsell and Mackenzie Mountain Ranges; the Canol oilfield in the Mackenzie Valley where resource development began in the early 1900s; the last towns before the Beaufort Sea. The terrain changed dramatically as I paddled down river. I camped in woodlands, wetlands, mountainous regions, walled canyons and tundra environments.
On August 28, 18 days after launching in Fort Providence, I arrived in Inuvik, the main administrative centre for the Northwest Territories. I quickly unloaded my kayak and found a hotel where I could have a warm shower and sleep in a bed after weeks in the bush. It was a very welcome change from the wet and cold conditions in the Mackenzie Delta that I had experienced on the days leading up to my arrival.
Upon reflection, my time on the Deh Cho was incredibly special. As Canadians, we are so privileged to have a seemingly limitless expanse of wilderness to explore in every province and territory. What I experienced paddling the Deh Cho likely has a number of similarities to what Alexander Mackenzie would have observed 230 years ago. Aside from navigation buoys and few small hamlets along the river, the region is almost as wild and thinly populated as it was all those years ago. That is not something that can be said about many parts of the world.
Adventures in Canada's North are plentiful, and I plan to return to venture into more remote and untouched regions of our country in the near future.
A big thank you to MSS Ltd. in Hay River that supplied my sea kayak and provided logistical services, Canoe North Adventures in Norman Wells who hosted me on my journey through the Mackenzie Valley (they are the leading award-winning adventure travel company in the Northwest Territories), the Mackenzie River Coastguard, and the town of Inuvik that welcomed me with open arms.
Alex McEwen is a Calgary-based finance professional and an avid adventurer. In August 2019, he embarked on an incredible solo paddling journey through the heart of the Northwest Territories from Fort Providence to Inuvik.
Trans Canada Trail is a not-for-profit organization. If you value our work, please consider supporting us by visiting our Give page.