15 March, 2023
The Ultimate Spring Playlist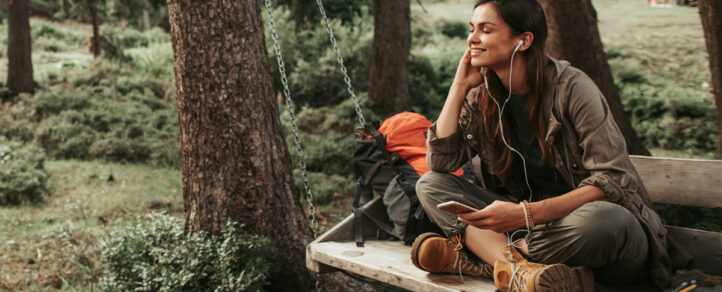 30 feel-good tracks for stepping into spring
Spring is in the air and there's no better way to celebrate the season of rebirth and renewal than with a fresh new playlist. Whether you're looking for walking music, adventure songs or hiking songs, we've asked our very own Trans Canada Trail team to share their favourite "happy songs for stepping into spring" to create the ultimate Spring Playlist – and boy, did they deliver!
The result is a mix of classic and modern tunes that will put a spring in your step and bring a smile to your face. Here are some highlights:
---
"Here Comes the Sun" by The Beatles is a classic that needs no introduction. This song is perfect for a sunny day, and it's sure to lift your mood and make you want to dance along the Trail. The upbeat tempo and cheery lyrics will have you singing along in no time.
---
"I'm Like a Bird" by Nelly Furtado is another song that's perfect for spring. It's all about freedom and taking flight, which is exactly what the season is all about. Whether you're walking, hiking or just exploring the great outdoors, this song will give you the motivation you need to spread your wings and soar.
---
If you're looking for a bit of country flair, check out "The Journey" by Paul Brandt. Anyone into taking risks and living life to the fullest will find this to be the perfect anthem for hitting the Trail and experiencing all the beauty that spring has to offer.
---
If you're in the mood for something a bit more romantic, "Haven't Met You Yet" by Michael Bublé is the perfect choice. He croons on about the excitement and anticipation of meeting someone new, and it's sure to get your heart racing as you explore the Trail.
---
"Runnin Back to Saskatoon" by The Guess Who is a classic Canadian tune that's great for a spring playlist. All about hitting the road and exploring new places, and it's the perfect song to get you in the mood for a springtime adventure.
---
"Big Yellow Taxi" by Joni Mitchell is a classic that everyone knows and loves. Its catchy chorus and upbeat melody will keep your spirits high, even when the Trail gets tough. It reminds us to take a moment and admire the stunning scenery on your hike.
---
"Walking on Sunshine" by Katrina and the Waves is the ultimate feel-good song for your spring playlist. Its catchy melody and upbeat rhythm will make you feel like you're walking on air, even on the toughest of hikes. Enjoying life and having fun is the vibe, which is exactly what your adventure on the Trail is all about.
---
But, that's not all! The Trans Canada Trail Spring Playlist is packed with many more great tracks that will make you want to get out and explore. So put on your headphones, lace up your shoes, and let our playlist be your guide to springtime adventures.