2 November, 2018
Tracy and Bruce Simpson, by land and sea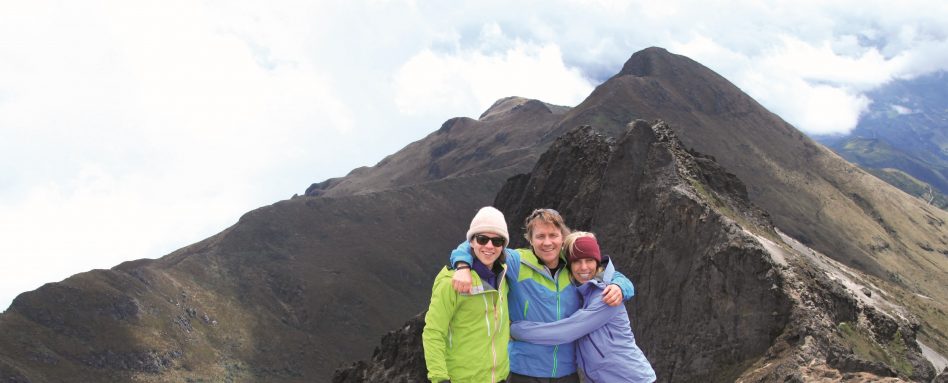 As outdoor enthusiasts, the Simpsons are the real deal – Arctic buffs, kayakers, hikers and cyclists, often on The Great Trail across Canada.
"We love that the Trail is a national initiative that benefits everyone, providing an accessible way to stay active, healthy and connected," says Tracy Simpson, an adventurer and former investment banker.
Tracy and her husband Bruce have been passionate supporters of The Great Trail for more than ten years. They also generously provided a matching gift in 2017, which meant they matched all gifts made to TCT up to $25,000. The Government of Canada also kicked in 50 cents on the dollar, so gifts ended up going two-and-a-half times further.
Bruce joined the TCT Board in 2007, and was honoured to become a director of the TCT Foundation Board in 2011. He later served on the Chapter 150 Campaign Cabinet. Together with Tracy, he also co-chaired the Governor Program from 2015 until this year.
"Tracy and I loved personalizing the hundreds of letters we sent out, making appeals for the Governor Program. We wanted to personally connect with all the wonderful folks who support the Trail."
Natural born explorers
Bruce appreciates every opportunity to commune with nature.
"My parents were Arctic explorers, so I spent my childhood summers up North," says the senior partner at McKinsey & Co. "Tracy and I and our three boys have been to the Arctic 16 times."
With their collapsible kayaks and little else, the Simpson family often head first to Iqaluit, where the Itijjagiaq Trail starts on Baffin Island, Nunavut. Their three-week paddling trips to Greenland also include time on the Sylvia Grinnell Trail, the most northerly section of The Great Trail.
"You get the full drama of the Baffin Island landscape, from the roaring rivers to the huge glaciers," says Bruce, a Scotsman who has lived in Canada for the past 18 years.
Bonding on The Great Trail
As parents, the Simpsons value family time on The Great Trail, away from digital media and urban distractions.
"Spending time in nature highlights what's important. You discover ways to bond as a family that are slowly disappearing from our lives," notes Tracy. "Bruce's mother said being on an expedition makes you a better person when you come back to civilization and I totally agree."
The Simpsons' interest in The Great Trail goes beyond the Arctic region. In the summer of 2017, Tracy and 11 other women, including Co-Chair of the TCT Foundation Board Valerie Pringle, did a three-day cycling trip on Prince Edward Island.
This year, Tracy, Valerie and few other friends hiked a rugged section of the Trail in Charlevoix, Quebec. At home in Toronto, they enjoy Trail sections such as the Pan Am Path on foot, or the Waterfront Trail by bike.
A lasting legacy
While the Simpsons have stepped down from their Governor Program leadership role this year, they continue to be ardent champions of supporting the Trail.
"Everyone wants to leave their mark," says Bruce. "Giving to this leadership program is a tangible way to do just that. Your gift has lasting impact. It benefits everyone – not just one segment of society in one area, at one moment in time."
Additionally, they talk up the Trail to everyone they meet.
"Building awareness is so important," concludes Tracy. "It's one of the most gratifying things we do."
Everyone at TCT is extremely grateful for Bruce and Tracy's generous and heartfelt contributions and efforts to promote the Trail over the years.
We are also delighted to announce that Canadian broadcaster and longtime supporter of TCT, Valerie Pringle, will now be serving as Chair of the TCT Foundation Board and Chair of the Governor Program.
To learn more about how you can support the development of the Trail for future generations, visit http://www.thegreattrail.ca/give