2 November, 2018
A new greenway in Tulita, Northwest Territories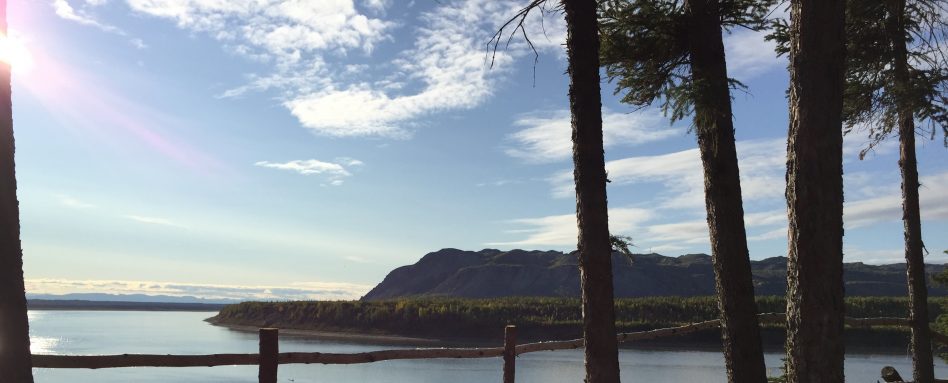 Taking its name from the Dene word for "where the waters meet", the hamlet of Tulita in the Northwest Territories is located at the confluence of the Mackenzie River and the Great Bear River, and boasts magnificent views of the Mackenzie Mountains and the fabled Bear Rock. And, thanks to a $15,000 contribution from TCT, more adventurers can discover this beautiful area via a brand-new section of The Great Trail.
This community of just 600 people – 90% of whom have Indigenous heritage – has established itself as a popular stopover for paddlers on the Mackenzie River Trail. However, this fascinating hamlet has the potential to be far more than just a place to resupply. Since the recent opening of its first campground, Tulita has welcomed over 200 additional visitors and has generated an estimated $5,000 in sales for local artisans.
Now, the recently completed Two Rivers Trail promises to bring even more benefits to the community. Supported in part by TCT, the new greenway links the campground to the town centre along the Mackenzie River, offering majestic views while providing a safe pedestrian route for visitors and locals. This new trail, built by local craftspeople, also brings outdoor enthusiasts to local heritage sites and guided tours.
"Tulita's new Two Rivers Trail is a meaningful addition to the Tulita community," says Trisha Kaplan, Trail Development Manager, Western & Northern Canada. "It provides an opportunity enjoy the stunning landscape, participate in healthy physical activity, and travel safely between destinations. But, it also connects visitors with local art and culture, and the traditional values and stories shared by Elders and others in the community."
We are so grateful to our donors, who helped us make this Trail section a reality in Tulita. To discover how you can support future Trail developments, visit www.thegreattrail.ca/Give.