10 November, 2019
From Upper Kent to Edmundston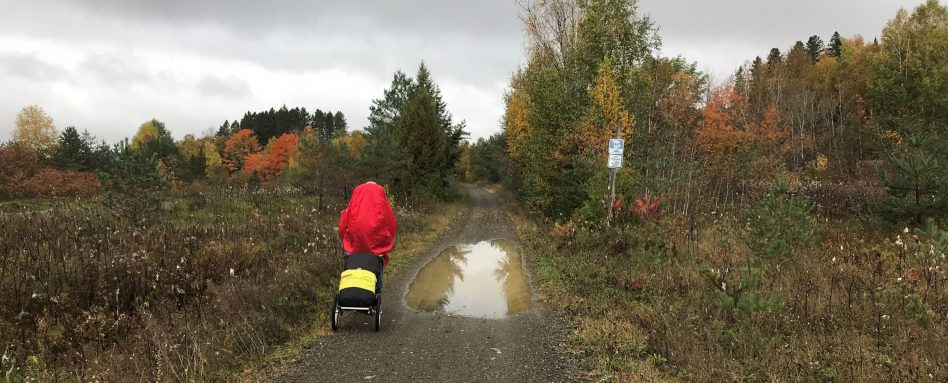 By Julie Chatelain and Simon Lacroix
The storms in the U.S. had brought us some wet weather. The rain varied from mist to outright downpours. We walked along avoiding the bigger puddles trying in vain to keep our feet dry. In Perth-Andover, we stopped at Tim's for a warming cup of tea and a regroup. We were getting tired and a bit homesick…well, Julie was.
Passing Aroostook, we crossed a beautiful, long bridge and started looking for a camping spot. We lucked out and found an ATV offshoot trail that led us to a secluded flat spot amongst the trees. The rain stopped for a while and we took advantage of this to enjoy sitting outside and cook a leisurely supper.
We woke up to more mist and rain. With our camp packed up, we got back on the Trail. The Trans Canada Trail App had been a great help. The GPS locator was always spot on. It showed us our location, the Trail and surrounding roads. With this information, we selected our trajectory. In Morrell Siding, the Trail led us into the hills due to a big washout along the West River Road. We chose to follow the road up to Ortonville and avoid the steep hill and detour.


As we entered Grand Falls, we met a lady from Comox, British Columbia, who had been driving across Canada. She told us that the falls (the largest east of Niagara Falls) which boasted a waterfall 90% of Niagara Falls during the spring run-off. The site was quite beautiful and reminded Julie of the Paugan Dam near Wakefield, Quebec, where she and her brothers would swim years ago.
The riverside railbed trail was a gift. Well-maintained, it provided easy walking. It had also given us a much-needed break from roadway walking. But we knew it was coming to an end soon. As we crossed another old train bridge, we reached the end of the Trail. In the late afternoon, on Highway 108, we checked into a hotel, enjoyed a hot bath and gave our clothes a well-deserved wash.
Two days were left on this journey through the Maritimes – two days of road walking along Highway 144. To break up the monotony, we used off-trail secondary roads that led into the small towns along the way. This area of New Brunswick had a strong French presence. The sound and cadence of old Acadian French was music to our ears. We lingered a bit to enjoy some conversations with locals, but it was getting cold and we pressed on. On our last morning, after crossing Rivière Verte, we were faced with an unexpected road closure. We debated if we should ignore it or take the detour. The voice of reason (a.k.a. Julie) chose to take the detour on Highway 2. It was not pleasant, but it was safer.
The end came suddenly. We walked into Edmundston, took a few pics, and headed to Tim's to wait for our bus home. No fanfare – just the two of us walking up the road, noticing questioning glances from some locals. We felt proud of our accomplishment.


What reflections did we end with? Each province in the Maritimes provided us with a very different experience. Newfoundland was wild and its people were amazingly friendly. We never felt alone. Nova Scotia, P.E.I. and New Brunswick all offered beautiful vistas, but the roadways and trails isolated us, and we often felt apart from the communities we crossed. The common link was the railway. We felt connected to the history of the Maritimes and this ribbon that forged a path across wilderness, countryside and towns guided us through this beautiful landscape.
We headed home for the winter months and started to prepare for our next adventure: walking across Quebec and Ontario next season. Until then, we hope that you reach for your dreams and remember to "Get Lost in the Great Outdoors and Find Yourself"!?

Find us walking
Website
Facebook