29 March, 2017
What Trails Have Taught Me about Exploring with my Family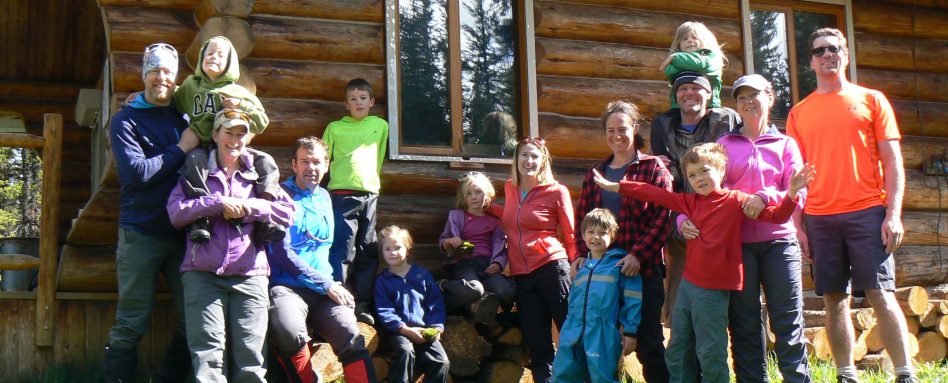 I will never forget the cold wet backcountry hike we did as a family last spring into Elk Lakes Provincial Park in British Columbia. For three solid hours, we followed the ski trails from Peter Lougheed Provincial Park up and over Elk Pass in a complete downpour. When we finally arrived at our cozy backcountry cabin I was a firm believer in good clothing, fun hiking companions and a place with a ceiling and walls in which to spend the night camping.
Everything is better with friends
One thing that made a big difference on that wet backcountry hike to Elk Lakes was having good friends to share the adventure with. I won't quite call it shared "suffering" but it was far from a beautiful day in the mountains and we didn't spend much time stopping to eat or rest along the way. Thankfully, the kids had friends to chase down the trail and that had a huge impact on mood and happiness.
My son spent the whole hike exchanging stories with an energetic girl he'd known for a few years, playing games as they ran along the trail together, and laughing at every little joke they'd swap back and forth. In the middle of what felt like a torrential downpour, the kids were laughing! They were actually having fun and enjoying themselves. I call that a parent "win" if ever there was one and I didn't have to pull out a single one of my own trail games because the children occupied themselves throughout the entire hike.
The rest of the weekend at the Elk Lakes Cabin was equally successful with the children happily entertaining themselves inside the warm hut playing games. We took short day hikes to check out the nearby trails and then always returned to the cabin where warmth and friendship awaited us.
Exploring should be FUN

Whether exploring trails on foot or by bike, the adventure should always be fun if bringing children along on the journey. Otherwise, why bother if you are just out to prove that you can get your kids to the top of a mountain or want to see how far you can travel in a day. If nobody is having fun, it's worth taking a second look at your motives for hitting the trails.
We've learned about having fun from our adventures around Banff and Canmore on the Legacy Trail and the town trails. We biked the Goat Creek Trail, ending in Banff where there was ice-cream waiting. We biked the Legacy Trail from Banff to Canmore where there was a McDonalds waiting for us at the end of the trail. Exploring around the Town of Banff we always stop to visit the bicycle park and the big playground by the river. And then in Canmore we enjoy playground and park hopping on our bikes as we ride between the town skate park, the bike park and the West Canmore Park playground. Of course, we always make sure we ride by the ice-cream truck on the main street as well.
Other tips we've learned along the way:
What goes DOWN, must go back up again. We really try to avoid trails that start by going downhill because we know we'll always have an uphill battle at the very end of our trip when everybody is the most tired. The Glenbow Ranch trails outside Calgary have taught us this; we're waiting for the connector trails to be built so that we can bike from Calgary to Cochrane through Glenbow Ranch without the big descent down to the river valley.
You can always explore further on a bike. And if the trail is paved, you'll enjoy it a lot more on a set of wheels. To demonstrate that point, I have yet to ever see anybody walk the paved Legacy Trail between Canmore and Banff.
There is usually a "best" direction when choosing a one-way trip. The Legacy Trail for example is more downhill in the Banff to Canmore direction as you follow the river downstream. The Goat Creek trail, however, should be ridden from Canmore to Banff for optimal downhill enjoyment.
Setting up a shuttle for long trails can be very helpful when biking or hiking with children. When we biked the Goat Creek Trail, my son and I only rode one way. We then headed for the nearest coffee shop and ice-cream store while my husband got to ride back uphill for the truck. We did the same thing with the Legacy Trail, my son and I riding one way while my husband got a bit of extra exercise returning for our vehicle.
The trails have taught us many lessons over the years, but most of all, we have learned that we are happiest outside, that our family connects best while out exploring and that we like to visit new destinations year round. We ski, bike and hike the trails. We paddle the rivers and, when frozen, we bring our skates to enjoy the lakes.  There is no shortage of fun ways to get out on the trails and waterways as a family.
---