18 May, 2023
Melissa's Trans Canada Trail: What's Snacking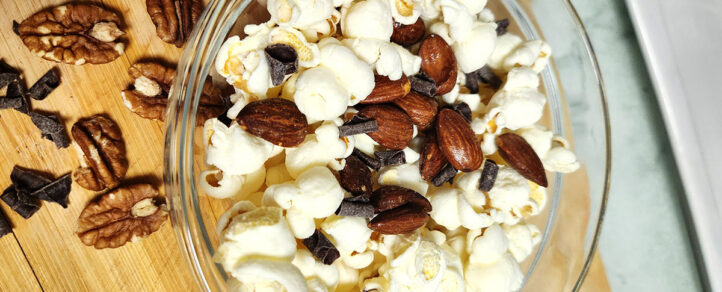 Written by Melissa Waterman
Hello, my fellow Trans Canada Trail hikers! People who know me well know that the outdoors and food are among my favourite things. Hiking can be a strenuous activity, and it's important to be mindful of what food best fuels our bodies. If you are looking for some great snacking ideas to boost your energy during your next hiking adventure, I got you! In this article, I will feature some of my favourite mouth-watering and simple snacks to nourish your body and help you conquer the trails.
Popcorn medley
Popcorn doesn't have to be boring. Once you throw in some maple-covered almonds and sprinkle with a dash of dark chocolate curls, you are good to go. My go-to is white cheddar-flavoured popcorn. You can also use buttered popcorn if you wish. Not only does this delicious combo make the perfect light snack, but you are also getting in some protein, fat, fibre, magnesium and vitamin E from the almonds. What I absolutely love is the mixture of the sweet and savoury. The bitter sweetness from the dark chocolate curls gives it that oomph! It's simple, satisfying and tantalizes your taste buds.
Herb and garlic roasted pecans
Pecans are a good source of calcium, potassium and magnesium. They can also help lower blood pressure. To spice things up, add some olive oil, Italian herb seasoning, a dash of garlic powder and a pinch of sea salt. Stir the oil, pecans, herbs and spices in a dish and bake the coated pecans on a baking sheet at 350 degrees Fahrenheit for 10-15 minutes or until golden brown. A handful of these will most definitely make a happy hiker out of you.
Heat meets sweet candied roasted pecans
Another personal favourite of mine is sweet and spicy candied roasted pecans. This is a great snack if you like a little sweetness with some kick to it but I must warn you… it's highly addictive! In a bowl, mix a little chili oil (not too much) with melted butter, brown sugar and pecans. Mix the ingredients together until fully coated, then roast the covered pecans on a baking sheet at 350 degrees Fahrenheit for 15 minutes. Let them cool and voilà! Instant goodness!
Fresh fruit
Bananas, oranges and apples make great snacks. They are full of fibre, natural sugar to give you that extra boost, and other nutrients like vitamins and minerals. You can never go wrong with fresh fruit, especially for a full-day hike. Dried fruit like dates, mangos and banana chips also make nice snacks.
Pistachios
Pistachios are packed with fibre, protein, minerals and unsaturated fat. They can also help keep blood pressure and cholesterol in check and make you feel fuller for longer. Because I have a sweet tooth, honey roasted pistachios are on my list of go-to hiking snack foods. You can find them at your local grocery store in a variety of flavours.
Water
Now that we have delicious snacks covered, don't forget to bring something to drink so you'll stay hydrated. Make sure to pack plenty of water for the trails!
I hope these simple yet tasty snacking ideas sparked a little inspiration for your next hike. The healthier the food choices you make, the better you can fuel your body.
Happy snacking, everyone!
Watch for more stories from Melissa where she shares her Trail experiences! You can also follow her adventures on Instagram @singlemomonthemove.