25 October, 2022
Acting and Educating to Combat the Effects of Weather-related Damage on the Wolastoq | St. John River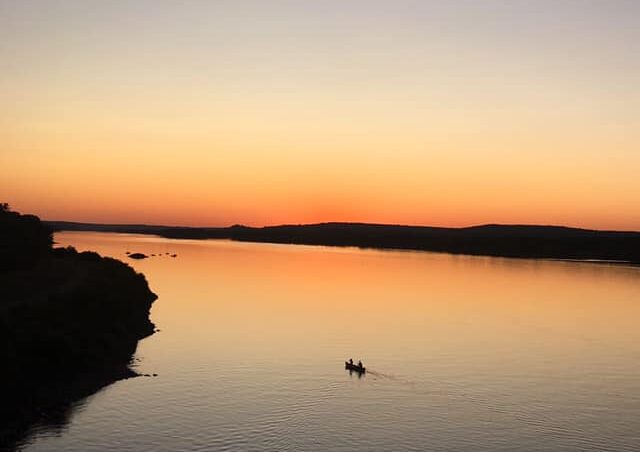 "I love my job!"
Molly Demma uses her considerable skills and talents to take action to preserve and protect one of the most important rivers in Canada. And she does it with passion!
She is the Executive Director of The St. John River Society and focuses on creating opportunities to develop projects with regional and national impacts for this historic waterway.
From her vantage point, she's seeing more and more people enjoying the river for fun and recreation, as well as increasing challenges brought on by extreme weather events and climate change.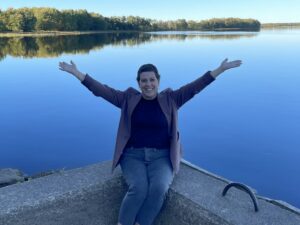 A Canadian Heritage river
The Wolastoq (the good and bountiful river) | St. John River, part of the Trans Canada Trail, stretches 700 kilometres through New Brunswick, Quebec and Maine (USA). The watershed is Wolastoqiyik/ Wəlastəkokewiyi (people of the good and bountiful river) traditional territory. The Wolastoqiyik/ Wəlastəkokewiyik have lived along the river for time immemorial, and it has served, at different times, as a highway, a travel path, a fishing site, a gathering place, a garden, and a place to swim, boat and bird watch.
Marking its place in history, in 2013, the 400-km portion of the Wolastoq that runs through New Brunswick was designated a Canadian Heritage River by Parks Canada for its outstanding cultural heritage values.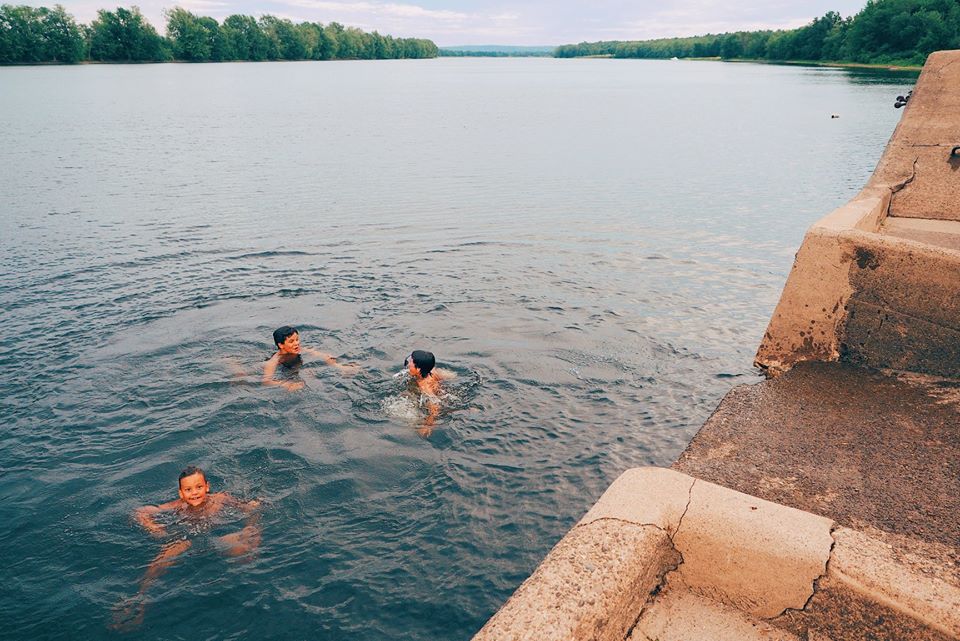 Signs of the times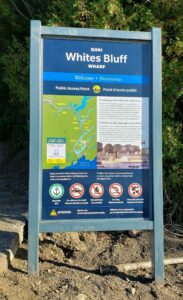 "The river continues to be more and more popular, and it's used more often," says Molly. She adds "rivers are amazing because they connect us all together."
To make it easier for everyone to access the Wolastoq | St. John River, The St. John River Society owns and maintains 13 heritage steamboat wharves that were built after the First World War; in part with financial support from Trans Canada Trail. The Society's view is that when access points along the river are clean and safe, communities and the environment are able to thrive. The Society and a group of dedicated community volunteers conduct annual site clean-ups at and around the wharves to maintain safe access so that visitors can enjoy the river.
Wharf signage has been a focal point in recent years for the organization. The Society has replaced small, outdated signs with larger signs that offer clear, consolidated information for visitors. The content for each sign was determined in consultation with stakeholders to ensure that everyone had a chance to contribute to these community assets.
Weather-related damage is increasing
Over the years, the watershed has been experiencing an increasing number of storms that cause significant damage, and this waterway trail has been impacted by climate change.
"Historic floods are happening often – just recently we had two in a row that normally would have been called 100-year floods – and they caused significant damage to public and private infrastructure along the river," Molly says, adding "there are more repairs required, more often, and they cost more because the damage is greater."
Molly explains that when it comes to the heritage wharves that serve as access points, "unfortunately, we can't always fix damage right away due to financial constraints, so it can reduce accessibility to the river." On a positive note, funding support from Trans Canada Trail, as well as significant funding from the Province of New Brunswick, means the Society is able to undertake a once-in-a-generation refurbishment project for the wharves, that will benefit visitors and everyone who lives nearby  for years to come.
The annual freshet, which causes the river to rise up to 6 metres (or more), is a well-known event. "Storms are now happening year-round, so we have to be proactive and vigilant in preventing potential damage as much as possible," says Molly.
Another challenge being faced in the area is an increase in invasive species such as Eurasian watermilfoil, which grows in shallow water – like around the wharves and public boat ramps. As a result, "we worked with the Canadian Council on Invasive Species and the New Brunswick Invasive Species Council on a campaign called Clean, Drain, Dry to help reduce the spread of that plant on the river," shares Molly. "Installing information signage for boaters means that they can contribute to reducing the spread of this invasive species."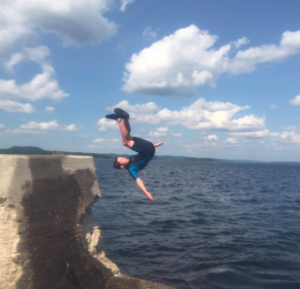 Acting and educating
The St. John River Society takes action to mitigate issues and provide education to river visitors. Over 30 non-profit organizations work along this waterway and Molly says, "we all play a role and often partner on issues."
"I'm proud to be part of a group of experts, scientists and community members who work collaboratively, honouring the sacred trust that is working toward a healthy river for all," Molly concludes.
Donate today
Donate today to enhance and protect the Trans Canada Trail for future generations!
Trans Canada Trail is a registered charity, and you will receive a tax receipt for your donation (minimum of $10).