Trail Care Event:
Crow Wing Trail
Date: June 3, 2023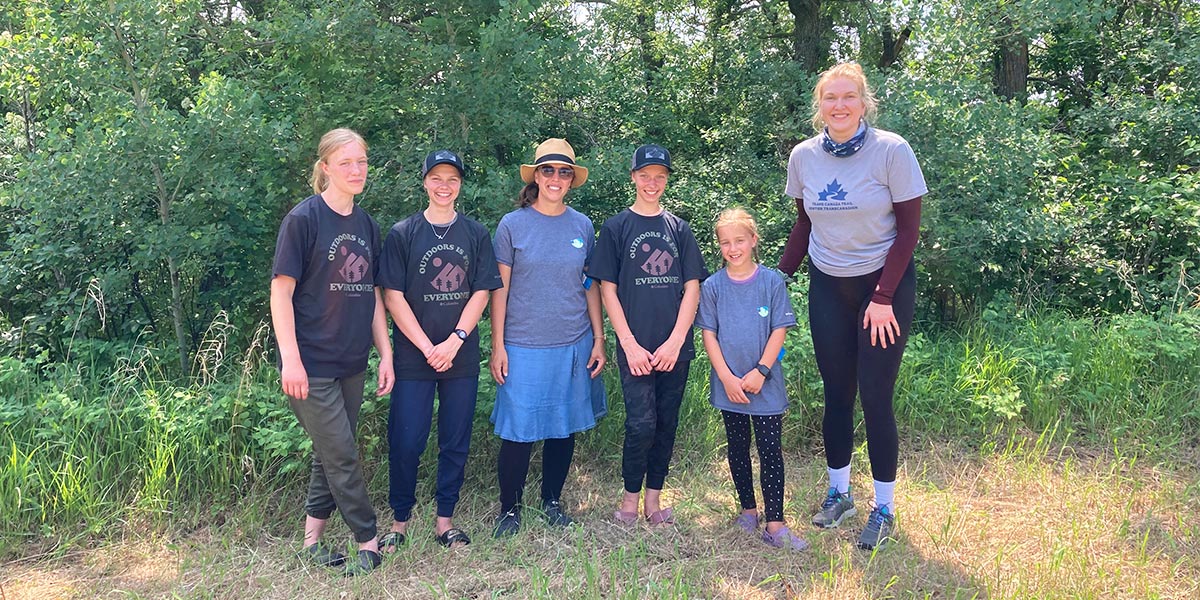 Celebrating nature on the Crow Wing Trail
Volunteers from the Crow Wing Trail Association and members of the Roseau River Anishinabe First Nation in Manitoba were inspired by the spring season to organize a Mother Earth Care Gathering. They created an amphitheatre-like setting near the banks of the Roseau River, on the South Rapids Reserve. Dolores Thiel, Board member of the Crow Wing Trail Association, says it was conceived as "a place where people could gather to help nurture reconciliation with each other and with nature."
Organizers invited youth and families from the Four Directions of the medicine wheel – Yellow, Red, Black and White – to come together on June 3. Approximately 30 people attended the gathering. Dolores says, "This [gathering] was an opportunity to listen to Indigenous truth-telling filled with pain, strength and hope and music that celebrates the gifts of Mother Earth. To learn from flora and fauna. To embrace the outdoors. To share food. To nurture seeds of friendship."
Botany, mat making, truth-telling and music with the Roseau River Anishinabe First Nation at South Rapids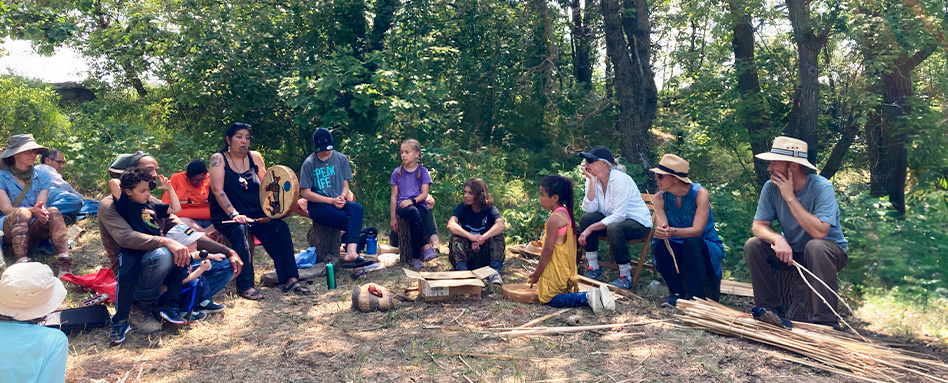 A botanist gave a lesson on plant identification, and participants made mats out of cattails. An Indigenous elder presented stories and talked about the history of the region. Participants also enjoyed live music that was inspired by the birds and sounds of the river.
Lexi Rosen, Trans Canada Trail's Community and Volunteer Development Coordinator, attended the event.
Pivoting due to hot weather
Because of hot temperatures, several of the day's activities were postponed. A ceremonial tree planting, trail building, hoop dancing and tipi raising will take place at a future date. Regardless, the community gathered, shared and celebrated together.
Dolores says, "Thank you to the residents of Roseau South Rapids who welcomed us to share time with them on this sacred land. May the heartbeat of the drum and the spirit of the flute and birds, that was gifted to us on the day, continue to echo through us as we journey through this season of care and look for more opportunities for fruitful growth. Meegwech."
Thank you to the community and to Trail Care's generous sponsors
The Roseau River Anishinabe First Nation members from South Rapids, Dakota Ojibway Child & Family Services, Ginew Wellness Mental Health, the Crow Wing Trail Association and Trans Canada Trail all contributed to the day's events. Special thanks to generous Trail Care sponsors Columbia Sportwear, Athletic Brewing Co and Hydro One. CLIF Bar also provided tasty snacks for the attendees.
Ensuring a safe and well-maintained Trail season after season
Trail Care funds were used to ensure a safe Trail experience from one season to the next. In May and June, three gates and access barriers were replaced, a new gate was built, litter was cleaned up, debris and deadfall trees were removed and spring water levels were checked.
The Crow Wing Trail is on Treaty 1 territory, the traditional lands of the Anishinabe and homeland of the Red River Métis Nation, and covers approximately 200 kilometres from Winnipeg to Emerson at the Manitoba/US border. It connects five municipalities and one First Nation community and is used regularly by residents and visitors.
VOLUNTEER SPOTLIGHT
Dolores Thiel has been on the Board of the Crow Wing Trail Association since 2019. A large part of her role focuses on strengthening relationships with Indigenous communities and trail stewardship, which includes maintenance.
Dolores Thiel describes spring on the Prairies:
"Spring on the Prairies is filled with anticipation, hope and great expectations. Winter hibernation is over, and a new season begins. As snow slowly melts and the water levels of the Red River and Roseau River are closely watched, secrets are discovered along the trail. Damaged gates, fences and signs are repaired, and debris is removed. Prairie crocus peak through the last dusting of snow. Wild plums bloom in brilliant white. Will there be enough rain for the saskatoon and chokecherry blossoms to produce fruit? Each day our eyes are keenly focused on the poplar trees for any hint of green. You blink, and the miracle happens. New life emerges."