Trail Care Event: Exploits TrailNet
Date: June 2, 2023
Engaging with local students to clean up the T'Railway, plus a trail gathering and a poutine festival!
On a cold weekend in early June, a group of students set out on the Newfoundland T'Railway, near Grand Falls-Windsor at Red Cliff. The students cleaned up garbage and cleared debris, ensuring that the Trail section was safe and ready for the warmer season. Despite the cold weather, close to 200 residents attended this event!
Attendees enjoyed a delicious meal at the Lions Club in Bishop's Falls, adjacent to the Trail. The mayor of Bishops Falls, Bryan King, was one of the attendees and had a great time!
Hundreds of people came for poutine and celebrated longtime trail groomers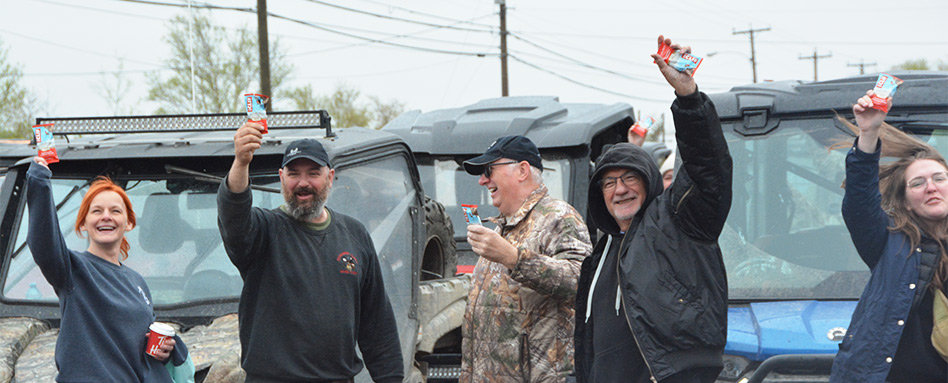 Approximately 600 people attended the trail group's poutine festival. Eight chefs – including two who came from Ontario for the event – competed for the title of best poutine, and everyone enjoyed an all-you-can-eat experience.
As part of the day's events, three longtime volunteer groomer operators, Roy Folkes, Bill Sullivan and Kevin Strowbridge, were recognized for their service to Trail users in central Newfoundland. Collectively, these three groomers have put in over 50 years of service.
Dave Noel, President of Exploits TrailNet, also spoke, extending the group's warm thanks to Trans Canada Trail, CLIF Bar and Columbia Sportswear for their generous support. He says, "I want to express our sincere gratitude to everyone at Trans Canada Trail who has helped make our trail better for all. As for our event, well where does one start? The two chefs from Ontario, who rode with two of our retiring volunteers, got to enjoy an up-close encounter with a cow moose (female) and her calf … the chefs were quite thrilled! Our 195 attendees all commented on the quality of the trail, even if comments on the day's temperatures weren't quite so complimentary! Many people were from all over Newfoundland and expressed a willingness to come and do the same again next year … stay tuned."
Tree planting along the Trail
At a later date with warmer temperatures, a tree-planting event took place. Members of Exploits Trailnet – a nonprofit organization dedicated to development of safe and sustainable year-round trails in Exploit – along with students and several volunteers, planted approximately 700 seedlings along the Trans Canada Trail between Grand Falls-Windsor and Red Cliff.
New tools to keep the Trail safe thanks to Trail Care
With the Trail Care Grant, Exploits TrailNet was able to purchase two battery-powered pole saws for use by club members. They were also able to purchase culverts and timber to help maintain safe, year-round trails. The Newfoundland T'Railway is a multi-use trail – a linear provincial park and a former railway line, which crosses Newfoundland.
As trail users see the improvements to the trail, they also step up to help. Dave Noel says, "Our trails get a lot of use. As such, we find that repairs take much of both our time and money to maintain." He continues, "Over the past decade, our volunteer base has grown via 'buy-in.' Users of the Trans Canada Trail have seen our commitment to trail improvement, and now give their time and resources to make the trail even better."
Connecting cottage country and the backcountry via the Trail 
"In Central Newfoundland, the T'Railway connects four major cottage areas under the jurisdiction of Exploits TrailNet: Newbay, Badger Lake, Millertown Junction and Jumper's Brook/Sunday Pond. The Trans Canada Trail is also the only route to the Gaff Topsails, a geological attraction in the region. If not for the Trans Canada Trail, these unique areas would be isolated regions. Thankfully, the Trail exists to connect these areas and provide endless opportunities for both local and non-resident tourists!" Dave says. 
Dave Noel is president of Exploits TrailNet in Grand Falls-Windsor, Newfoundland. He's been club president for 15 years.