Trail Care Event: Town of Cochrane, Alberta
Date: May 12 and 13, 2023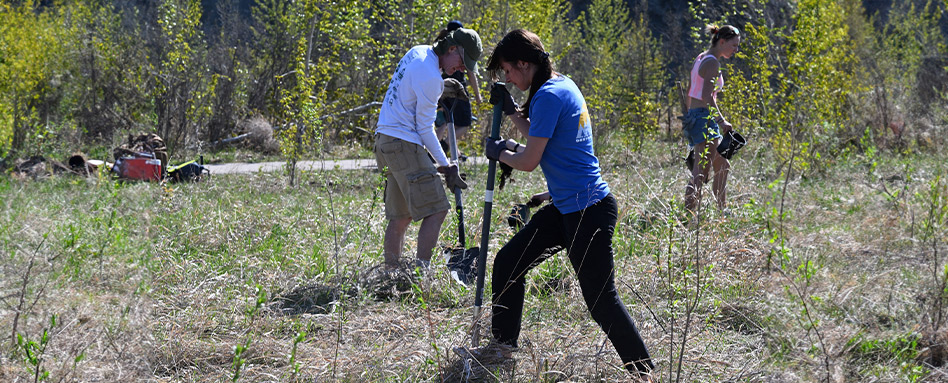 Tree planting along the Bow River
On May 12 and 13, with help from a Trail Care Grant, the Town of Cochrane held a two-day community tree-planting event. This annual event is organized by the Cochrane Environmental Action Committee (CEAC) in partnership with the Town of Cochrane. People gathered on the banks of the Bow River at the east end of Jim Uffelmann Park, along the Trans Canada Trail.
The first day was for participating schools and corporate partners, and the general public was invited to take part on May 13. Turnout was great: approximately 90 students and 50 volunteers from Garmin and other companies came out to help on May 12. Another 70 or so people attended on May 13. Special guests included Mayor Jeff Genung and Councillor Marni Fedeyko. Jenna Sie, Trans Canada Trail staff member, also attended the event. Generous sponsor Columbia Sportswear provided T-shirts for volunteers and staff members.
Over 900 trees were planted!
A wonderful illustration of community spirit for the Town of Cochrane
Several organizations and partners pitched in to make the CEAC's 25th annual tree-planting day one to remember.
Organizers recognized a Grade 6 class, and their teacher announced the Town's establishment of Cochrane Arbour Day, which will take place annually in the first week of June. It was also announced that the white spruce was named Cochrane's official tree.
Spray Lake Sawmills donated 300 white spruce saplings and demonstrated the best way to plant them. The CEAC celebrated their 25th year hosting the event. They provided 600 plants, which were funded from donations by the Cochrane Farmers Market.
Connecting to residents through its trail network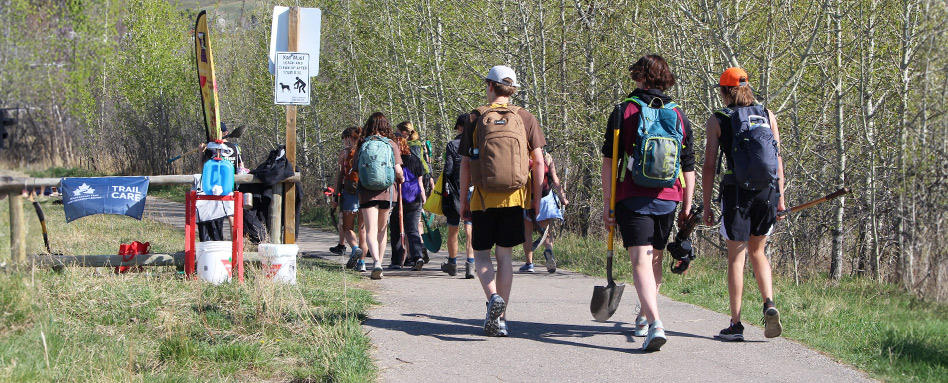 The Town of Cochrane Trail is a major connector for those who live in the area, making the downtown area and the Spray Lake Sports Centre more accessible to residents. It will eventually also connect to Calgary.
Angie Basha, Community Liaison with the Town of Cochrane, says, "We are very proud of our pathways in Cochrane. We have over 80 kilometres of pathways connecting our community. The Trans Canada Trail passes right through our town and connects the community to our Spray Lake Sports Centre. We planted in an area that was a section of a recently developed storm pond, and we wanted to reclaim the area with trees and foliage. The Trail Care Grant helped us make the event fun and memorable, and it also raised awareness about the Trail. Once the plants grow, it will be a wonderful experience to pass through this space."
Angie Basha is the Community Liaison for the Town of Cochrane Parks and Open Spaces. She has been with the Parks department for 13 years.