A message from
Eleanor McMahon
President & CEO, Trans Canada Trail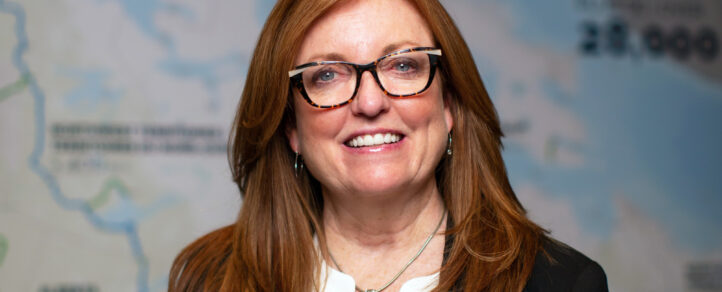 "Trails have a way of uniting people from all walks of life, reminding us that we are part of something greater than ourselves." – Robert Moor, On Trails: An Exploration 
At the heart of our mission lies the belief that the Trans Canada Trail is for everyone. As we reflect on the past year's achievements, the words of author Robert Moor resonate deeply within us. Trails, with their ability to bring people together, serve as a thread that weaves our diverse communities into a rich tapestry of shared experiences, purpose and a collective sense of belonging. 
In partnership with over 500 local trail groups, who we have the privilege of working with, we are proud to play an important role in enhancing local trails across Canada, and the quality of life and well-being of Canadians. This year, we have made remarkable progress, reaffirming our commitment to connecting Canadians and enhancing the Trail experience nationwide. Our Trail Funding Program invests funding received from the Government of Canada, through Parks Canada, and in 2022, we were proud to have invested $3M in Trail projects, in communities across the country.  
Our dedication to fostering tourism growth has resulted in several significant partnerships. We were proud to sign agreements with two leading national tourism organizations: Destination Canada and the Indigenous Tourism Association of Canada. These collaborations will amplify our efforts to promote the Trail as a world-class tourism destination, showcasing the rich cultural heritage and natural wonders that the Trail offers. In the fall of 2022, we were thrilled to announce the establishment of a new Binational Great Lakes Tourism partnership between Ontario and the State of Michigan, leveraging the new cycling and walking infrastructure that will be a feature of the new Gordie Howe international crossing between Windsor and Detroit. This partnership will further expand our network and foster the development of a trails tourism experience, encompassing the new National Urban Park, currently under development in Windsor, as well as attractions and experiences along the 3,500-km Iron Belle Trail through Michigan. This initiative will strengthen cross-border ties, promote sustainable tourism and foster new possibilities for trails tourism, between our two countries. This is an exciting first step with tremendous economic development potential – one which we hope to expand to other border crossing locations.  
Our commitment to youth empowerment and engagement is demonstrated through the success of our Trail Builders of Tomorrow (TBT) Program. The TBT program was recently launched to ensure that our local trail organizations have the hearts and hands they need to sustain the Trans Canada Trail in the years to come. To ensure that our primarily volunteer-led organizations have the resources they need, we are providing enriching employment and learning opportunities for youth to develop leadership skills, foster a connection with nature, and learn about trail development and maintenance. 
One of the most heartwarming stories of the year was the incredible journey of Melanie Vogel, who completed the entire Trans Canada Trail over a five-year period. As Mel traversed Canada's national Trail, she shared her journey on social media, and her determination and resilience serve as an inspiration to us all, and her achievement reminds us of the profound and transformative personal connections that can be forged through the Trail and the immeasurable joy it brings to individuals and communities. Thank you, Mel, for inspiring us!  
I am ecstatic to share that Trans Canada Trail has won the bid to host the 2024 World Trails Conference in Ottawa. This prestigious event will bring together trail enthusiasts, experts and stakeholders from around the globe to exchange knowledge, share best practices and shape the future of trail development. As the country's trail sector leader our desire is to share our knowledge, skills and abilities with trail organizations here in Canada and around the world – and to learn from them too. We look forward to sharing more information on this exciting event, in the months to come.  
Finally, an important focus for us, as capacity builders and advocates, is the way in which the changing climate, severe weather events and forest fires are impacting our trail network and the communities we serve, and how we are responding. In 2021, a severe weather event in BC caused significant damage to a 70-kilometre stretch of the Trail, with 25 bridges lost. We continue to work with the BC government on solutions that will reroute the Trail to avoid impacts from future severe weather events. 
Severe flooding in Quebec, and more recently in Nova Scotia, has caused washouts and significant damage to the Trail, with some sections now closed. As the damage is being assessed, we are supporting our trail groups and partners through a Climate Emergency Support Fund. In the mid-to longer term, we will advocate with our partners for investments in the Trail that will restore critical routes that people rely on for their physical and mental health – and communities for the contribution to local economies. At the same time, we will continue our work to lend our knowledge, skills and abilities to the task of building back better, to ensure that trails will be able to withstand future weather events and continue to support the critical wildlife and biodiversity that is critical to preserving nature and our quality of life.  
As we reflect on this exceptional year with its opportunities and challenges, it is gratifying to know that the Trans Canada Trail continues to be a catalyst for positive change, for connecting people to nature and to one another, uniting communities across our vast and diverse nation.  
Looking ahead, we are excited about the opportunities that lie before us. We will continue to invest in trail development, accessibility and stewardship to ensure that the Trans Canada Trail remains a cherished asset for generations to come.  
We are committed to our work that is focused on strengthening our partnerships and collaborations, forging new alliances that will drive innovation and enable sustainable growth. And, we look forward to continuing to foster relationships and share knowledge, at the local and national levels, bringing the trail sector and the tourism sector together to enhance economic growth and opportunity.  
It has been a remarkable year of progress, growth, and collaboration and I am immensely proud of what we have accomplished. None of our achievements would have been possible without the support and dedication of our Board of Directors, dedicated staff, incredible volunteers, partners – including governments across Canada, generous donors, and all you who use our national Trail in communities across Canada.  
Thank you all! I look forward to working with you in the months and years to come.  
See you on the Trail!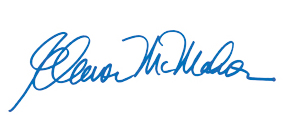 – Eleanor McMahon