Thank you Dr. Janice Pasieka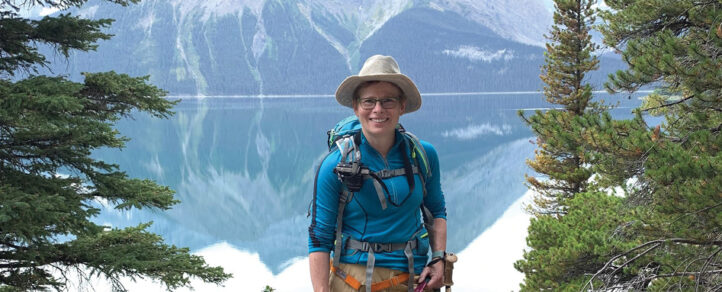 DONORS MAKE A DIFFERENCE
Dr. Janice Pasieka, an avid outdoor enthusiast, has a deep appreciation for the Trans Canada Trail and the profound impact it has had on her life. Janice's love and admiration for the Trail inspire her to donate annually; to give back and support its preservation.
From its early beginnings, Janice wholeheartedly embraced the Trail. She shares that "the Trans Canada Trail has been very much a part of my life since it first started."
As the Trail evolved, Janice sought out opportunities to explore its diversity. She has hiked, walked, snowshoed, cycled and canoed along different sections of the Trail! In the face of her demanding role as an endocrine oncology surgeon, the Trail became a source of solace and relief from the stresses of her profession. "Being able to get out on the Trans Canada Trail, whether it is cycling to work or hiking in the Rockies, has provided me with an outlet to maintain my physical and mental well-being," she shares.
Janice's favourite part of the Trail lies in the High Rockies region. This section holds a special place in her heart. From learning to mountain bike and cross-country ski around Elk Pass to embarking on weekend hikes with her loyal companion, Kocher, every encounter with the High Rockies section brings her a sense of fulfilment. Furthermore, Janice takes pride in her contribution as part of the trail crew that helped build this Trail section in Kananaskis Country. "I always stop and smile at the parts I helped create," she says.
Janice believes that the Trans Canada Trail brings people together across the vast Canadian landscape, showcasing the country's diversity. She finds inspiration in the fact that this trail system, the longest in the world, connects people from all walks of life. For Janice, investing in the preservation of the Trail is not just about maintaining its physical structure, but also about investing in future generations. She sees the Trail as an enduring avenue for exploration, a means to connect with loved ones, and a way to foster a deep connection with the land.