Thank you Weston Family Foundation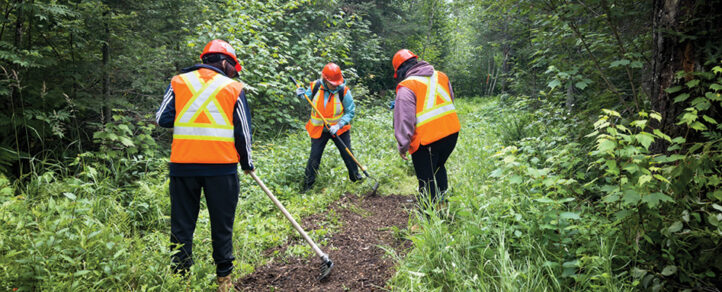 DONORS MAKE A DIFFERENCE  
 The longstanding partnership between the Weston Family Foundation and Trans Canada Trail exemplifies the remarkable achievements that can be accomplished when organizations with shared values come together. For decades, the Foundation has been a steadfast supporter of the Trail, recognizing its vital role in fostering connection and unity.   
Through their support, the Weston Family Foundation played a pivotal part in the physical connection of the Trail from coast to coast to coast. Their dedication extends to programs that connect people with nature and one another.   
One standout contribution of the Foundation is their role as lead donors to the Valerie Pringle Trail Builders of Tomorrow Fund, including our work with Indigenous youth through the Outland Youth Employment Program (OYEP), and with youth and employers through Trans Canada Trail's Youth Employment Program.  
The Trail Builders of Tomorrow Fund creates local, community- based programs that are focused on the following elements:   
Providing immediate employment and hands-on training for youth in their communities   

Empowering youth with skills and experience in a sector with meaningful long-term employment opportunities  

Increasing community capacity to benefit from trails as drivers of socioeconomic resilience and well-being   
The Weston Family Foundation believes strongly in delivering innovative solutions that positively impact well-being and the preservation of nature, and their support of the Trail Builders of Tomorrow Fund exemplifies this dedication.  
The Weston Family Foundation has consistently supported the Trail's mission to foster well-being, trail resiliency and excellent outdoor experiences for all. The Foundation's commitment to healthy living and physical and mental well-being is evident in their support of the Trail. People of all ages and backgrounds can continue to benefit from outdoor activities, thanks to the Foundation's leadership.   
Sustainability is at the core of the Weston Family Foundation's values, which is reflected in their support for Trans Canada Trail. They understand that the Trail not only provides a platform to explore the natural environment across Canada, but also acts as a catalyst for environmental stewardship. Their generous contributions ensure that the Trail will be sustained and enhanced for generations to come, thanks to the training of future trail builders.   
Trans Canada Trail is immensely grateful for the Weston Family Foundation's loyal support and transformative contributions.  
Together, we continue to make a lasting impact on land, people and communities, enriching lives from coast to coast to coast.