31 January, 2017
A Dog's Purpose: Sled Racing along Ancient Trade Routes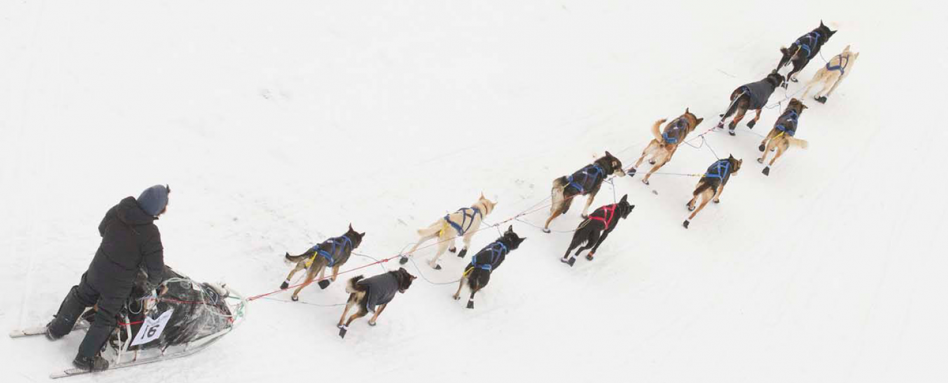 Photo by Yukon Quest
Known in the sled dog community as one of the ultimate long-distance races, the 1,600-km Yukon Quest sled dog competition is an exciting combination of tradition and fearlessness. The epic outdoor journey lasts for approximately two weeks in the heart of winter, and follows a series of historic transport trails — such as the Klondike Highway — from Whitehorse (Yukon) to Fairbanks (Alaska). In times gone by, these trails were used to transfer food supplies and mail to entrepreneurial adventurers on the quest for gold.
Utilizing sections of The Great Trail, the Yukon Quest is an emblematically Canadian event. To survive the winter elements, mushers — a colloquial term for sled dog leaders — must be prepared. They typically pack up to 250 pounds of equipment and provisions for themselves and their dogs. (Fun fact: the term "mush" originates from the French verb marcher, meaning go or walk. To command the dogs to start pulling, dog sled leaders would yell "Marche!" Over time, this evolved to "Mush!")

Ready, set, woof!

While racing might be a dog's purpose — at least for this type of marathon-ready breed — it's clearly important that these furry warriors stay happy and healthy. Sled dogs (a variety of breeds suitable for dogsledding, such as huskies) are incredible, elite athletes that can handle running long distances. Some might even say they are born to do this.
Yukon Quest is dedicated to excellence in sled dog care, ensuring the wellbeing of canine participants long before the race. Additionally, all dogs are examined by the race veterinarians at checkpoints and "dog drops" throughout the race. The official race veterinarians ensure every dog is fit to participate in and finish.

You don't need a pack of dogs to participate

Most of us are not about to spend two weeks on a dogsled. But that doesn't mean we can't get involved with this stamina-testing event. The Yukon Quest requires a major volunteer effort, and tasks can include (but are not limited to) race operations, office administration and fundraising. No matter where you live, you can volunteer. Alternatively, if you're feeling generous, the race is always happy to receive sponsorship.
Finally, if you're heading outdoors to watch the Yukon Quest (or participate in any type of wintertime activity) be sure to check out this iconic musher's 8 tips — a "must read" for fighting off frigid temperatures.
Mush!

Cheat Sheet

Event: Yukon Quest
Location: Whitehorse, Yukon
Date: 4 February 2017
Website: yukonquest.com
Twitter: @theyukonquest